One-on-One with the Washington Freedom's Emma Hayes
September 2, 2010
Emma Hayes is excited.
The former Chicago Red Stars head coach will be back in Chi-town this weekend for a game. Only this time, she will be on the opposing team's bench.
Hayes, the Washington Freedom's interim consultant, is looking to capture the fourth and last spot for the WPS playoffs with her new team. 
And after an 11v11 session with the team at the Maryland SoccerPlex in sweltering heat, Hayes took a chair and sat down inside the Plex's air-conditioned Discovery Sports Center to talk about her new job with the Freedom.
How were you approached to be a consultant on this team?
"Well (Freedom head coach) Jim [Gabarra] and I have known each other for a number of years, and he gave me a call to sort of ask if I'd be interested in coming in to give some outside perspective and analysis and evaluation in the set up. Any suggestions to help sort of turn that 10-game winless streak around.
"We have a trusting relationship. So I came in and did a full evaluation. The strengths of the team, the weaknesses of the team. And then obviously we traded for Anita Asante, which is a player that we felt [would] come in and improve us. I've coached Anita before in Arsenal so I know her abilities. And it went from there."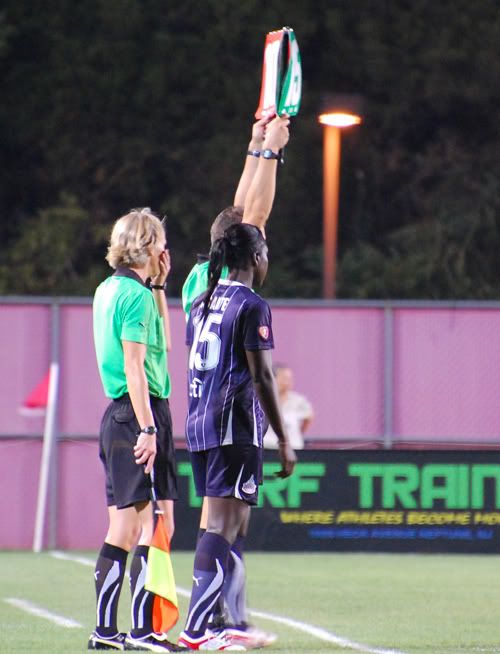 Asante checks in for the first time as a member of the Washington Freedom.
How has your move to DC been?
"It's been brilliant. I can't complain. The girls have received me really well. I think Jim's been really open to improving the environment, and he deserves a great deal of credit for the work he has done to turn things around. I think he has shown good leadership and strong leadership throughout this time, and allowed me to sort of do the things that I'm good at.
"I'm a good communicator and have been very involved with the organization of the team. Our formation, our set up, areas to improve in. I've been coaching sessions and involved in every facet of the job and it's been a really, really good transition."
What was your plan initially, before you got a chance to watch a Freedom game?
"I wanted to have a look at all the Freedom's results this year. Look at their trends and their patterns. When I came here, I looked at how many goals they'd scored, how many they'd conceded, where they'd scored them from. And we realize that 24 out of 27 of the goals at one point were scored with one-touch finishes.
"So, we then sort of looked for ways that we could improve, maximizing the strengths of Abby Wambach and getting balls into dangerous areas to score off her head or off her foot. So that was one area.
"And then just really coming in and creating an environment with just some difference. Bring a fresh perspective to it, and not change too much of what's been done here because Jim's been doing this a long time. He's been incredibly successful. But just to tweak it a little bit and improve defensively the organization of the team so that we don't give up goals.
"That's been my No. 1 priority. And as a coaching staff we talk daily about how we're gonna do that. And if we don't give up goals, then we're giving ourselves a great platform to score because this team has proved it can score goals. So it's about getting our goal difference totals down, which was brought down to zero. Which is a fantastic achievement in five or six games. We've conceded two goals in six games, which is a phenomenal achievement for this team.
"And to get them together collectively at the right time so we peak to push this team into the postseason. And right now, I think our destiny is in our own hands."
What have you worked on with the players ever since you got on board?
"We've worked with different things in our back four shape. When to pick up players, when to pass them on. Worked on our midfield organization and how they defend and take different responsibilities off of the back four. And then worked from front to back, collectively everybody understanding their responsibilities. And then making sure when we've defended well, we're in good situations to transition quickly. And get balls into areas where we've identified as our strengths. And just been training in functional sessions or 11v11 sessions and really giving the team a very clear plan so that they can go and carry out that plan.

Hayes gives Brittany Bock some instructions during the second half of their game against WPS champion Sky Blue FC.
"And then I think importantly what we've done pretty well is our halftime, when adjustments needed to be made. I think as a coaching staff we've done a really good job of giving them the right instructions. And the players are telling me for the first time this season, they may not be starting games that strong, but they're certainly finishing strong. And they're winning games now as opposed to getting leads and losing them. So you have to be careful what you wish for because you may want 90 minutes of perfection, at this level it doesn't work that way. Teams are gonna dominate. And that's a credit to their spirit, and their characters really shocked me because it's a mark difference from the culture in Chicago."
They finished strong in the last two home games.
"They have fight, they have belief. They have a collective belief about them and more importantly they're carrying out their orders. You're giving them a job to do, and they're doing it. And that's important with the team if you give them a job to do.
"We have to hold them accountable to it, but ultimately they're the ones that choose whether they want to do it or not. And they're choosing. They're choosing to win games in ways that I think is reminiscent of the team that I coached at Arsenal. The team that went on and won the quadruple. They have a lot of similar attributes to them. And it's not a coincidence that they've gotten results in their last five, six games."
Collectively, as a whole team, what do you think of them so far?
"I'm enjoying coaching them a lot. They've certainly brought back a renewed energy for me coaching. I obviously had my disappointments in Chicago and I take a great deal of responsibility for that. But these players have taught me that players control destinies of games. And as coaches, we're the steerers of the ship. It's important to be good leaders.
"But this group of players are collectively good enough, and they want it. They're prepared to go to any lengths to get it. And I think the good thing that bodes well for this team is that it has come through adversity. It has come through a difficult time. And I think that's a credit to Jim and his leadership because he's been a pleasure to coach along side with. He's got great experience, great ideas on the game, and I think we've been a good complement since I've been here.
"I've just enjoyed working with these lot because as I've said we're putting ourselves in a great position right now."
Have there been a couple of players that improved a great deal ever since you came on board?
"I think credit has to go to Cat Whitehill as one of the leaders here. I think her game has improved immeasurably. Ashlyn Harris, the young goalkeeper, has come in and been outstanding. But also we've started to really play to the strengths of Abby Wambach now, and getting balls in the box has made her even more dangerous. She is the best box striker in the world.
"So I think everybody is playing their role, which is important. And I think everybody would tell you that they've all improved. And some of that is a little bit of confidence, I think some of that's having a fresh face in myself, and some of that winning has put smiles back on their faces.
"I think they should not lose sight of that. Players have to learn at this level that it doesn't always go one way, and that you don't always have good times. But it's how you dig in your soul to get through those tough times.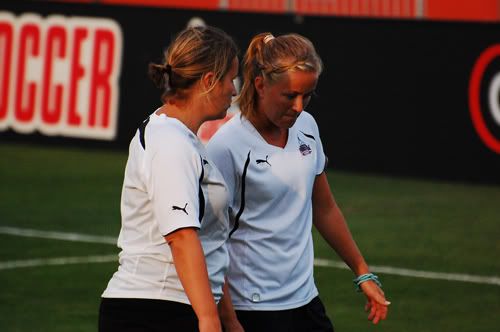 Hayes gives some pointers to Lene Mykjaland after the team's warm-up session.
"I mean they're playing some good football. I've been enjoying watching them. As I said, I feel at home here. It's been an easy transition, easy to come in and coach and observe. And I've been a little bit of a lucky charm for them at the moment. And I'll enjoy it because I didn't have a great deal of luck in Chicago. And it's just nice to be here and feel valued by everyone here and that's just bringing out the best in me, in my coaching.
"I'm just really loving it right now."
You feel more encouraged.
"Hands down, yeah. I think there are a group of players that suit my style and as I said it's just been an easy transition and fit. And I have to say, these players that are off on the sidelines and injured, like Erin McLeod and Bri Scurry and Lisa De Vanna, have been brilliant. And in the bench during the game they're very supportive, they're encouraging. It really is a good group.
"I think when everybody questioned, 'Well, what's gonna happen?' I think Jim has proved that sticking with him was more than the right decision. And he trusted me to come in and support what he was trying to do, and as I said, I credit him a great deal for bouncing back. It takes a lot for coaches in difficult situations.
"Credit to him, and credit to the general manager (Mark Washo) too for sticking with coaches. I think we're all so quick to abandon coaches in search of success, and it doesn't necessarily mean you're gonna get it. But I think in this club [Jim] has been here a long time and he's part of the fabric."
I remember you tweeted after the home game against the Chicago Red Stars that it was hard for you, since that was your first time against your former team. And now, you and the team will be going to Chicago to compete against them again.
"I think it's always gonna be hard. It's a program I built and put a lot of time and energy into. So, you build relationships with players. And I think anybody that tells you in this business that when you leave a job, it's not the job you miss, it's the people you miss. And so I miss some of those players. Some of them I've worked with, like Karen Carney and Katie Chapman, for years, and to the new players like Whitney Engen and Casey Nogueira, whom I have built solid relationships with.
"So yeah, it's always hard, 'cause I want them to do well. They're my players at the end of the day, albeit former ones. And I'm sad for them that they haven't done well this season. But on the flip side, that's in my past, and this is my team now.
"And I'm very much looking forward to winning in Chicago because, for me, if we win it that weekend I think it puts us in the playoffs. So, to do that would be a massive achievement, considering how dry and barren June and July this team was having. So if we make it, it would be a real turn around success story in WPS. Because we've had strong Bay Area, strong Philly, a resurging Boston, and now who is it? It's gonna be Jersey or Washington that clinches. And I think we proved the other night we are prepared to go a little bit further and I hope that we win away in Chicago so my new club can start having success."
Although I'm sure Chicago is not gonna make it easy.
"No. They're top players, they're fully fit, and healthy. I'm pretty certain they'll play for a great deal of pride in front of their home fans. They've got great fans. And they're wonderful players. So it's gonna be tough.
"But for us, we've got the playoffs in our sight. And I'm certainly gonna urge this group this week to not lose sight of that, and go chase our dreams. We're one or two steps away from the playoffs now."
Will the Freedom secure a playoff berth this weekend? Catch the Chicago Red Stars-Washington Freedom game on Sunday, September 5, 6 PM ET either through Fox Soccer Channel, webcast, or on your iPhone. Check out womensprosoccer.com for more information.