Tim Tebow Still Being Considered for Mets' 60-Player Pool, GM Van Wagenen Says
June 30, 2020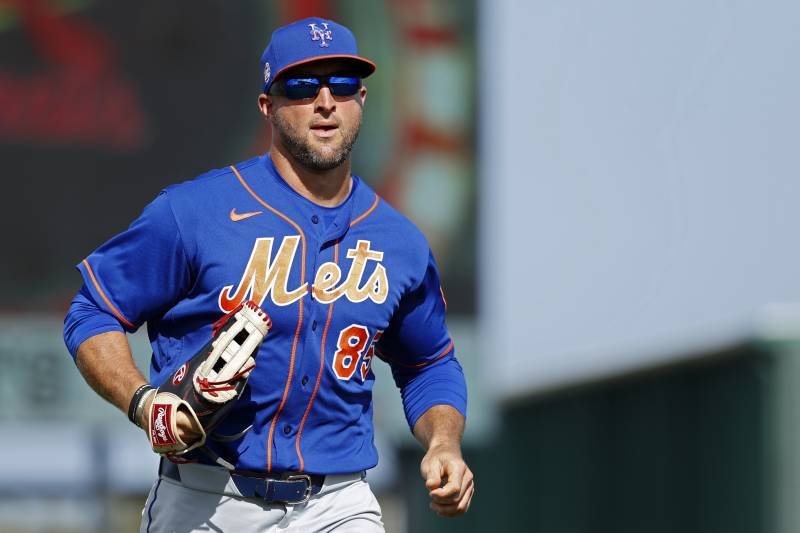 Joe Robbins/Getty Images
The New York Mets have yet to rule out Tim Tebow for their 60-player roster pool ahead of the 2020 MLB season.
"We do still have 10 spots that we haven't made final determinations on who we will be bringing," Mets general manager Brodie Van Wagenen said Monday, per Syracuse.com's Lindsay Kramer. "He was in camp with us early on in camp last spring. He was sent out to minor league camp a couple weeks into it. But he, like many of the other players that were in spring training for us, will be in considerations to bring back. But we haven't made those final decisions."
Teams are allowed to make up to 60 players available for the upcoming season, which was shortened to 60 games because of the COVID-19 pandemic and a subsequent labor dispute between MLB and the MLBPA. Thirty players will fill out Opening Day rosters with the remaining 30 eligible as replacements.
MLB.com's Anthony DiComo noted the Mets submitted 45 players to MLB on Sunday before filling out five more spots.
Were Tebow to make the final cut, it would hardly be on merit.
Tim Healey

@timbhealey

Worthwhile context: It would be a huge surprise to see Tebow added to the player pool. Player pool guys should 1) be a candidate to help the major league team this year OR 2) be a legit prospect who would benefit from the chance to develop. Realistically, Tebow is neither. https://t.co/DGRR6719hD
The 32-year-old made 77 appearances for the Triple-A Syracuse Mets in 2019 and finished with four home runs, 19 RBI and a .163/.240/.255 slash line. Over his minor league career, he has struck out 327 times in 1,048 plate appearances and has a .299 on-base percentage.
In a normal season, commercial reasons could be one justification for calling Tebow up to the bigs. The 2007 Heisman Trophy winner remains a box-office draw despite his struggles, so the Mets would likely get an attendance boost at Citi Field were he promoted.
The pandemic will probably preclude teams from having fans in stadiums, however, thereby mitigating any Tebow-related bump.