Vince McMahon's XFL 2020 TV Schedule Released with ESPN, ABC, Fox Sports, FS1
May 6, 2019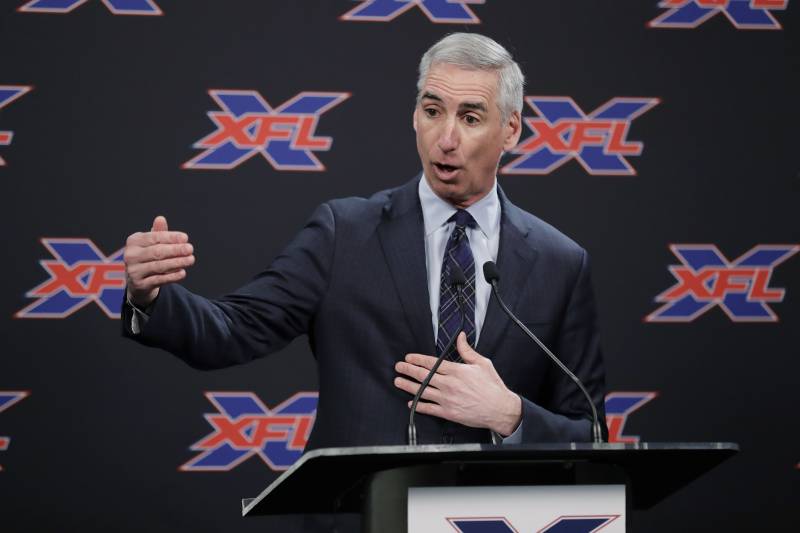 Ted S. Warren/Associated Press
The XFL announced it has reached an agreement with ESPN and Fox Sports to broadcast games beginning February 2020.
ABC, ESPN, ESPN2, Fox, FS1 and FS2 will telecast XFL games. There will be four games broadcast each week, two apiece on Saturday and Sunday. 
"We are thrilled to partner with ESPN and FOX Sports, two innovative media companies with extensive experience in world-class football production that will undoubtedly help us reimagine football," Vince McMahon, XFL founder and chairman, said in a statement. "The XFL broadcast schedule provides us with incredible reach and makes it easy for fans to watch our games consistently every weekend."
The XFL begins its 10-game regular season Feb. 8 with a 2 p.m. ET debut on ABC followed by a 5 p.m. game on Fox. 
"We look forward to showcasing the XFL on ESPN and ABC, including the kickoff game and championship during the league's inaugural season," said Burke Magnus, ESPN executive vice president, programming and scheduling. "Vince McMahon and Oliver Luck are two of the sports industry's most creative and experienced leaders, and they have exciting plans for this league. We believe in their vision for the XFL, which will be a great addition to our year-round commitment to football."
"We welcome the XFL to the FOX Sports Family and are pleased to expand our relationship with Vince McMahon," said Eric Shanks, Fox Sports CEO and executive producer. "Football is in FOX Sports' DNA and a key component of our programming strategy. Alongside Oliver Luck and his incredible team, we're excited for the debut of the XFL on FOX Sports."

McMahon announced the revival of the XFL last January. The XFL was originally founded in 2001 but folded after one season amid myriad problems following a promising start. The XFL was the subject of an ESPN 30 for 30 film.
The new incarnation will be different than its "extreme" predecessor. McMahon said the league will be without gimmicks and focus on a family-friendly product. He's also said players will not be permitted to take political stances, such as kneeling during the national anthem, while on the field.
"People don't want social and political issues coming into play when they are trying to be entertained," McMahon told reporters last year. "We want someone who wants to take a knee to do their version of that on their personal time."
McMahon's wife, Linda, was President Donald Trump's small business administrator until resigning from her post earlier this year.
Vince McMahon has said the league will also have a heavy focus on streaming its content, though no platform has been announced.