Pac-12 Tournament 2019: Quarterfinals Scores, Semifinals Bracket and Schedule
March 14, 2019
John Locher/Associated Press
The 2019 Pac-12 tournament is showcasing the best teams it has to offer on Thursday as the quarterfinals are underway. 
The top-seeded Washington Huskies opened Thursday's round of games against the No. 8 USC Trojans. These two teams met previously in the regular season on Jan. 30, and Washington handled USC easily 75-62.
However, their rematch in the quarterfinals at T-Mobile Arena in Las Vegas wasn't decided until the final second. At 16-16 entering the game, USC needed a win to keep their NCAA tournament hopes alive.
Directly following that came a dominant performance from the 5-seed Colorado Buffaloes, who advanced to the semifinals for the program's first time since 2014. 
The night slate was tipped off by 2-seed Arizona State and 7-seed UCLA, and the outcome was only marginally different than their meeting on Jan. 24. The game was the highest-scoring of the tournament yet.
Below is a look at everything you need to know about Thursday's matchups and Friday's schedule. 

Thursday's Schedule and Results
No. 1 Washington def. No. 8 USC, 77-75
No. 5 Colorado def. No. 4 Oregon State, 73-58
No. 2 Arizona State def. No. 7 UCLA, 83-72
No. 6 Oregon Ducks def. No. 3 Utah Utes, 66-54
Friday's Semifinals Schedule
No. 1 Washington vs. No. 5 Colorado, 9 p.m. EST (Pac-12 Network)
No. 2 Arizona State vs. No. 6 Oregon, 11:30 p.m. EST (ESPN)
View the full Pac-12 tournament bracket, visit the official website.
Recap
Washington Huskies 77, USC Trojans 75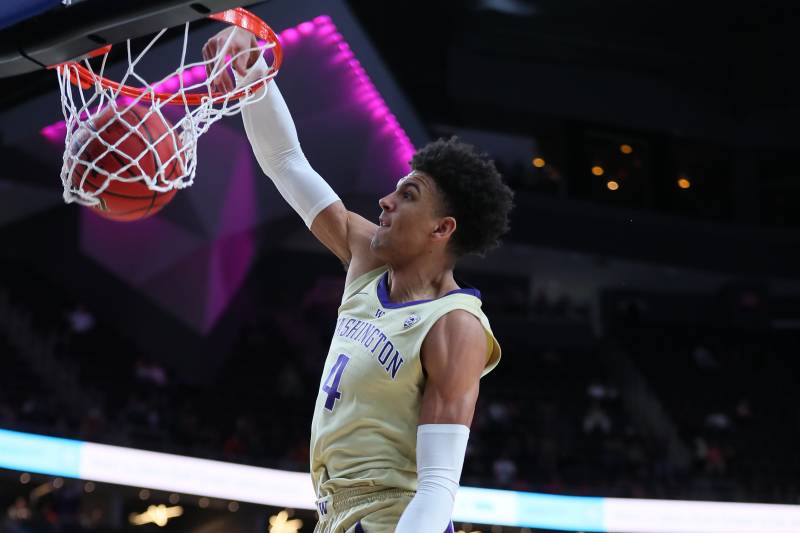 Leon Bennett/Getty Images
Huskies senior guard Matisse Thybulle only scored four points, but it was the 2018-19 Pac-12 Player of the Year who emphatically sealed the win. Thybulle had five steals on the day—none more impressive than his steal-turned-windmill-dunk with 33 seconds left to put the game out of reach for USC. 
Thybulle has the chance to tie or top Gary Payton for most career steals in Pac-12 history in the semifinals. Sitting next to Payton on the set of the Pac-12 Network's postgame coverage, Thybulle admitted he went with the windmill dunk because he was "mad [USC] kept hitting shots."
Washington held a 10-point lead with just under eight minutes in regulation, but USC cut it to a one-possession game behind two crucial three-pointers from senior forward Bennie Boatwright and junior guard Jonah Mathews. Mathews' three made it 72-71 in favor of Washington with 1:12 to go. 
Forty seconds later, Thybulle's dunk gave the Huskies enough padding to fend off USC. 
Boatwright finished with 16 points, seven assists and seven rebounds while Mathews had 17 points. Junior forward Nick Rakocevic, whose layup with eight seconds left made the deficit just 77-75, also had 17 points.
Huskies sophomore guard Jaylen Nowell led all scorers with 24 points, followed by senior teammate David Crisp's 18 points.
USC (16-17) will now have to wait and see what kind of tournament bid it receives—CBI, NIT or NCAA by some miracle—while Washington (25-7) moves on to try and secure a conference tournament title to pair with its regular-season Pac-12 championship.
Colorado Buffaloes 73, Oregon State Beavers 58 
John Locher/Associated Press
The Buffs raced out to a 37-18 halftime lead behind 53.6 percent shooting from the field.
Freshman forward Evan Battey and sophomore guard Tyler Bey each accumulated two personal fouls in the first half, which was the only hiccup for the Buffs. The key to start was stifling Beavers junior forward Tres Tinkle, who was the team's leading scorer in the regular season. However, that didn't last in the second half.
Oregon State chipped away at the Buffs' lead slowly throughout the second half as Tinkle got hot. The Beavers went on two separate 10-0 runs. At the same time, Battey and Bey's foul trouble worsened for Colorado. Each had four with 6:34 remaining in the game. 
Beavers brothers Ethan Thompson and Stephen Thompson Jr. helped Tinkle in trying to mount a comeback with 16 points and 10 points, respectively, but Colorado's initial first-half lead was too much to overcome. Tinkle led all scorers with 23 points, but Colorado exposed Oregon State as a top-heavy team. 
In contrast, Colorado's contributions were widespread. Sophomore forward Alexander Strating was able to step in while Battey managed his fouls and scored 10 points off the bench. Meanwhile, the team's leading scorer in the regular season proved he can be counted on as sophomore guard McKinley Wright IV scored 17 points.
Colorado (21-11) will advance to the Pac-12 tournament semifinals for the first team since 2014 where they will face the top-seeded Washington Huskies, while Oregon State (18-13) will nervously await a tournament bid.
Arizona State Sun Devils 83, UCLA Bruins 72
Ethan Miller/Getty Images
The three-ball was falling for UCLA, but it wasn't enough to compensate for the Sun Devils starting five's strong showing.
In fact, the Bruins should have known it just wasn't their night when Arizona State sophomore forward Kimani Lawrence buried this fluke shot off the bench at the buzzer just before halftime:
Pac-12 Freshman of the Year Luguentz Dort scored 13 points for Arizona State after the freshman guard led the team in scoring during the regular season. The Sun Devils didn't need Dort to carry the load, though, as all five starters scored in double digits. 
Sophomore forward Romello White led the Sun Devils in points with 19. 
The most electric players on the court were UCLA guards Jaylen Hands and Kris Wilkes as well as Sun Devils sophomore guard Remy Martin, who commentator Bill Walton likened to John Stockton for his creative assists:
Wilkes led all scorers with 25, while Hands scored 21. Combined, they accounted for all 10 of UCLA's threes. Pretty as they were, the Bruins needed more guys to get involved. No other Bruin scored in double digits. UCLA missed freshman guard David Singleton, whose season ended when he fractured his left foot in the first round against Stanford.
With the win, Arizona State (22-9) completes the season sweep of UCLA (17-16).
Oregon Ducks 66, Utah Utes 54
Leon Bennett/Getty Images
A suffocating defense has fueled Oregon's recent hot streak, and Utah learned that the hard way Thursday night.
Points were hard to come by in the first half, as the teams combined for 16 field goals in the opening 20 minutes. While the Utes shot just 38.1 percent from the field in the first half, they were considerably better than the Ducks (26.7 percent), resulting in a 24-18 Utah lead.
As Oregon Men's Basketball pointed out, the Ducks' early defense has shined lately:
But Oregon didn' take advantage of that offensively. That would quickly change after halftime, though. 
The Ducks recorded the first six points out of the locker rooms to even the score. After leading for only two minutes in the first half, they pulled ahead 30-28 six minutes into the second half—and never looked back.
Utah would hang within striking distance for the majority of the second half, but Oregon eventually gained breathing room as its lead grew to double digits late. And unlike the Ducks (63 percent in the second half), the Utes couldn't find their shooting stroke, shooting just 34.6 percent overall. That includes a brutal 2-of-23 from three-point range.
About the only thing that kept Utah in the game was going 16-of-20 from the free-throw line.
Freshman Louis King and junior guard Payton Pritchard each dropped 20 points to lead the Ducks, while freshman forward Francis Okoro tied a Pac-12 tournament record with six blocks, according to the Pac-12's Jesse Hooker.
Donnie Tillman (18 points) and Timmy Allen (14) combined for more than half the Utes' points, as they were the only two to reach double figures in a losing effort.
The Ducks have not allowed more than 61 points in a game during their six-game winning streak, holding their opponents to just 51.8 points per contest. It marked the third consecutive outing, and fifth in the last six, that they held an opponent under 55 points.
Oregon (21-12) earned a semifinal showdown with second-seeded Arizona State on Friday night. The Utes (17-14), meanwhile, head home after being swept by the Ducks in their two meetings this season.