Roma vs. Liverpool: Preview, Live Stream, TV Info for UCL Match
May 1, 2018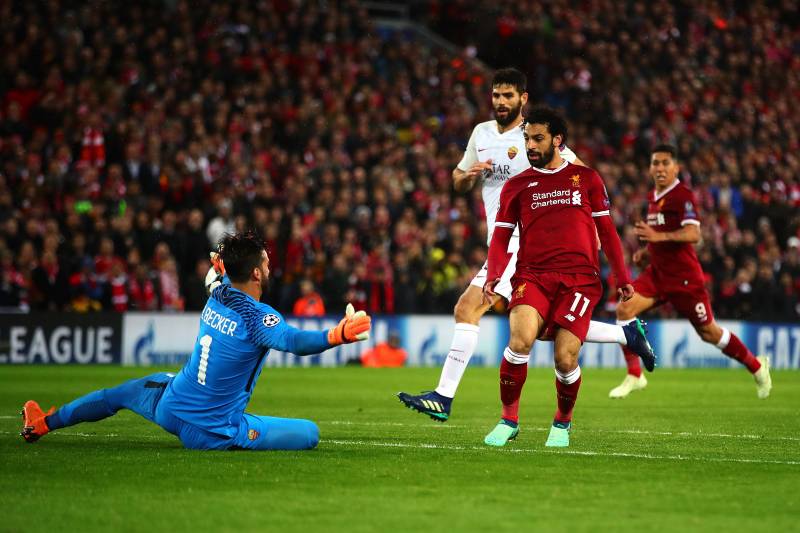 Chris Brunskill Ltd/Getty Images
AS Roma will have to pull off another grand UEFA Champions League comeback if they're to beat Liverpool to a place in the final, with the Reds travelling to the Stadio Olimpico on Wednesday enjoying a 5-2 cushion in their favour.
Liverpool ran riot at Anfield in the first leg of their European semi-final and will be hopeful of snatching a vital away goal at the Stadio Olimpico as they look to finish what they started on Merseyside.
Mohamed Salah will return to his former stomping ground as a bigger and better talent than the one that left Roma's ranks last summer, but the Giallorossi will do their utmost to ensure he doesn't score this time around.
The Egyptian curled in a sweet opener on Tuesday to break the deadlock—the first of two goals he scored in the first leg—and Salah now comes back to a familiar setting on the verge of booking a place in the Champions League final.
Date: Wednesday, May 2

Time: 7:45 p.m. BST/2:45 p.m. ET
Venue: Stadio Olimpico, Rome
Live Stream: BT Sport app (UK), WatchESPN (U.S.), fuboTV (U.S.)
TV Info: BT Sport 2 (UK), ESPN Deportes (U.S.)
Roma Reeling Ahead of Stadio Olimpico Return
It was only after 35 minutes of managing to keep the Merseysiders at bay that Roma relented at Anfield on Tuesday, leaving the gap for Salah to make Liverpool's initial incision before the floodgates opened.
What followed was five goals that, despite Liverpool's reputation for mighty attacking displays, few might have predicted, although The Sunday Times' Jonathan Northcroft noted we perhaps should have:
Jonathan Northcroft

@JNorthcroft

5 goals in 40 min v Roma 3 in 19 min v City 2 in 4 min v Porto 3 in 18 min v Spartak 3 in 19 min v Maribor 3 in 30 min v Sevilla 3 in 21 min v Hof'heim 'Power surges' the story of Liverpool in CL. Chaos, pressing, crowd: how Klopp creates and fuels them https://t.co/fH62Gx2dko
The fixture isn't out of Roma's hands yet, though. Eusebio Di Francesco's men beat Barcelona 3-0 in the second leg of their quarter-final collision to progress, and an identical victory on Wednesday would be enough to advance again.
Just one goal for Liverpool in Rome will mean the Giallorossi would need to net at least four times.
But Roma have at least responded to the first-leg disappointment with some promise, beating Chievo 4-1 on Saturday despite a red card for centre-back Juan Jesus, who at times looked lost in the Anfield outing.
Di Francesco's three-man defence was ravaged on their trip to England, but the good form of Edin Dzeko could yet see Wednesday's hosts overcome in an attacking battle, per the Champions League:
Premier League champions Manchester City have already fallen by Liverpool's hand, beaten 5-1 over two quarter-final legs after the Reds had surpassed Porto 5-0 on aggregate in the round of 16.
Roma need an overhaul if they're to avoid being ousted from this season's Champions League on Wednesday, and former Stadio Olimpico hero Salah could be the man to hammer the nail in their European coffin.