Braxton Miller More Than Just a QB Convert, Has Legit Starting NFL WR Potential
January 22, 2016
G Fiume/Getty Images
Ohio's Mr. Football finalist, two-time Big Ten offensive player of the year and back-to-back top-10 finishes in Heisman Trophy voting. Those accolades and more are what Ohio State's Braxton Miller can boast as he reflects on his college career.
But those all came at quarterback. After suffering a season-ending shoulder injury in August 2014, Miller saw not one, but two Buckeyes quarterbacks pass him on the depth chart. 
Although he was one of the Big Ten's best passers in 2012 and 2013, Miller entered 2015's spring practice as the third-string quarterback. Instead, on the advice of his coaches and with his NFL career in mind, he chose a different route: a position change.
Miller's athleticism was never questioned in his transition, but his ability to adapt and generate production as a true receiver became the scouting story early in the Buckeyes' season. His 2015 numbers aren't jaw-dropping: 26 receptions, 341 receiving yards and three touchdowns, along with 260 yards rushing.
But NFL teams don't draft on college production; they draft on potential, athletic ceiling and impact at the NFL level. Miller's development into a full-time receiver isn't complete yet, but his 2015 campaign proved he's much further along than any quarterback-receiver convert in recent NFL draft history.
And as he'll show throughout the NFL draft process, Miller's uniqueness as an athlete, his big-play threat in the open field and quick-learning mental makeup will allow him to emerge as a quietly coveted starting-caliber receiver in the minds of NFL decision-makers.



The Good: Finishing as a Pass-Catcher
Playing receiver involves plenty of technique and refinement, such as route polish, explosiveness at the top of the stem, subtle hand adjustments, anticipation of throwing lanes and more. But at heart, playing the receiver position involves one key attribute: an ability to catch the ball.
Ohio State vs. Virginia Tech
Aside from his previously displayed athleticism and speed, Miller's immediate comfort in not only gathering receptions as a receiver but also finishing away from his frame immediately displayed his receiving potential as more than just a gadget player.
With multiple highlight-reel catches this year, Miller's concentration, timing and naturally soft hands were far from expected for his one and only season as a Buckeyes receiver.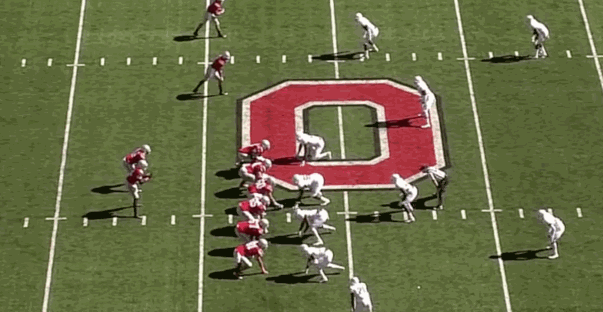 Ohio State vs. Maryland
And while this skill set is clearly a plus on his scouting report, it's actually a huge reason why he should generate early NFL success. As a big-play threat with limited route development (and route success, based on his college film), he won't be separating enough for NFL quarterbacks to trust him early on.
But his extension and finishing ability will give quarterbacks the opportunity to "throw him open," allowing Miller to make up for his mediocre separation early in his career by giving him difficult adjustment catches. He will be relying on his concentration and extension as a pass-catcher to have success as a short and mid-range route-runner early in his career. 


The Bad: Route Reliance on Speed
As stated earlier, Miller wasn't successful as a route-runner in his senior season at Ohio State. While he displayed a willingness to refine his footwork at the stem of his route, and the team gave him simple yet varying route concepts to execute, he's still a speed-based vertical threat and not much more.
Ohio State vs. Virginia Tech
As you can see from the play here, one of Miller's biggest issues as a route-runner is his lack of upper-half movement. The feet get you to your spot as a receiver, but it's shoulders and hip bend that keep defenders off balance, especially against NFL cornerbacks.
Miller attempts to run a double move of some sort with his lower half, but he's so focused on getting downfield that he stays too high and offers little in-sync motion with his shoulders. The cornerback is able to stay tight in Miller's hip pocket, giving the Ohio State quarterback nowhere to effectively place it. 
Ohio State vs. Rutgers
Secondly, Miller doesn't yet possess a great feel for route combinations with his teammates. The former quarterback certainly understands their benefits and how they function, but it takes some experience before the timing and crispness actually results in a beneficial combination for the passing offense.
As in the play here, notice Miller (in the slot) running a "four verticals" concept on the left side, only to run within a yard or two of his outside receiver. Both receivers quickly became neutralized and erased from the quarterback's vision on the play here.
Ohio State vs. Virginia Tech
But while his route inefficiency and timing isn't there yet, Miller can still generate separation. An important piece in evaluating a receiver's separation ability is how he can change speeds to keep defensive backs off balance as to where his route is going.
While Braxton will struggle with in-breaking routes early in his NFL career, his ability to explode on the perimeter and/or vertically should transition from a slot alignment. As in the play here, Miller's second gear is too much for any backpedaling defensive back to contain, no matter how much of a head start the defender has.


The Exciting: Big-Play Athlete in Open Field
During his time at the helm of the Buckeyes offense, Miller was the country's most feared running threat at the quarterback position. His acceleration, vision at the second level and smooth change of direction made opponents fear him more once he crossed the line of scrimmage than when he was setting up behind it. His film as a running threat in 2012 and 2013 won't be forgotten among scouts.
While he didn't get as many opportunities to display his elite open-field ability as a receiver, primarily because his role became a bit more predictable when he was in the backfield or working on jet sweeps, Miller did produce one of the more iconic open-field moves of the past 10 years.
One play doesn't define Miller's long-term potential, but his spin move against Virginia Tech (in his first game as a non-quarterback) gave scouts an instant glimpse at the type of unique and dynamic talent Miller could become.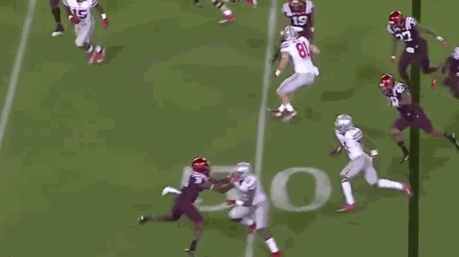 Ohio State vs. Virginia Tech
His finishing ability as a pass-catcher, speed adjustment as a route-runner and dynamic open-field ability will make him not only a coveted early-round prospect but also an immediate impact receiver in the NFL. 
If teams aren't sold yet, Miller will have the opportunity to further ease their concerns at the two most important stages of the NFL draft process: the Senior Bowl in Mobile, Alabama, on January 30, and the NFL Scouting Combine in Indianapolis in late February.
In Mobile, Miller will get the opportunity to show off any route development he's gleaned from coaches over the past few months. And more importantly, he'll begin to prove to NFL teams that his explosiveness and big-play speed can prove effective against a talented senior cornerback class in practice drills and in game situations.
At the combine, Miller will earn his "dynamic" label. According to this Ohio State team plaque, Miller was the second-fastest player on the 2013 roster, posting a 40-time of 4.32. By comparison, Bradley Roby, Doran Grant and Devin Smith (all 2014 or 2015 draft prospects) ran 4.26, 4.32, and 4.33, respectively.
At their eventual combine testing, those three ran 4.39, 4.44, and 4.42, respectively, finishing in the top 10 at their respective positions. It follows that, by comparison, we can fully expect Miller to run in the low to mid-4.4s.
If NFL teams drafted based on experience or college production, Miller wouldn't warrant a draft choice. And for some NFL teams, those two reported red flags may (unwisely) slide him down their draft board.
Miller may gain comparisons to past quarterback converts like Denard Robinson and Brad Smith, but he's far more similar to current NFL starters Tavon Austin of the Los Angeles Rams or, in time, Randall Cobb of the Green Bay Packers. He'll of course need added refinement and an offense growing around him before he can be counted on as a feature offensive weapon, but it's a worthwhile process for playmaker-needy offenses.
And that's exactly what he'll be early and often for his future NFL offense: a weapon. For all of the obvious scouting concerns and red flags his receiver nuance struggles will show, the positives and the upside far outweigh it. Elite natural athletes like Miller don't come along very often. The NFL team that appreciates that and hands in the early-round draft card with Miller's name on it will be getting one of the rarest prospects in recent draft history.