U.S. Open 2009: An Absolute Nightmare End for Vera Zvonareva
September 7, 2009
In sports, there are many different ways to lose and still draw positives.
Losing with style. Learning a lesson while losing. Losing while leaving everything you have on the field. Losing huge.
In 1991, American great Jimmy Connors smashed his way all the way to the semifinals at the U.S. Open at the tender age of 39, only to be defeated by Jim Courier. That is losing with serious style.
In 2008, the Pittsburgh Penguins went to the Stanley Cup finals, after demolishing every opponent in sight in the Eastern Conference, only to fall to the Detroit Red Wings in six games. But a year later, the Penguins and captain Sidney Crosby defeated Detroit in seven games. They lost but learned their lesson so they could win the following year.
And only a few months ago, Andy Roddick lost to Roger Federer for the 19th time in his career at Wimbledon. But Roddick left absolutely everything on the court, falling by a 16-14 score in a fifth set for the ages. Hold your head high, Andy.
But from some losses, there is absolutely nothing positive to take.
Vera Zvonareva collapsed into that pit tonight at Arthur Ashe Stadium.
Facing Italian Flavia Pennetta, the outing started out remarkably well for the heavily taped Russian. Although she dropped the first two games of the match in rather unconvincing fashion, misfiring from both sides on relatively easy balls, she recovered well.
After the early jitters, she seemed to settle into a comfort zone, mixing in attacking the net along with deep half-lobs, a trademark shot of hers. Pennetta was the one looking overwhelmed.
She answered the break and followed up with another, but was 10-for-10 on net approaches. Her knees looked as good as new, as she was tracing down literally everything Pennetta hit, which annoyed the Italian woman to no end. Making quick work of her angles and opportunities, she quickly took the first set.
A mere 33 minutes. Pennetta was way down. Zvonareva was on Cloud Ten. And the match looked to be over within the hour.
Forget the bandages. Nobody can sport long sleeves like Vera.
Plus, the crowd was really looking forward to seeing the match between Andy Murray and Taylor Dent. Give the people what they want!
First Set: Zvonareva, 6-3.
The second set began a little cautiously for Zvonareva. She wasn't going for as big of shots and was content to go for more on her own serve. She was simply staying in rallies on Pennetta's serve, waiting for an error.
The two traded a break and a few holds, but eventually wound up at four-all, with Vera serving in a critical game. If she could hold, she goes up 5-4 and forces Pennetta to serve for her tournament life. But a break would mean the Italian would have a chance to serve for the set.
After several excruciating points at deuce, coupled with desperate wails from both sides throughout, Pennetta had the break she badly needed. The crowd was very pleased to see her trying to make a match of it, but only cheered half-hearted because not many wanted to wait for Murray & Dent.
I believe in Harvey Dent, too. Oops, wrong Dent.
The Savior of Gotham City?
Anyway, the pressure swung onto Vera for the first time all match. She wanted to close out the match and get ready to face Serena Williams in the quarterfinals.
The incredible ecstasy from Pennetta after breaking could be best described as a boomerang. It flies up high, but just as she turned around, not thinking it was coming back, it hits her in the back of the head.
She won the first point but Vera snatched the next four out of the jaws of Hell, breaking right back once again. So far, every time Zvonareva has been broken, she returns the favor on the very next game.
Five-all.
Zvonareva then holds very easily for a 6-5 lead. This has to be the finish line, right? Both players are tiring from the rallies and the humidity. Pennetta comes up to serve once more, with feeling. Again, she has her life on her racquet.
The Russian jumps out to an early lead and earns one, two, three, four match points. Pennetta saves them all easily. Vera is playing her most passive tennis of the entire match. Why now? Why lay off the shots while she has match points? What is the worst that could happen by losing the point. Lose it and try again.
But Pennetta gets one chance to hold serve and cashes it faster than a poor college student. Tiebreak for the set. Exactly what Flavia Flav wanted, exactly what Zvonareva didn't want.
Zvonareva loses the very first point. Mini-break for Pennetta. But she quickly decides to return it to sender, double faulting the advantage right back. Vera jumps out in front, and earns two more match points.
This is the part where it's like reading a spoiler. You already know what happens next.
Vera loses both, and now the breaker is tied again, this time at sixes wild. As if she was struck by lightning from the crowd, Pennetta found a new surge of energy, and won the next two points as well. The set she had no business winning was now in her back pocket, and the match was suddenly leveled.
The now-sleeveless one.
Second Set: Pennetta, 7-6 (8-6).
Now, the momentum was entirely in Pennetta's court instead of Zvonareva. Saving six match points not only energized her, but got the crowd back into the match as well.
All of a sudden, they forgot about seeing Harvey, um Taylor, Dent. 40 minutes of incredibly entertaining tennis had supporters on their feet. But for Zvonareva, it was utter misery. Six chances to win the match and be blowing kisses to the crowd, but instead, she has to retape her bandages for the third set.
The next half hour went by faster than a sniper round. And for Vera, that is a terrible thing.
Frustration with her failing knees. Frustration with the bandages, that were wrapped poorly and now coming off. Frustration with her own play, as she challenged every close call in utter desperation. Frustration at everything.
Before she could even blink an eye, she was down 5-0 and staring the door right in the face. Sort of. More errors, more frustration, as the fortress was razed to the ground in such a short period of time.
Vera has been known for the occasional meltdown. But never anything on this grand of scale. For the last number of months even, she has kept her cool on the court and not allowed for something like this to happen. The tennis gods obviously felt that she was grossly overdue.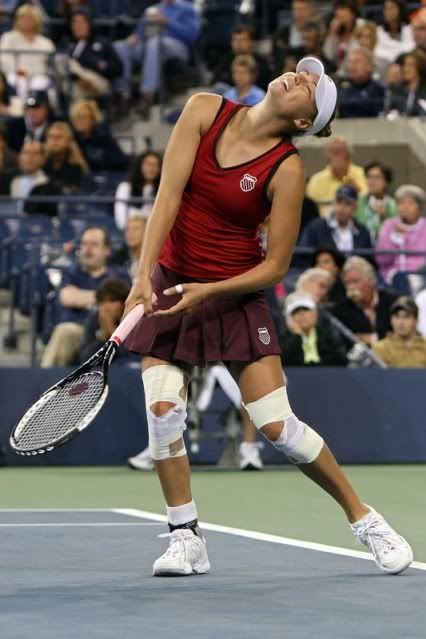 She knows it. We know it.
In a radical change of direction from only an hour and a half earlier, Pennetta is now the one who coasts across the finish line and celebrates with the crowd, firing autographed balls into the stands while Vera sits with a towel over her head in utter disgust.
Not that she deserved any less on this night.
Final Score: Pennetta, 3-6, 7-6, 6-0.
There was only one winner from this match. And she wasn't born in Moscow. This is a performance Vera will want to forget as soon as possible.