Scott Crichton NFL Draft 2014: Scouting Report Breakdown for Vikings DE
May 5, 2014

USA TODAY Sports
Scott Crichton, DE, Oregon State (HT: 6'2⅞"; WT: 273 lbs)
Third Round: 72nd Pick 
NFL Comparison: Nick Perry, OLB/DE, Green Bay Packers 
Highlights
Overall Strengths
+ Utilizes raw power to blow back blockers against the run
+ Compresses pockets with an effective bull rush
+ Big, strong hands that he uses well
+ Quick off the ball and into contact, plays under the chin of blockers
+ Relentless and unforgiving playing style
Overall Weaknesses
- Below-average height with relatively short arms
- Stiff hips and limited speed to rush around the corner
- Undeveloped repertoire of pass-rush moves
Combine Weigh-In
Height
Weight
Arm
Hand
6027
273
32 3/4"
10 1/8"
NFL.com
Combine Workout
40-yd dash
10-yd split
Vert
Broad
3-Cone
Bench
4.84
1.62
31.5"
9'
7.19
24
NFL.com
Intangibles/Character
Scott Crichton's character and work ethic should not be concerns. His decision to enter the draft after his junior season at Oregon State is evidence of his determination and accountability; he did so without seeking a recommendation from the NFL Draft Advisory Board. Crichton had already planned to enter the draft in order to help his family financially and allow his parents to retire. That speaks to his motivations and integrity.
Tools
The natural-ability section of Crichton's scouting reports can be filled with sentences that begin "If only." That's because it's the main thing that holds him back from being a truly dominant defensive end. 
Barely 6'3" and with arm length under 33 inches, Crichton measures in as a smaller defensive end. However, he's put together like a freight train.  He has massive thighs and a built upper body. Crichton is certainly not about to get thrown around at the NFL level.
Limitations on natural athleticism are what get Crichton. His explosiveness and top-end speed are both average at best in comparison to other defensive ends. He is also quite stiff in the hips. Those traits keep him from beating offensive tackles with speed. This shows up regularly on the field.
DraftBreakdown.com
Pass Rushing
With Crichton's inability to regularly win around the corner, offensive tackles can take shallow sets. That means the space he can use as a rusher is compressed.  For rushers who can't threaten the corner, technical skills and strength is very important. Crichton shows promising flashes of these traits.
Raw power is one of his finer traits. He combines natural strength with proper leverage to get underneath the pads of blockers. Crichton uses that to bull-rush to fine effect or knife through tight quarters as a rusher. That means upside on stunts and twists or rushing from the interior.
DraftBreakdown.com
The next two attributes are also important to maximize output for a rusher with limited speed: hand usage and short-area quickness. Both are still inconsistent for Crichton, but show up every so often.
Hand technique is important for Crichton as an end with short arms. If he can bat away the hands of tackles in order to keep from getting locked up, as he does here, he will have much more success.
DraftBreakdown.com
Crichton has shown just a little bit of wiggle as a rusher. His feet aren't the lightest around, but he can threaten inside and outside as a rusher by setting up blockers first. He made a big play against Boise State by doing just that.
DraftBreakdown.com
Crichton's value as a rusher surely isn't nonexistent, even if he is no pass-rush specialist. On top of those bright spots, he is quite productive getting his hands up to deflect passes. He also has experience sliding down and rushing from the inside, which increases his value.
Run Support
Defending the run is where Scott Crichton matches up to most current NFL ends without ever having played a down in the pros. His power, leverage and instincts all make him a formidable player to run at. He can hold his ground at the line of scrimmage or disrupt the backfield with equal success.
Crichton fires his hands into the frame of run-blockers and can reset the line of scrimmage. That allows him to set a hard edge that keeps perimeter runs from getting around the corner. He then plays off blocks with his hands to finish the plays.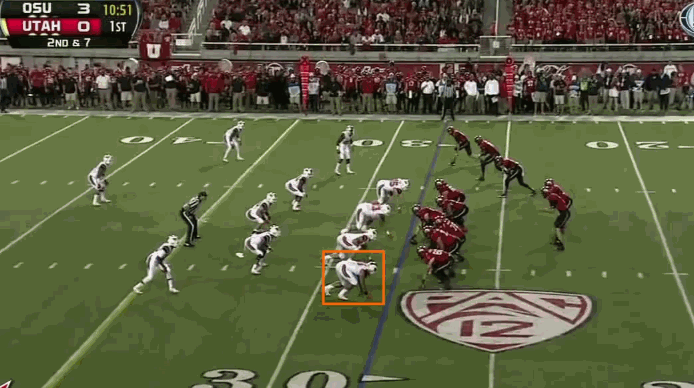 DraftBreakdown.com
The Beavers played Crichton on the inside for stretches of the Oregon game to combat the Ducks' rushing attack. His performance in that game highlights how destructive he can be to an opponent's running game. Crichton gave the Oregon center fits all night, but there was one play that truly stood out as a testament to his run stopping ability:

DraftBreakdown.com
Oregon wants to run to the weak side of the formation and lead a tight end through the hole. All the center has to do is get Crichton sealed and hold his ground.

DraftBreakdown.com
Crichton fires off the ball with a tremendously quick first step. That's what makes this play possible. He also keeps his pads down and explodes through the chest of the center.

DraftBreakdown.com
He blows back the center and engulfs the lead block by doing so. That frees up the slot cornerback to make the play, because the tight end can no longer get to him. The play is an example of the raw power Crichton possesses. He can overwhelm offensive linemen on first contact and destroy plays before they ever start.
DraftBreakdown.com
Scheme Fit
Scott Crichton's unique skill set may mean that defensive coordinators eye a unique role for him.  A 4-3 defense makes the most sense schematically. Beyond that, teams who mix their gap responsibilities or roles for their defensive ends should have interest.  
That means they may have a defensive end who controls two gaps instead of playing contain. It could also mean the end is tasked with contain and pressing the pocket as a rusher.
In base packages for a typical 4-3, Crichton makes sense as a left defensive end. From there he can be moved inside on passing downs or against offenses that like to spread the field more. There are multiple uses for a defender like Scott Crichton.