Diego Simeone and Atletico Taking the War to Real Madrid and Barcelona
February 3, 2014

Associated Press
For the first time since 1996, Real Madrid's "noisy neighbours" Atletico sit loud and proud at the top of La Liga; still in the hunt for all the season's major honours.
Anyone looking for a reason to explain the change in Los Colchoneros need look no further back than December 2011, when the prickly, acerbic, combative manager with the winning attitude, Diego Simeone—who once described his aggressive style of play as akin to "holding a knife between his teeth"—took over at the Vicente Calderon.
The portents were not good. No fewer than 17 managers had come and gone since the club's double-winning season of 1996.
His first season saw him win the Europa League with a 3-0 victory over Athletic Bilbao. He then saw Chelsea off in the UEFA Super Cup, before taking the 2013 Copa del Rey at Real Madrid (2-1) in Los Blancos' backyard, as well as leading his side to a third-place league finish—their best since 1996.
Can Simeone now rekindle the glory days for the Rojiblancos and bring more silverware to the working-class part of Madrid that is at long last seeing itself as at least the equal of its illustrious neighbour? And just how has Simeone managed to work the oracle?
First and foremost, he has created a side in his own image, a team that will go to war with him. Essentially, Atletico work as a team with everybody doing what they are supposed to do, especially at both ends of the pitch.

Denis Doyle/Getty Images
The training sessions are intense, and the improvement in possession this season—now that rivals defend deeper against them—comes also from the work done in training. He has placed a lot of focus on movement up front to give the side new levels.
In goal, the 21-year-old Thibaut Courtois—on loan from Chelsea— is already, without question, one of the world's top goalkeepers. In 22 league matches, the Belgian has conceded just 14 goals, making his side the league's tightest. Atletico will be desperate to hang on to him—at least as much as, if not more than, they will Diego Costa.
According to Atletico president Enrique Cerezo, Chelsea have asked for £20 million. The Rojiblancos, though, are trying to make it look like they don't have the money. But they are also praying that Chelsea don't ask for more cash, as they are willing to buy him. He has a local girlfriend and would love to stay in a team where he feels important and is a guaranteed starter.
Speaking of Costa, he has been a revelation this season and has come of age following the departure of Radamel Falcao to Monaco, to the extent that his decision to opt to play for Spain makes him everybody's favourite to line up for La Roja in this year's World Cup.
The signs were there as far back as January of last season when he began to take charge as Falcao started to lose his touch.
This season he hit the ground running, and despite a mini drought at the start of the second half of La Liga, when he failed to score in four matches, he lashed on his league-scoring boots again in his side's 4-0 beating of Real Sociedad. With 20 goals in 22 league appearances, Costa's form has been attracting avaricious stares from Europe's richest clubs.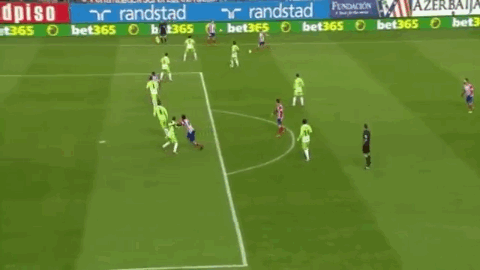 101 Great Goals
He has not been scoring freely in 2014 but has scored two in two (if you want to give him the Rayo Vallecano own goal), but he still assists, fights and causes headaches for opposition defences. Costa is the complete package.
Atletico insist there is no deal in place with Chelsea for next season (not yet anyway). But it is expected that Costa will be sold to cover debts that are still crippling the club. We will see what Simeone has to say on the matter, given Costa's importance to the team.
But it would be unfair merely to single out these two players. Koke has provided incredible support, assists and ball recovery to help make Costa's job that much easier, so much so that he is now thought to have done enough to earn himself a seat on the flight to Brazil at the end of the league season.
David Villa is also enjoying a new lease on life—even though he recognises he is not the player he was, while Turkey international midfielder Arda Turan is also having an excellent season. To add to that, Simeone demanded the return of Diego, who made an instant impact against Real Sociedad; he is the best signing of the January transfer window in Spain.
But will they last the pace?
I have said from the start, and see nothing to change my view, that I believe Atletico will be contenders for the league. But I will be surprised if they keep up this pace. One thing in their favour is that Real Madrid, my favourites for the title since they lost the Clasico, have missed some opportunities to take hold of the top spot, and Barcelona are suffering some structural and style problems that are making their season complicated.
Simeone's faith in his best team and his reluctance to rotate, while in some ways is commendable, could ultimately prove to be his Achilles' heel. The league is a marathon not a sprint, and one where the intelligent use of a full squad can make or break your season. But he keeps using the same regulars. We will see if they can last the pace.
But don't rule out the possibility of some kind of silverware finding its way in to the Vicente Calderon trophy room this season. If they can see off Real Madrid in the Copa del Rey semi-final, then Barcelona, should they take care of Real Sociedad, at the moment look ripe for the taking, and no one is going to fancy coming up against them in the Champions League.