SEC Football: LSU and 3 Teams That Will Underperform in 2012
June 28, 2012

Wesley Hitt/Getty Images
The SEC is unquestionably the best conference in college football. It produces the BCS National Champion more often than not and features many of the premier players in the country.
However, since it is the best conference, being a team in that conference can be difficult at times.
Occasionally, teams that are usually powerhouses are going to struggle, and the 2012 season will be no exception.
Let's take a look at three SEC teams that will finish with a worse record in 2012 than they compiled in 2011.
LSU Tigers
LSU lost both of its quarterbacks from 2011, meaning this season will be a transition year under new QB Zach Mettenberger.
The team will likely continue to pound the ball with the running game, which features Spencer Ware.
However, the backfield is young and somewhat inexperienced, so the Tigers have to hope Ware and his teammates have matured and improved from 2011.
Meanwhile, the LSU defense will also struggle without Morris Claiborne shutting down one half of the field. The secondary still has Tyrann Mathieu and Eric Reid, but the unit will be worse in 2012.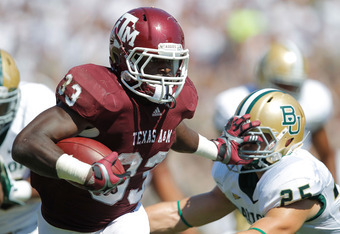 Sarah Glenn/Getty Images
Texas A&M Aggies
The Aggies are another team that will have to deal with a new quarterback and all the growing pains that go along with it.
They lost Ryan Tannehill to the 2012 NFL draft, in which he was a top-10 pick.
Right now, it looks like Jameill Showers will be the starting quarterback in 2012, with Johnny Manziel backing him up.
Though the Aggies also lost star wide receiver Jeff Fuller, they still have plenty of weapons on offense, including running back Christine Michael and wide receiver Ryan Swope.
If Showers can put together a solid season, the Aggies might not fall too far, but there will certainly be a drop off in 2012.
Florida Gators
Until the Jeff Driskel/Jacoby Brissett quarterback battle is decided, this team won't have an offensive identity.
The Gators will also be relying on Mike Gillislee at running back, a player who missed three games last season and had three or fewer carries in four games.
Without Chris Rainey getting carries and catching passes, this offensive unit is going to have to find another big playmaker.
Even if the Florida defense has an outstanding season, this team has too many offensive question marks to even match 2011's 7-6 record.