2013 NFL Draft WR Prospect Justin Hunter More Than a Track Star Playing Football
June 22, 2012
It's easy to pigeonhole Tennessee junior wide receiver Justin Hunter.
He is a world-class long jumper and high jumper, so he must be a track athlete trying to fit in on the football field. He is 6'4", with 4.4 speed, and his highlight reel is filled with deep touchdown catches, so he must be a one-trick pony. He tore his ACL last year, so he'll just be a player who never lives up to the potential he flashed early in his career.
A cursory review of Hunter's last full game before tearing ACL last year reveals that he is a football player who happens to have freakish athletic tools at his disposal. One peek at the news out of Knoxville this spring reveals that Hunter is well on his way to picking up where he left off last year.
Hunter's game versus Cincinnati in 2011 established career highs in catches and yardage, but they were not completely based on Hunter's speed and ups—not directly at least.
Hunter's speed does inspire defensive backs to give him a big cushion: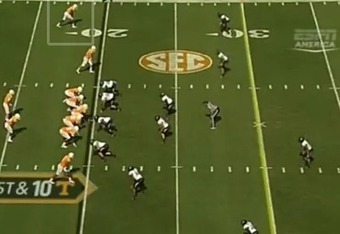 That space opens up the room for the slant to come open: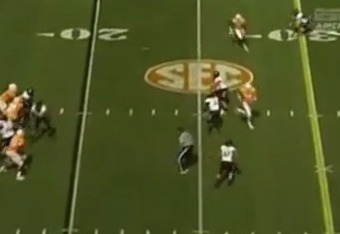 Hunter's wheels allowed him to beat the tentative corner to the spot and turn the short pass into an 18-yard gain.
The play also underscores the timing between quarterback Tyler Bray and Hunter. They consistently hooked up on slants, comebacks and other timing-based routes that capitalize on a secondary playing on its heels. This emphasizes Hunter's commitment to practicing hard, which is the only way to build chemistry between a quarterback and receiver.
These plays are helped by Hunter's considerable gifts, but the foundation is the precise and numerous reps between the players.
Of course, Hunter's speed is lethal when it comes into play. On this touchdown, the cornerback stumbles ever so slightly turning to run with Hunter: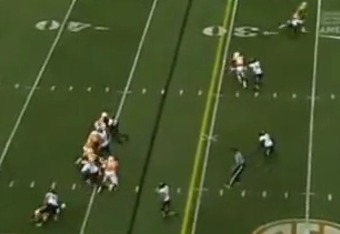 Hunter easily creates separation and goes on to reel in a perfectly-placed over-the-outside-shoulder 33-yard touchdown pass from Bray: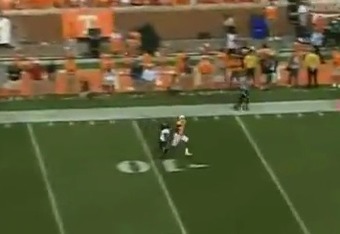 During the game, Hunter also breaks numerous tackles, which is impressive considering he has a lanky 205-pound frame. He displays valid run-after-catch instincts to gain extra yards and elude defenders as well. He also shows the "football skills" of being a good-hands catcher: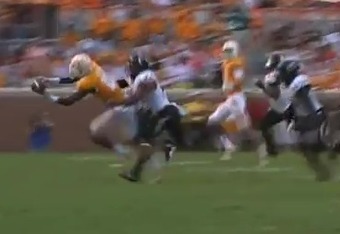 And giving effort as a blocker downfield in the running game: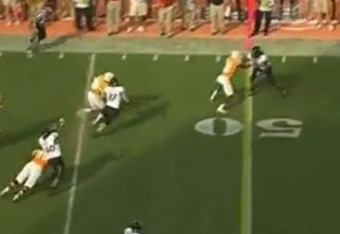 There's no doubt that Hunter's combination of size, speed and explosiveness puts his ceiling as a football player very high. In a short amount of time, he has already refined his game as a wide receiver and figured out how to use his tools to do more than just bludgeon a defense over the head with them by winning jump balls or running away from defensive backs.
If his career continues on this trajectory, he could be the first wide receiver off the board next April.
The only thing standing in Hunter's way right now is a full recovery from his ACL tear. Just seven months after suffering the injury, Hunter caught a 50-yard touchdown pass from Bray in the Tennessee spring game.
Pretty soon, we'll be able to cross that off the list of reasons that Justin Hunter won't be a first-round draft pick next year. That should complete the transformation of the perception of Hunter as a track star who found his way onto the football field into a well-earned reputation as an excellent wide receiver who also happens to be a world-class track athlete.