2012 NHL Mock Draft: Pick-by-Pick Projections for Rounds 1 and 2
June 21, 2012

Richard Wolowicz/Getty Images
The 2012 NHL draft is one day away and the tension is building fast. With the possibility of trades throwing off everyone's pre-draft plan, this could be one of the more exciting drafts in years.
Let's look a mock draft for the first and second rounds.
1. Edmonton Oilers:  Nail Yakupov, F, Sarnia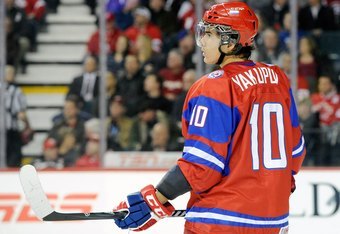 Richard Wolowicz/Getty Images
The Oilers might anger fans who want them to take a defenseman like Ryan Murray, but Nail Yakupov is the best talent available this year and the right pick.
2. Columbus Blue Jackets: Ryan Murray, D, Everett     
The Blue Jackets need a franchise defenseman like Ryan Murray that can dominate in the defensive zone.
3. Montreal Canadiens:  Mikhail Grigorenko, F, Quebec 
Grigorenko will be the top line center for the Montreal Canadiens for a long time.

4. New York Islanders:   Filip Forsberg, F, Leksands   

If the Blue Jackets take Ryan Murray, do the Islanders take a defenseman like Mathew Dumba or draft a forward such as Filip Forsberg? Since Forsberg has superstar potential, he should be the pick.
5. Toronto Maple Leafs: Alex Galchenyuk, F, Sarnia      
Galchenyuk won't be on the ice for the Toronto Maple Leafs next year, but he is the No. 1 center of the future for the franchise.
6. Anaheim Ducks:  Mathew Dumba, D, Red Deer
The Ducks need a defenseman to come in and excel right away, which is what Mathew Dumba can do for them.
7. Minnesota Wild:  Teuvo Teravainen, F, Jokerit
The Wild will add another scorer to their struggling forward group by selecting Teuvo Teravainen.
8. Carolina Hurricanes: Morgan Rielly, D, Moose Jaw    
The Hurricanes have to give goaltender Cam Ward some more quality defenseman in front of him, so picking Morgan Rielly at No. 8 makes sense.

9. Winnipeg Jets: Jacob Trouba, D, USA U-18
Since Zach Bogosian hasn't developed into a star talent, taking Jacob Trouba and hoping he becomes a top NHL defenseman is a risk worth taking for the Winnipeg Jets.
10. Tampa Bay Lightning:  Sebastian Collberg, F, Frolunda HC 

The Lightning need more consistent scoring from their bottom two lines, which is what Sebastian Collberg can provide them.
11. Washington Capitals (from COL):  Radek Faksa*, F, Kitchener   
Radek Faksa can excel in the Capitals' heavy style of hockey and also score goals if the team decides to play like they did before Dale Hunter took over as coach this season.
12. Buffalo Sabres: Zemgus Girgensons, F ,Dubuque
The Sabres will take a forward with their first selection of the draft to add some much needed scoring depth to their organization.

13. Dallas Stars: Olli Maatta, D, London   
Olli Maatta was one of the best defenseman in the OHL this season and has offensive star written all over him.
14. Calgary Flames: Cody Ceci, D, Ottawa  
The Flames are in need of another franchise defenseman because Jay Bouwmeester isn't the No. 1 blueliner for Calgary going forward.
15. Ottawa Senators: Hampus Lindholm, D Rogle    
Building from the back is a good strategy for the Senators, and they should continue to do that by drafting Hampus Lindholm.

16. Washington Capitals:   Brendan Gaunce, F, Belleville 
Gaunce could go higher in the first round, but if he's here for the Capitals, don't expect Washington to pass on the power forward.
17. San Jose Sharks: Griffin Reinhart, D, Edmonton 
Reinhart is another player whose stock is rising, so if the Sharks see him at No. 17, they would be foolish to pass on him. He's a future No. 1 defenseman.

18. Chicago Blackhawks: Derrick Pouliot, D, Portland
Pouliot could be the most underrated player in this draft and would add some poise and physical talent to the Blackhawks' blueline.
19. Tampa Bay Lightning (from DET): Dalton Thrower, D, Saskatoon
The Lighting are another one or two good defenseman away from being the favorite to win the Southeast division next year.

20. Philadelphia Flyers:   Stefan Matteau, F, USNTDP
The Flyers would probably love to anger the Rangers and not let Stefan Matteau fall to New York by taking him at No. 20.

21. Buffalo Sabres (from NSH): Tom Wilson, F, Plymouth  
Tom Wilson has the combination of truculence and offensive skill that very few prospects in this draft have. He could be a Milan Lucic type player in the NHL.
22. Pittsburgh Penguins: Brady Skjei, D, USA U-18 
The Penguins won't draft a winger with the No. 22 pick when they could add a scorer for Sidney Crosby and Evgeni Malkin in free agency.
23. Florida Panthers: Matt Finn, D, Guelph 
Matt Finn and former first-round pick Erik Gudbranson would be two future stars on the Panthers' blueline.
24. Boston Bruins:  Henrik Samuelsson, C, Edmonton 
The Bruins have good depth at center already at the NHL level, but the rest of the organization could use more depth at the position.

25. St. Louis Blues: Slater Koekkoek, D, Peterborough      
Playing strong defense is what the St. Louis Blues do best right now, so drafting a future star in Slater Koekoek would be a smart move.
26. Vancouver Canucks: Pontus Aberg, F, Djurgardens
Pontus Aberg would help give the Canucks the truculence they need on lines two through four.
27. Phoenix Coyotes: Colton Sissons, F, Kelowna   
The Coyotes will take the best player available at by drafting Colton Sissons at No. 27.
28. New York Rangers: Tomas Hertl, F, Slavia 
The Rangers have spent a lot of money on free agent forwards in the last few years, so drafting a young forward in the first round makes sense so the team can rebuild their organizational depth.
29. New Jersey Devils: Malcolm Subban, G, Belleville
This is an easy pick for the Devils, and now that the Lightning have found their young goalie with the Anders Lindback trade, Subban might actually fall to pick 29.

30. Los Angeles Kings: Scott Laughton, F, Oshawa 

Laughton would be a nice addition to a Kings team that loves to dominate teams physically.
31. Columbus Blue Jackets: Oscar Dansk, G, Brynäs

The Blue Jackets need to draft a goalie in the second round since it's not guaranteed that a potential Rick Nash deal would net them one in return.
32. Edmonton Oilers: Andreas Athanasiou, C, London

The Oilers will continue to build their forward depth with the selection of Andreas Athanasiou.
33. Montreal Canadiens: Nikolay Prokhorkin, LW, CSKA

The Canadiens will add a center with the No. 3 pick, then address their need for scoring on the wings with a second-round selection of Nikolay Prokhorkin.
34. New York Islanders: Sam Kurker, RW, Saint John's Prep
The Islanders have enough talented young forwards but Sam Kurker has too much ability to pass on.
35. Toronto Maple Leafs: Phillip Di Giuseppe, LW, University of Michigan
The Leafs will make a smart and safe pick by taking a player who can be physical and provide top-end skill like Phil Di Giuseppe.
36. Anaheim Ducks: Nicolas Kerdiles, LW, USNTDP

If Bobby Ryan leaves the Ducks this season via trade, then Nicolas Kerdiles could be a potential replacement at left wing down the road.
37. Nashville Predators (from Minnesota Wild): Boo Nieves, C, Kent School

The Predators need a center like Boo Nieves that can add consistent scoring to their struggling offense that must improve for another good playoff run.
38. Carolina Hurricanes: Jordan Schmaltz, D, Green Bay 

Jordan Schmaltz could be one of the biggest steals of this draft and would significantly bolster the talent in the Hurricanes' organization on defense.
39. Winnipeg Jets: Daniil Zharkov, LW, Belleville

The Jets need to score more goals, so drafting Danill Zharkov is a safe pick for the Jets.
40. Tampa Bay Lightning: Jake Paterson, G, Saginaw

The Lightning would be wise to draft a goalie as there's no guarantee that Lindback will be a good No. 1 goalie because he's inexperienced as a starter at the NHL level.
41. Colorado Avalanche: Anton Slepyshev, LW, Metallurg Novokuznetsk

The Avalance will draft forward Anton Slepyshev to continue building their depth on the wings.
42. Buffalo Sabres: Mark Jankowski, C, Stanstead College
Mark Jankowski is a raw talent but someone that the Sabres can let develop and eventually add to the NHL roster to give the team some quality scoring depth at center.
43. Dallas Stars: Josh Anderson, RW, London Knights
The Stars should add Knights winger Josh Anderson as a reliable offensive player.
44. Buffalo Sabres (from Calgary Flames): Scott Kosmachuk, RW, Guelph

Kosmachuk is one of the more underrated wingers in the draft and would be a steal for the Sabres if he's available at No. 44.
45. Columbus Blue Jackets (from Ottawa Senators): Michael Matheson, D, Dubuque

The Blue Jackets will take a defenseman at pick 45 even though they took one at No. 2 with Ryan Murray.
46. Minnesota Wild (from Washington Capitals): Jarrod Maidens, C, Owen Sound

Jarrod Maidens from Owen Sound could become the goal-scoring center that the Wild need at the NHL level on their second and third lines.
47. Carolina Hurricanes (from San Jose Sharks): Lukas Sutter, C, Saskatoon Blades

The Hurricanes need another center for their bottom two lines, and Sutter has enough offensive promise to justify taking him at pick 47.

48. Chicago Blackhawks: Brandon Whitney, G, Victoriaville Tigres

The Blackhawks would love a quality goaltender like Brandon Whitney to be available in the second round.
49. Detroit Red Wings: Ludvig Byström, D, Modo (Elitserien)
Byström won't be NHL ready for next season, which is when Detroit needs more depth on defense, but he's a great project for the long-term.

50. Nashville Predators (from Philadelphia Flyers): Patrick Sieloff, D, USNTP

The Predators need to take a defenseman in the second round because their depth in the organization at the position must be improved.
51. Montreal Canadiens (from Nashville Predators): Zachary Stepan, C, Shattuck-St. Mary's
Stepan would be a quality center for the Canadiens, and would be a smart pick if they don't take a center with the third overall pick.
52. Pittsburgh Penguins: Tim Bozon, LW, Kamloops
The Penguins will finally take a winger with scoring ability in the second round with the selection of Tim Bozon.
53. Florida Panthers: Trevor Carrick, D, Mississauga St Michael's

The Panthers will add to their depth on defense with another blueliner by taking Trevor Carrick.
54. Washington Capitals (from Boston Bruins): Chandler Stephenson, LW, Regina

Chandler Stephenson has a bright future as an NHL left winger.

55. San Jose Sharks (Compensatory): Brian Hart, RW, Exeter
The Sharks have some veterans at right wing at the NHL level who will need to be replaced by the time Brian Hart is ready to make the jump to the NHL.
56. St. Louis Blues: Erik Karlsson, F, Frölunda (Elitserien)
Karlsson will be a talented offensive player in the NHL after a few more years of development.
57. Vancouver Canucks: Gemel Smith, C, Owen Sound

The Canucks will cross off one of their needs in this draft by taking a center in Gemel Smith of Owen Sound.
58. Phoenix Coyotes: Tomas Hyka, RW, Gatineau Olympiques
Tomas Hyka is projected to be a high third-round pick, but the Coyotes will take him in the late second round because of his skating and improving goal-scoring ability.
59. New York Rangers: Anthony Stolarz, G, Corpus Christi
The Rangers' depth at the goaltending position is weak on every level of the organization except for the NHL, so they need to start developing some players to take over for Henrik Lundqvist in the future.
60. New Jersey Devils: Francis Beauvillier, LW, Rimouski Oceanic
The Devils will draft a winger in the second round just in case Zach Parise leaves the team as an unrestricted free agent.

61. Dallas Stars (from Los Angeles Kings): Richard Tanner, C, Guelph Storm
The Kings will select Richard Tanner to add some needed scoring depth at the center position.