Lance Armstrong: USADA Investigation Isolates Star Rather Than Systematic Issue
June 13, 2012

Neilson Barnard/Getty Images
In a letter that was sent to Lance Armstrong on Tuesday, the United States Anti-Doping Agency has indicated that they have filed a new investigation against the star athlete that would now cost him his seven Tour de France titles.
As a result of the charge, Armstrong is temporarily banned from triathlon activities, which is how he's been spending his training time since he retired from cycling last year. While Armstrong has never tested positive for doping, the USADA claims that Armstrong has had "blood manipulation", blood transfusions, masking agents and EPO use in a "long running doping conspiracy". Only four months ago, the two-year investigation on Armstrong at the U.S. Attorney's Office was ended.
The USADA also claims that multiple witnesses will "testify that Armstrong also used human growth hormones before 1996".
Not to mention the fact that the World Anti-Doping Agency has a set limit of time in regards to when a doping allegation can be made (eight years) that these allegations entirely violate. Many have begun to wonder if Armstrong is being singled out for an incident that he has no right to be investigated for.
As we may remember from the last time that Armstrong was put in a similar situation as recently as earlier this year, federal prosecutors dropped the case rather than indicting him on federal charges.
Armstrong is undeniably one of the most drug-tested athletes in sports history, and with over 500 tests that came back negative, one may begin to wonder if it's about time to let this one go.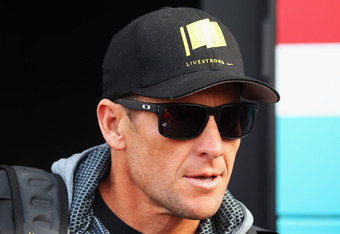 Bryn Lennon/Getty Images
While former teammates Floyd Landis and Tyler Hamilton have both confessed that Armstrong doped during his victories and encouraged them to do the same, the story has only continued to grow in magnitude into the one that it is today. Hamilton, however, retired after testing positive twice himself. As the story continues to gain momentum, frustration begins to ensue.
"I have never doped, and, unlike many of my accusers, I have competed as an endurance athlete for 25 years with no spike in performance, passed more than 500 drug tests and never failed one," said Armstrong. "That USADA ignores this fundamental distinction and charges me instead of the admitted dopers says far more about USADA, its lack of fairness and this vendetta than it does about my guilt or innocence."
"These are the very same charges and the same witnesses that the Justice Department chose not to pursue after a two-year investigation," Armstrong continues.
When the charges were last dropped, Armstrong was allowed to continue to live his life without worrying about the claims that were bestowed upon him. Now, he is forced to go back into the same old grind.
"I am gratified to learn that the U.S. attorney's office is closing its investigation," Armstrong explained. "It is the right decision and I commend them for reaching it. I look forward to continuing my life as a father, a competitor, and an advocate in the fight against cancer without this distraction."
By adding another investigation against Armstrong so quickly after the last one failed, they are doing the exact opposite.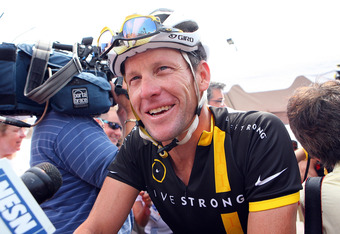 Gail Oskin/Getty Images
They are making his life more difficult as a father. With their father under federal prosecution, his children (Luke: 12, Isabelle and Grace: 10, Max: 3, Olivia: 1) are distracted from their already wild daily life of being the children of a celebrity. Just as things began to normalize in their chaotic lives, this exploded once more.
At this point, Armstrong's Wikipedia entry on doping allegations is longer than most athletes' Wikipedia pages in total. If correct, they properly punish him for his action as they take away from his seven titles, all of his campaign networking for Livestrong and Nike, ban him from triathlon runs, and discourage future riders from going down a similar path. If incorrect, however, they are fruitless allegations only acting as a nuisance in the sporting world.
Perhaps most importantly is why they would target Armstrong specifically.
Armstrong, who calls the charges "baseless" and "motivated by spite" is being isolated and targeted for an issue that may affect racing as a whole. Armstrong, an incredible advocate for the fight against cancer and resilience as a whole, however, is under attack.
Robert D. Luskin, Armstrong's attorney, echoes similar sentiments. "They allege an overarching doping conspiracy among four teams over 14 years, and Lance is the only rider that ever gets charged."
If the USADA hopes to stop a systematic error of cheating and the disguise of cheating, so be it. It is a noble effort. Clearly, however, Armstrong ought not be the target after 500 drug-test attempts. Either he cheated, got away with it, or didn't. But this is getting sloppy and embarrassing for all parties.
Perhaps the USADA needs to find a target that they can actually take down, rather than the superstar that has done more for the sport and cancer research than any other athlete in the last memorable decades.
Bryan is always interested in new opportunities and can be reached on Twitter. Click here to Follow @BryanKalbrosky.