Arsenal Transfer News: Gunners Stupidly Prohibit Van Perise to Speak with Clubs
May 25, 2012

Shaun Botterill/Getty Images
Arsenal boss Arsene Wenger is, yet again, forcing away his best players.
The French manager of the North London club has, according to Goal.com, prohibited Robin van Persie from speaking with other clubs.
And, the Gunners reportedly haven't done anything to sweeten their deal to extend the 28-year-old Dutchman, as Goal.com states:
The Holland striker told the Gunners at his first round of contract talks nine days ago that he does not want to extend a deal that expires in a year's time and is considering leaving Emirates Stadium.

Goal.com understands that, contrary to reports, Arsenal did not even make Van Persie an offer of an improved contract last week.
Previous reports, via Mirror Football, indicate that Arsenal had offered a three-year, £130,000-a-week contract extension with a £5 million signing-on fee for the captain to stay at the Emirates.
And, it is well known that Wenger is adamant on letting Van Persie walk away for free after the 2012-2013 campaign if he cannot extend his contract. The Arsenal boss, by no means, is willing to sell his star this summer.
But Van Persie also insisted that he's not ready to sign an extension and wants more time to figure out his future, according to the Daily Mail.
The chase for Van Persie has been relegated to all of two teams with only one seeming like a legitimate possibility. Both Barcelona, according to Goal.com, and Juventus, according to the Daily Mail, have dropped out the race, leaving Manchester City the overwhelming favorite to court the Premier League's top scorer.
It was initially believed that Manchester United were willing to match that offer, according to Mirror Football, but nothings has come of it since and the Red Devils are well stocked atop their formation.
Essentially, Wenger has forbid Van Persie from speaking to Manchester City, the same club that signed Gael Clichy away last summer before stealing Samir Nasri late in the window.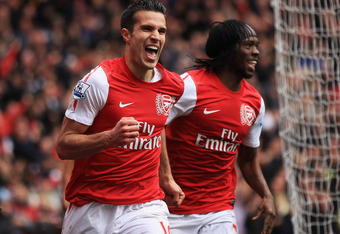 Bryn Lennon/Getty Images
They newly crowned Premier League champions are expected to part ways with both Carlos Tevez and Edin Dzeko this summer, thus, opening plenty of room for the soon-to-be 29-year-old RVP.
Wenger's inability to be patient with this matter is now a problem. RVP is set to head west with his country for Euro 2012 and it was highly unlikely that Roberto Mancini would be getting into the Dutchman's ear during one of the biggest tournaments in the sport.
Furthermore, RVP made it plainly clear that he's not ready to make a decision on anything, not just Arsenal, but anything.
Why Wenger panicked and slammed the doors shut on a deal that may never happen makes no sense. While it remains to be seen if Arsenal can attract a few more superstars for RVP to work with, the North London club will compete in a number of competitions next season including the Champions League.
Had Wenger played RVP's game, he could have earned himself a bit of a hometown discount. Instead, he's pushing his captain away and forcing the issue.
Don't be surprised at all when this becomes a problem for Arsenal and their attempt to extend Robin van Persie's deal.