Indiana Pacers: Larry Bird Calls Team 'Soft' After Game 5 Blowout
May 23, 2012

Mike Ehrmann/Getty Images
If you're named the NBA's Executive of the Year, is there no filter as to what you're allowed to say about any team?
This is including your own team, by the way.
Apparently that rule doesn't apply to Larry Bird, who vented his frustration to reporters after the Pacers were annihilated by the Miami Heat in Game 5 on Tuesday as the series now shifts back to Indiana for a must-win situation.
Larry Bird: "I can't believe my team went soft. S-O-F-T. I'm disappointed. I never thought it would happen."

— Mike Wells (@MikeWellsNBA) https://twitter.com/MikeWellsNBA/status/205159405476519937" data-datetime="2012-05-23T04:53:08+00:00">May 23, 2012
That tweet came courtesy of Pacers beat writer Mike Wells in the postgame interviews after Indiana's 32-point loss.
I'm not sure if this was a way to rally the troops for a do-or-die Game 6 coming up in a couple of days, but this doesn't seem like the best way to do it. We all know how much of a competitor Bird is, and has been for the entirety of his NBA career as a player, coach and now executive.
But when you're one game away from your season coming to an end, this isn't the time for words like that. And this surely can't resonate well with the Indiana players, who feel like they have done everything they can in these last two games to take control of this series by the horns, but haven't done so.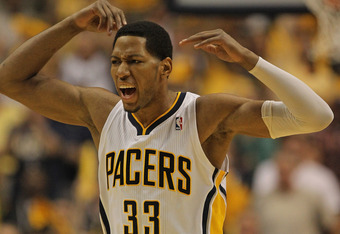 Jonathan Daniel/Getty Images
When Miami has LeBron James and Dwyane Wade playing at the level they're playing right now, it's hard to think any team in the league can contain them for an entire 48 minutes, let alone a young Pacers team who hasn't experienced this kind of playoff success in their careers.
It also doesn't help when your star player, Danny Granger, is ruled out for the entire second half, losing all scoring ability from the perimeter. Paul George has the capability to be that guy, but Granger is the guy that most of those young players look up to. When he's not playing, it's tough for Indiana to compete at the level it wants to play at.
Nevertheless, it's still a 3-2 record in favor of the Heat going into Game 6, and Bird better hope that those words rally his team together in a big way and they can bring the series back to Miami for Game 7.