Chicago Bulls: Coach Tom Thibodeau May Not Be the Man for the Job
May 7, 2012

Jonathan Daniel/Getty Images
In the shadow of the free-agency class of 2010 was a career assistant named Tom Thibodeau, who began his head coaching career by signing a contract with the Chicago Bulls. He chose the Bulls over other offers for more money.
I think most would argue the addition of Thibodeau from that free-agency class, much more than Carlos Boozer, propelled the 41-win team the season prior to a league-best 62 wins.
Chicago's homegrown superstar, Derrick Rose, prospered under Thibodeau, and earned a Most Valuable Player trophy for it. Thibodeau secured the Coach of the Year Award for his accomplishments last season.
Thibodeau, the defensive mastermind, has a plan and he sticks to it; that mentality led the Bulls to another No. 1 seed during this season, despite injuries to Rose and newly-acquired free agent Rip Hamilton, among others.
The Bulls fell to the Miami Heat in five games during the Eastern Conference Finals last season. This season, the Bulls are one game away from elimination in the first round of the playoffs against the team with the worst regular-season record in these playoffs.
Thibodeau's plan helped the Bulls exceed expectations two times in a row in the regular season, but the Bulls seemed poised to disappoint expectations in the playoffs for the second time. At what point does a head coach need to craft a new plan?
The playoffs are all about adjustments. The only reason we've heard that so many times is because it's true. The problem is that Thibodeau is inflexible. His lineups remain largely the same, as they did last year during the Eastern Conference Finals.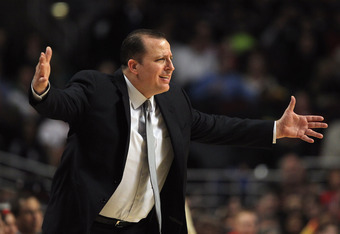 Jonathan Daniel/Getty Images
One of Thibodeau's mantras is that the Bulls have more than enough to win. Without Rose, they really should have enough to win this series, or at least take it to seven games.
The truth is the players seemed to have given up the second Rose tore his ACL, and Thibodeau couldn't motivate them. They bought into Thibodeau's words about having more than enough to win, but it doesn't seem that the players believe that anymore, not while on the brink of elimination.
It takes a certain gravitas, and an ability to juggle a lot of conflicting ideas and the personalities of a lot of players to be a great head coach in this league. Doc Rivers has that. Phil Jackson had that. Does Thibodeau have it? Picture a brooding Thibodeau on the sidelines and try to convince yourself that he does.
Thibodeau brings a lot to the table for an NBA team. He's a valuable piece of the puzzle, but is he the guy that gets the pieces to fit together correctly?