Ohio State Football 2012: The Urban Shift in Recruiting
May 2, 2012

Jamie Sabau/Getty Images
Recruiting. It is the lifeblood of every college football program. You can be the best X's-and-O's guy out there, but without the stallions, the race will be lost to a superior breed somewhere on the way to the final post.
And so too it remains for Ohio State. Though it's not an exact science, the proud program's success on the field has more than often had a direct correlation between the success on national signing day. And more often than not, it holds its Scarlet and Gray candle up to anyone.
However, the philosophy of recruiting seems to be changing. In years past, simply putting the proverbial fence around the football talent-rich state of Ohio was enough. After all, Ohio State is THE program in a populous state with many population centers.
Sure there are other major college programs that toss the pigskin around a bit in the Buckeye state—but Ohio still the Buckeye State. Most kids in the shadow of the Pro Football Hall of Fame grow up idolizing  Buckeye players and yearn for the chance to don the silver helmets with a king's ransom of Buckeye leaves plastered on top.
Enter stage left Urban Meyer.
Make no mistake about it, he is just as much "Ohio" as Jim Tressel, Earl Bruce and Woody Hayes. And he's in the VIP club with Buckeye pedigree when compared to John Cooper (no offense, Coop).
That means Urban more than likely knows he'll still cook his gourmet dinner on the field with most of the groceries from Ohio. He'd be a fool not to take advantage of such gifted athletes playing catch right in the backyard of the Horseshoe and skipping stones from the Ohio River to Lake Erie via the Olentangy River.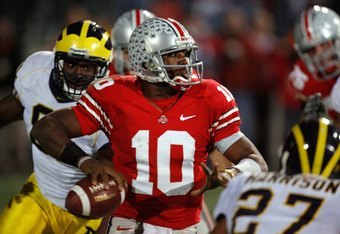 Gregory Shamus/Getty Images
Just like any great chef that uses homegrown ingredients, though, to make the final product all that more tantalizing to the taste buds, it may occasionally necessitate going for the premium stuff to blend it all together.
Prime filet, anyone?
Welcome to the Urban kitchen of fine dining, Buckeye fans. We've already seen in his short time recruiting that Ohio is and will be key, but more than ever perhaps, the Ohio State brand is beginning to go national. 
Let's take a look at the sample size, shall we?
For the 2012 class there are plenty of home-bred guys, but there are also blue-chippers from the states of Massachusetts, Colorado, North Carolina, Illinois, Florida, Pennsylvania, California and then the District of Columbia to boot. Meyer even went behind enemy lines and snagged a kid out of the grasp of touchdown Jesus by signing linebacker David Perkins from South Bend, Ind.
And that's not all. 
So far in the young recruiting season that is 2013, the new chef has brought in prime cuts of beef—at least for now—out of New Jersey, California, Florida, Pennsylvania, Texas and Missouri. For those of you counting, that's six out of a "soft" 12 committed verbally from out of state (now that news of Lewis Neal's change of heart has broken via Eleven Warriors).
So what's all of this mean?
Well, for one, it seems more talent is now willing to travel to Columbus from every direction. There are simply more doors being opened when someone with the national reputation of Urban Meyer comes knocking. That should, and will, have an impact on even more talent than years past playing in the Horseshoe.
After all, Columbus is downright dashing in the winter. Let's call it Hawaii-Northeast, shall we?
If the pool of talent does get deeper, it should equate to a more exciting brand of football and, ultimately, more championships, as long as the coaching doesn't lay an egg on its own face. And who thinks that's going to happen?
It also means more Ohio kids are more than likely going to be going to other programs. And while talent is absolutely what you have to go for in this business, it does mean a significant shift in the model that has more or less been working for more than 100 years. That's 100 as in "century."
This little glitch in the Matrix likely means fellow Big Ten brethren will get a bit of a boost from the more-than-adequate leftovers sitting at the dinner table sitting south of the Great Lakes. So, too, will other programs, and even the Mid-American Conference, which likes to feed off the scraps of kids left behind. It's not hard to see a sea of change where the talent level rises modestly in the Big Ten and overlapping areas.  
However, probably the most interesting dynamic to watch is how this collective talent on Ohio State's roster meshes together.
In years past, it has been mostly Ohio guys playing for pride of the state and overcoming tall odds at times. Even winning games it shouldn't have (Miami anyone?). Now it'll be interesting to see how this talent—and very good talent, nonetheless—channels its inner motivation aside from selfish gain towards being champions on the field.
Will it be mercenaries hired out for selfish gain and rewards, or will it be a collection of adopted sons, finding treasure in all that is Ohio and buying into the Block-O, the silver bullets and script Ohio? The good money would have to be on the latter, but it's not an open-and-shut bet.
So let the new era begin. Urban Meyer and his staff will continue to wield the recruiting wand across this great nation of ours, looking to not only bring Ohio State back to near the top, but to perch it right at the top of the college football world.
Buckeye Nation would have it no other way. Ohio's son has come home, and he's bringing his family, belongings and some friends from his travels abroad.
Can you smell what's cooking in the kitchen?