NFL Bounty Scandal: Bounty System Doesn't Exist Solely at the Professional Level
April 11, 2012

Matthew Sharpe/Getty Images
Light is finally being shed upon the bounty system that exists in the NFL.  Many of you are repulsed and absolutely stunned that a system like this exists; however, it really is just a blown-up version of what goes on at all levels of football.
Lets face it, football is a brutal sport.  It is a constant, violent struggle between the offense and the defense.  The objective of the offense is to march down the field and put the ball into the end zone for a touchdown.  The defense's job: Stop the offense by any means necessary.
A good way to slow down an offense is to intimidate it.  To intimidate the offense, the defense lays on big—and hopefully—clean hits.  What is more intimidating than knowing there are 11 men on the gridiron ready to annihilate you at any moment?  Nothing.  This is why quarterbacks and wide receivers get so rattled and underperform after they get hit constantly over the course of a game.
There is nothing wrong with attempting to lay a big hit on an offensive player.  It's simply a part of the game.  Think about it: How does the crowd usually react when Ray Lewis lays a monstrous hit on an opponent?  They cheer for him.  His teammates shout in approval.  This is true at all levels of football.  People cheer for big hits.
This leads to modifications in defensive player's behavior.  For those of you who do not know what operant conditioning is, it "is a method of learning that occurs through rewards and punishments for behavior."  Defensive players are conditioned to want to hit people hard because it leads to a reward everyone likes: praise.
Since most defenders across all levels of football like to be praised for their efforts, they deliver big hits on the offensive players—not simply hits that are hard enough to bring the offensive players down, because those hits do not emit the same amount of praise.  Injuries are usually the by-products of big hits.  
In a way, a bounty system is established.  Defenders are being rewarded, with praise, for injuring opponents because those injuries are usually caused by the big hits defenders put on offensive players.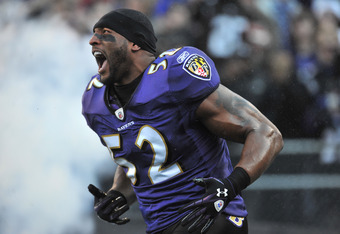 Larry French/Getty Images
The New Orleans Saints took this bounty system to the next level by doing two things:
1. They promoted a bounty system.
2. They gave defenders the incentive, in the form of money, to injure opponents.  
This is why I find their version of the bounty system to be disgusting.  The game should never be played with the intent to injure another human being.
Bounty systems similar to the one the New Orleans Saints implemented must be eliminated from all of football; however, the bounty system that rewards defenders with praise cannot be eliminated.  It's just a part of the game.  Coaches and players won't acknowledge it, but deep down they know a bounty system based on the reward of praise exists.  Defenders often say they don't play to the crowd, but that simply isn't true.  
We enjoy watching them make big hits for our favorite team, and they enjoy the praise we give them for making those big hits.  
This is not only true at the professional level, but at all levels of football.
Agree with me? Disagree? Feel free to post your comments/questions below or you can contact me via Twitter @ryan_tactac.