World Football: Why Transfer Fees and Footballers' Wages Should Be Capped
April 10, 2012

Denis Doyle/Getty Images
Football is big business. The sums of money involved in the game at the highest level are truly incredible.
In an ESPN article last year, it was revealed that, on average, Barcelona's players earn $7,910,737 a year—the most in the world. In second place, with an average of just $7,356,632, is Real Madrid. In fact, five of the top 10 highest-paying sports clubs are football teams, with baseball and basketball clubs comprising the rest of the top 10.
Once you add in sponsorship deals, the amount of money that top footballers are earning is stupendous. Wayne Rooney alone is said to be worth £37 million.
So, what is the problem with such large sums of money being spent on securing the services of the best players? After all, clubs like Manchester United, Real Madrid, Barcelona and AC Milan generate huge amounts of revenue. Why shouldn't they be able to spend that money how they please? Why do we need transfer and wage caps?
Well, for one thing, these top teams aren't always profitable. It was reported last summer that Barcelona were in debt, to the tune of £400 million. 
Manchester United, meanwhile, managed to reduce their debt last year, by £69 million, but they still have £439 million of debt, a sum not to be taken lightly.
Even Real Madrid, currently running large surpluses, have had their financial troubles. The Galácticos era was partially funded by the sale of their training ground that also dealt with their £165 million debt. 
In light of the financial happenings in the wider world, companies and countries buckling under the weight of their debt—why should football be immune to this? After all, the moniker "too big to fail" has already been exposed as a lie. 
As we are seeing right now, football is not immune. Rangers FC are battling for survival, the result of poor ownership and overspending. Lower down the footballing food chain, it was recently revealed that 20 percent of Football League clubs (Championship, League One and League Two clubs) are in financial difficulty.
Clubs like Barcelona and Manchester United have plenty of time to sort out their finances; it will take a considerable length of time for their lines of credit to dry up. For smaller clubs (and it's not just in England), time is more important. Money is harder to come by, there are no (or at least fewer) players worth millions who can be sold, little chance of big prize money and fewer willing bank managers.
There is, however, a good way to start dealing with this financial nightmare, and I'm not talking about Financial Fair Play. Why not? After all, only spending what you make is, fundamentally, a good idea. However, it basically removes any chance of a mid-table club ever becoming a contender at the top of La Liga, the Premier League or Serie A.
The very top clubs can, in theory, make a lot more money than your average top-flight club. That means they can prise smaller clubs' best players away, tempting the players with higher wages, which often leaves the club with no choice but to sell—an unsettled player is of little use.
There is a reason that Manchester City have gone into a flurry of truly astronomical spending. They know if they can't get a squad of top players and massively boost their revenue before the new financial rules come into force, they will never be able to challenge the likes of Manchester United and Chelsea.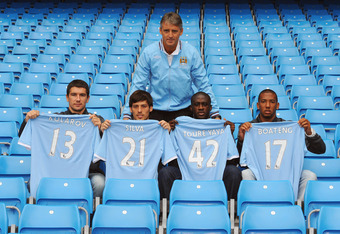 Clint Hughes/Getty Images
It should be pointed out that if Barcelona, Real Madrid and Manchester United were to break the rules, there would be huge pressure to include the teams from sponsors and broadcasters.
Also, if their participation were not guaranteed, sponsorship and broadcasting revenue could well drop, which would not help cubs that rely on Champions League revenue. 
So, what is the advantage of transfer and wage caps? They impose a lot more uniformity on clubs' ability to spend and also help to bring down costs.
Obviously, FIFA—or at the very least, UEFA—need to be the ones to impose such restrictions. If Serie A decided to impose a €30,000 per week wage limit, many of the best players would be off to the Bundesliga, La Liga or the Premier League at the earliest opportunity.
Assuming that a universal cap could be imposed, the benefits could be incredible. Imagine no player could earn more than £50,000 a week and could not be signed for more than £20 million. Top players could still be earning £2.6 million (before endorsements) a year and top clubs would still be able to sign players other teams couldn't afford, not least because of the prestige that goes with a side like Chelsea or Inter Milan.
Furthermore, a club like Southampton, which produces top-quality players, could still be rewarded for their work and might even be able to hold on to these players for an extra season given the reduced financial incentive, which would probably be good for the player as well.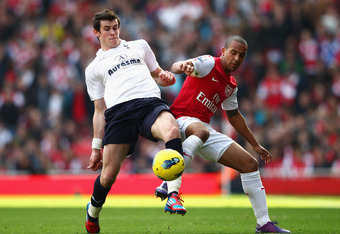 Clive Mason/Getty Images
Perhaps the biggest benefit would be reducing transfer fees. Cristiano Ronaldo is proving, even at £80 million, to be very good value. But for every Ronaldo, there is an Andy Carroll. With a transfer cap, there would be a chance to limit the damage of those disastrous deals and the offloading of such players would be far less painful.
This system, you could argue, has some flaws. Under this system, Lionel Messi would earn and be worth the same as a whole litany of players. How is that fair? Don't players need to be distinguished from one and other?
Well, for one thing, Messi would still earn more. He is far more likely to get endorsements, royalties and the like than say Glen Johnson, who could also be earning £50,000 a week. 
Also, surely if there was a transfer cap, players like Cesc Fabregas would have been left stranded at Arsenal, right? Well, maybe. After all, it was hard enough to prise him away when they were offering the world. The thing is, though, would players commit to long-term contracts if the chance of them being able to move was reduced by the lack of financial incentive for the club? Probably not.
Furthermore, a player who does not want to be playing for a particular team is not a whole lot of use, even when he is as good as Cesc Fabregas.
Obviously, top players—and managers, if the caps were to be extended to them—would not be happy about this. A pay cut of £200,000 a week could, theoretically, be on the cards for some.
The process would have to be gradual. No new contracts over £50,000 and a gradual reduction for those on more than that at the moment (obviously current contracts would have to be honoured) could be a way to make the transition.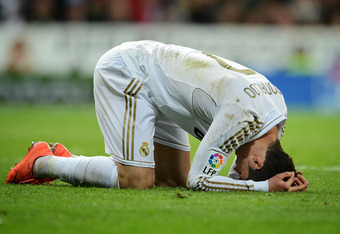 Jasper Juinen/Getty Images
This is all very well and good for the top leagues, but what about lower divisions, where wages are far lower? (Championship wages are just a fifth of Premier League wages.)
Well, Serie B already has a salary cap; they can only spend 60 percent of their revenue on wages. UEFA and the Football Associations should be doing more to encourage lower leagues to take similar measures. 
There is less danger of players moving to other leagues in lower divisions, as the sums of money involved are smaller and, it should not be forgotten, moving countries is not a decision to be taken lightly, especially if you have a family. 
The Serie B strategy of limiting spending depending on revenue has its advantages over an absolute limit. For one thing, it ensures that a club generating basically no revenue can't pay out wages it cannot afford.
However, it is more likely to create a situation where a team will bounce straight back up to the top tier, as clubs coming down a division tend to have higher revenues through bigger fanbases and, in some cases, parachute payments and the like.
Perhaps the two systems could be combined: You can only spend X percent of revenue or £X, whichever value is lower. That would maintain the competitiveness that makes leagues like the Championship so exciting, whilst also helping to ease the financial strife of teams like Portsmouth FC and Port Vale.
Some of the lower leagues do not need new financial controls. In League Two, for example, the average wage is £747 per week. That works out at a little under £40,000 a year—hardly a preposterous sum of money when compared to the national average.
So, transfer and wage caps seem like a no-brainer. Spending less money must be a good thing, especially considering the current economic climate. It would help end some clubs' reliance on a sugar daddy, which can often leave a club in all sorts of trouble when he gets bored with his latest toy, and it would help clubs fit in better with a world that is increasingly angry at the profligacy of the extremely wealthy.
Unfortunately, it seems highly unlikely that something like this will happy any time soon. There could well be a huge outcry from big clubs worried about increased competition, and it would be very hard to ensure that there were no loopholes to be exploited.