Ryan Braun: Reigning MVP Will Avoid PED Suspension After Successful Appeal
February 23, 2012

Pool/Getty Images
Against all odds, Ryan Braun has beaten the system.
Tom Haudricort of the Milwaukee Journal-Sentinel broke the news on Twitter: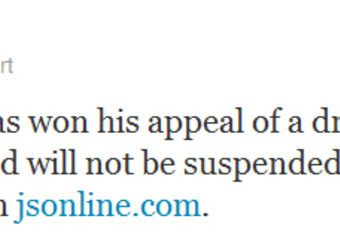 Here's an excerpt from Braun's statement, courtesy of MLBlogs.com:
I am very pleased and relieved by today's decision.

It is the first step in restoring my good name and reputation. We were able to get through this because I am innocent and the truth is on our side.

We provided complete cooperation throughout, despite the highly unusual circumstances.

I have been an open book, willing to share details from every aspect of my life as part of this investigation, because I have nothing to hide. I have passed over 25 drug tests in my career, including at least three in the past year.
Braun's victory comes thanks to a third-party arbitrator. According ESPN.com, Braun didn't argue evidence of tampering, nor did he argue the science of the test itself. Instead, he argued that protocol had not been followed:
According to one of the sources, the collector, after getting Braun's sample, was supposed to take the sample to FedEx Office for shipping but thought it was closed because it was late on a Saturday. As has occurred in some other instances, the collector took the sample home and kept it in a cool place and possibly refrigerated it. Policy states that the sample is supposed to get to FedEx as soon as possible.
Suffice to say that Major League Baseball is not happy with the decision.
Here's the league's statement, via CBSSports.com:
Major League Baseball considers the obligations of the Joint Drug Prevention and Treatment Program essential to the integrity of our game, our Clubs and all of the players who take the field. It has always been Major League Baseball's position that no matter who tests positive, we will exhaust all avenues in pursuit of the appropriate discipline. We have been true to that position in every instance, because baseball fans deserve nothing less.

As a part of our drug testing program, the Commissioner's Office and the Players Association agreed to a neutral third party review for instances that are under dispute. While we have always respected that process, Major League Baseball vehemently disagrees with the decision rendered today by arbitrator Shyam Das.
Make no mistake about it, this is a hugely important turn of events, for Braun, the Milwaukee Brewers and for Major League Baseball.
Because Braun won his appeal by arguing testing protocol and not testing science, it would be a stretch to say that Braun's name has been cleared completely. Nevertheless, he deserves the benefit of the doubt from Major League Baseball fans. The circumstances of his positive test, which were first revealed by TMZ, were highly suspicious. It was evident early on that Braun's was not a typical positive test.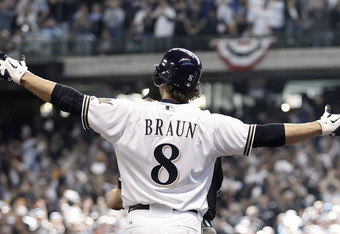 Jared Wickerham/Getty Images
Whatever the circumstances, all that really matters is that Braun will not have to sit out a single game this season. He's free to play in all 162.
His eligibility is without a doubt a huge relief for the Brewers. They lost Prince Fielder this offseason, so they need Braun in the middle of their lineup if they want to compete. Now that they don't have to worry about losing him for 50 games, they should be considered a legitimate threat to win the NL Central.
While this is good news for Braun and the Brewers, this is horrible news for Major League Baseball. This ruling essentially indicates that the drug testing system the league worked so hard to develop is not foolproof.
Though the ruling should not mask that something strange went on with Braun's test, it begs the question where the holes are in the testing process itself. If the Braun situation can trigger a faulty test, how many other players in the past have been victimized by similar errors? 
MLB can be angry about this decision all it wants, but the last thing the league should want to do right now is point fingers. The league needs to go back and take a fresh look at its testing process and determine whether or not it can be made any better. The league has to do everything in its power to avoid another Ryan Braun situation. 
The appeal process is over, and Braun has beaten the odds and won. Now comes the fallout, which will be a very long, complicated process in and of itself.
Stay tuned.