NFL Combine 2012: Why Each Workout Is Important to NFL Scouts
February 20, 2012

Joe Robbins/Getty Images
What is the point of the NFL scouting combine?
The largest meat market and most convoluted job interview on the planet, the combine is one part intense physical, one part insane workout, one part speed dating and a healthy dose of sleep deprivation. Shake it all up and you get a cocktail that leaves most prospects' heads spinning.
The combine has evolved from a quiet little workout run by the National Scouting Service into a massive production run by the NFL. Each part of the combine has its own significance and purpose. For every person who says "no one cares about the combine," a thousand eyes are pinned to the workouts in Indianapolis.
So—taking a look at just the individual workouts—why do NFL teams put prospects through these drills, and what can you learn from them?
40-Yard Dash
Combine Record: 4.28 sec (Chris Johnson, 2008; Rondel Melendez, 1999) 
Who to Watch in 2012: Chris Rainey (RB, Florida); Jarius Wright (WR, Arkansas)
"Smart" people in the media claim that the 40-yard dash doesn't mean a thing. "No one ever runs 40 yards straight down the field in an NFL game," they say, "so why do we measure it?"
Because while 99 percent of us schmucks at home focus on the final time, NFL teams care about so much more. NFL teams have countless stopwatches focused on start times, 10-yard splits, 20-yard splits. NFL teams care how players fire off the ball and how quickly they accelerate.
NFL teams also care how hard you train.
In fact, "winning" the 40-yard dash rarely has anything to do with how fast you are. Athletes that post great 40 times are often the same athletes that have the best form. True sprinters are able to transition from their start to their drive phase with little wasted motion and stay in their drive phase for as long as possible before hitting their stride.
Some of the best hit their full stride as they're crossing the finish line.
As with all of these drills, it is important to remember that game tape—how a player actually performs on the field—trumps all of these workouts, but know that teams learn a lot more from the 40-yard dash than just a 40 time.
So, while a critic might be right in saying the 40-yard dash times are overrated, the run itself is certainly not.
Bench Press
Combine Record: 51 reps (Justin Ernest, 1999)

Who to Watch in 2012: Mike Martin (DT, Michigan), Kelechi Osemele (OG, Iowa State)

A football coach once told me that the bench press was all about looking good in the weight room and didn't actually have any value on the football field.
That coach had obviously never shed or finished a block on the football field.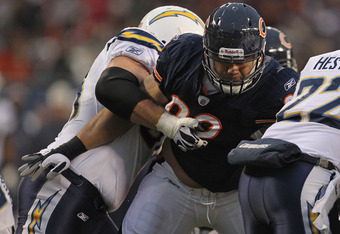 Jonathan Daniel/Getty Images
The same muscles that push 225 lbs up and down repeatedly contribute to a variety of actual NFL skills. For linemen, as mentioned above, it is especially important, but skill position players also benefit from strong upper bodies.
Like the 40-yard dash, it is the little things that NFL scouts are really looking for. Does a guy have endurance? Does he give up when it looks like he could've punched out a few more reps? For prospects with great weight-room numbers, did his play on the field maximize that strength?
Most importantly, like most of these drills, the bench press lets NFL coaches know how much a player values strength and conditioning training, and drafting one of these "meatheads" late will at least give you a guy who has a shot because of his massive strength.
Vertical Jump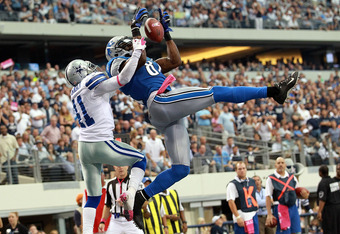 Ronald Martinez/Getty Images
Combine Record: 46" (Gerald Sensabaugh, 2005)
Who to Watch in 2012: Justin Blackmon (WR, Oklahoma State); Robert Griffin III (QB, Baylor)

"He's always open five feet above his head."
That scouting phrase is older than most of the people I've heard using it in recent years, but it is apt for players like Calvin Johnson, Larry Fitzgerald and Vernon Davis, who all excel at creating separation vertically as well as down the field.
Moreover, the vertical jump isn't just searching for guys who can dunk the football over the crossbar; it's looking for explosion. A vast number of NFL strength trainers have moved from heavy weight leg training (squats and deadlifts) into plyometric training—essentially a series of explosive exercises, most notably jumping on and off large wooden pedestals.
The scouting combine used to test lower body strength with squats, but scouts found they could learn a lot more about a player's leg strength (as well as explosion, flexibility and agility) using the vertical jump.
So, while an offensive lineman never needs to leap 30 inches in the air during an NFL game, he'll probably have to do it repeatedly during strength and conditioning sessions, and scouts love seeing a big man get vertical.
Broad Jump
Combine Record: 11'5" (Scott Starks, 2005; Justin Fargas, 2003)

Who to Watch in 2012: Trent Richardson (RB, Alabama), Quinton Coples (DE, North Carolina)

On the surface, the broad jump isn't tremendously different from the vertical. In fact, the exact same muscle groups are used in each—primarily, the hips, the knees and the ankles. It is how each muscle group is used that is the difference.
The Canadian Journal of Sports Sciences studied the two jumps:
The contributions made by the three muscle groups were not the same for the two types of jumps. For the propulsive phase of the standing broad jump the contributions of the hip, knee, and ankle muscles were 45.9%, 3.9%, and 50.2%, respectively, whereas, for the vertical jump the contributions were 40.0%, 24.2%, and 35.8%, respectively.
Another difference between the broad jump is the stress placed on the oblique (or stabilizer) muscles by the balance needed to land the jump cleanly.
Three Cone Drill
Combine Record: 6.42 sec (Jeff Maehl, 2011)

Who to Watch in 2012: T.Y. Hilton (WR, Florida International), Joe Adams (WR, Arkansas)

Perhaps the drill that best translates to the field, the three cone drill measures change of direction and quick-twitch muscle movement.
Scouts often distinguish between linear and nonlinear (dynamic) athletes. Linear athletes are receivers who can't explode in and out of breaks, pass-rushers who can get the edge but don't have inside moves or linemen who can drive block but not kick slide. Linear athletes can win football games, but their lack of balance and agility keep them from being truly special.
Nonlinear athletes often find themselves at the top of their position. Jerry Rice is a perfect example of a guy who wasn't explosive in a straight line but was able to cut in and out of his routes with precision and without losing speed. Old tape of Barry Sanders shows an athlete who was almost as fast side-to-side as he was moving forward.
Another "hidden" benefit for scouts watching the three cone drill is the mental factor. The drill isn't easy to understand the first time you look at it, and it's easy to mess up when you're running it, but these prospects have been drilling this for months!
If a player messes up the three cone drill, scouts will immediately start questioning his attention to detail.
Shuttle Run
Combine Record: 3.73 sec (Kevin Kasper, 2001)

Who to Watch in 2012: Marquis Maze (WR, Alabama); Joe Adams (WR, Arkansas)

Much of what has been said about the 40-yard dash and the three cone drill can be said about the shuttle run, which also measures change of direction and short burst acceleration. Like the other two drills, a final time is just the beginning of what scouts are really looking for in this drill, as teams will come away with split times and photos of each athlete's transitions.
Oftentimes smaller receivers and backs end up dominating this drill, and at the very least teams will look to the winners of the shuttle run as possible returners or inside receivers at the next level with their change of direction ability.
The drill isn't just for tiny receivers though. Will a linebacker be able to get himself back into a play after misdirection? Will a defensive back be able to flip his hips cleanly? As discussed earlier, moving laterally is just as important as anything else at the next level.
As you watch the NFL combine this week, keep these things in mind, as NFL scouts will be watching each of these drills closely to find the next big superstar as well as late-round sleepers.
Michael Schottey is an NFL Associate Editor for Bleacher Report and an award-winning member of the Pro Football Writers of America. He has professionally covered both the Minnesota Vikings and the Detroit Lions, as well as NFL events like the scouting combine and the Senior Bowl. Follow him on Twitter.