LaMichael James 2012 NFL Draft Scouting Report
February 8, 2012

Steve Dykes/Getty Images
When it comes to evaluating the NFL draft, there are many questions that need to be answered and one of the most important is, how valuable is a specific position?
There are many debates about each position, but perhaps none more than running back, a position that's success is littered throughout the draft.
This is where Oregon prospect LaMichael James comes into play, a small 1,800-yard record-breaking rusher whose draft stock will likely be all over the place come April. 
Size
The stature and weight of a tailback is always one of the most interesting aspects of evaluation. Is there a specific size that makes a runner good? Does he have to have a specific trait, such as long arms on pass rushers, that leads to great success? 
In a word, no.
However, there is still importance here and LaMichael James is a smaller back. He's said to be around 5'9" and between 190 and 200 pounds soaking wet after putting weight on prior to his final season in Eugene. The weight is a question mark but the stature is something I do not have a significant issue with because he's built low to the ground, which gives him an advantage against defenders.
Moreover, his weight means that he's unlikely to be a runner that can have a heavy workload at the next level because his body won't hold up. He's had issues with durability at Oregon, dealing with minor injuries that make him miss snaps, which likely limits his contribution at the next level.  
Scheme
What about scheme?
Does the back come out of an option offense well-suited for the NFL that has him do less reading? Or is it pro-style offense with the back deep in the backfield and having to run the ball step by step that is more conducive for NFL success?
Oregon's offense features a lot of run concepts that are seen in the NFL, such as inside and outside zone as well as power, as well as great team blocking. The entire offensive line and skill players do an excellent job of sticking a hat on a hat and creating running lanes for their tailbacks.
These concepts are often ran out of shotgun or pistol set in head coach Chip Kelly's offense, which leave some scouts concerned about his vision translates to the next level where more pro-style offenses are played. Despite this, teams are spending more than half of their snaps in shotgun and are running the ball out of the same set, which helps James' stock in this category.
Speed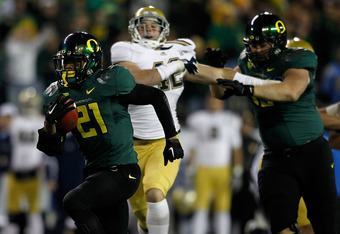 Jonathan Ferrey/Getty Images
Home run ability is valued in runners because there are not a lot of long runs in the NFL. Statistics have shown in the past that very few running backs have more big gainers than the average running back in the NFL. Those that do have long gains are typically those which are special runners, such as Chris Johnson of the Tennessee Titans. 
Oregon's finest running back has the ability to turn on the jets and outrun defenders. He's got very quick feet and covers ground quickly.
While he does not break the long run often on his own, with many coming from significant alleys created by blockers, he does have the ability to outrun tacklers when he gets to the second level because of his quality acceleration and his straight-line speed. 
Lateral Agility and Balance
Arguably the most important traits in a running back, lateral agility and balance are, in my opinion, two of the most crucial things to a quality rusher, along with vision and instincts. While there are many that will disagree with me here, I don't see great lateral agility from James, instead I see a straight-line runner.
He does not possess the ability to make quick and sharp cuts in my opinion, often taking wasted steps, which is why he's often seeing bouncing from hole to hole through the use of jump cuts. Despite this, his ability to make defenders miss can still be good in the open field—just not in the backfield.
The reason he can fake out defenders is because of his use of head and shoulders. He does a good job of selling the defender on going in one direction before snapping his head and shoulders back to run in another direction. This is something that a lot of quality runners have in the NFL, for instance the Vikings' Adrian Peterson. 
Moreover, balance is another key to being a good running back and James possesses it. He's able to, at times, take contact and continue to move forward and pick up extra yards when carrying the ball. While he does not have the biggest build, he is able to maintain body control when defenders deliver contact.
Vision and Instincts
As previously noted, vision and instincts are an integral part of a top-notch runner and what makes a running back great in this department is not just the ability to hit a designed crease, rather one that's created by an undisciplined defender and taken advantage of.
The Texas-born James shows solid vision when running the ball, finding the hole and hitting it with acceleration. He's shown the ability to make something out of nothing when his lead blocker is jarred back by a defender, consequently forcing the runner to cutback and seek another running lane.    
Power
Running with power is a requirement in the NFL if the athlete plans on being a starting tailback. The reason is because they must be able to break a tackle or tacklers as well as pick up yards after contact. Not to mention, there is the factor of short yardage, such as 4th-and-inches. 
Due to James' size, he does not run with great power. He picks up yards after contact because of his balance but he's often falling forward when doing so, thus discontinuing the play. He shows this weakness when he's brought down by the ankles, displaying weak ankles that we've seen backs of all sizes have (i.e. Chris Wells of the Cardinals). 
Ball Security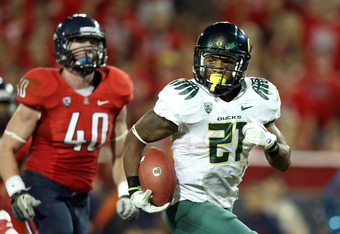 Christian Petersen/Getty Images
Regardless of the talent a football player has, he can't put the ball on the ground once he has possessed it. Doing this raises the possibility of a turnover, which can be a critical mistake in a league that the majority of games are decided by seven points or less. 
Although there have been running backs that have gone high in the draft despite their fumble issues, such as running backs Ryan Williams and Daniel Thomas, it is still a cause for concern.
In the last three years, James has fumbled the ball 12 times which is a cause for concern. Specifically in 2011, a year in which he put the ball three times on the ground, some of his fumbles came from attempting to pick up extra yards. The reason this happened is because he did not cover the ball up with both arms when approaching contact. If he had done this, this would not be an issue.  
Pass Catching
It may be just a coincidence but the Oregon tailback has caught the ball 17 times each of the last three years with four touchdowns. In a run heavy offense, these numbers are not poor for James. As a matter of fact, it is a wonder why he doesn't receive the ball more through the air because he has quality hands.
James shows the ability to catch passes with fluidity and consistency by fully extending his arms to catch the ball away from his body before bringing it in. He's ran routes such as slants and swings from the backfield as well as in flex (three yards away from end man on line of scrimmage) alignments. 
Pass Protection
Last of all is pass protection, the one thing that often keeps backs off of the field at the next level. With defenses becoming more complex, tailbacks must have the ability to identify their assignment before and after the snap and execute their job.
While James is very small, he does a good job in pass protection, utilizing either a cut or chip block to slow down blitzing defenders. The reason for his success in this department is because he's tough, aggressive and competitive. He is willing to sacrifice his body to keep his quarterback upright and it's something I love about his game.
Overall 
When it comes to grading running backs, it can be a difficult task. What do you, as a scout or armchair guru, place an emphasis on? Is it size or speed? What about vision and balance? Or agility? All traits of a tailback that must be identified. 
For me, its vision, instincts, balance and agility. LaMichael James shows solid vision, instincts and balance but questions surround his agility in my opinion.
He's more of a straight-line runner that could have success in a zone blocking scheme that emphasizes inside and outside zone run concepts, such as the Houston Texans. Because of his questions, I expect him to serve in the NFL as a change-of-pace, third-down running back, making him worthy of a fifth-round draft choice in my opinion.