Roger Federer: Australian Open Tilt with Bernard Tomic a Curious Contrast in Age
January 22, 2012

Clive Brunskill/Getty Images
Roger Federer has spent the last two years of his illustrious career believing that age is just a number, even in a sport like tennis that demands so much of the body and so heavily favors youth.
The 30-year-old legend will look to continue that campaign on Sunday at the 2012 Australian Open when he faces Bernard Tomic—the youngest racketeer left in the senior field. The 19-year-old Australian grew up idolizing FedEx and faced him for the first time at the 2011 Davis Cup, where Tomic went down in four sets during a relegation-round match in Sydney.
Tomic has been hailed as something of a tennis prodigy for several years now. He won the junior title at the Australian Open when he was just 15 years old and reached the quarterfinals at Wimbledon last year at age 18. He's also shown outstanding determination and mental toughness in reaching the fourth round of play at Melbourne Park, gutting and gritting his way through trying matches against Fernando Verdasco, Sam Querrey and Alexandr Dolgopolov.
Not bad for a kid heralded as the future of men's tennis, to say the least.
Of course, if Tomic wants to be the best, he'll have to beat the best—no easy task, especially against a technical mastermind like Federer. Contrary to popular belief, Roger has shown no signs of slowing down or rolling over, having advanced to Sunday's match without dropping a single set.
Talented as Tomic undoubtedly is, he'll be hard-pressed to hang with the skill (and the will) of a seasoned veteran like Federer, who's fought just about every fight imaginable and emerged with 16 Grand Slam titles to his name.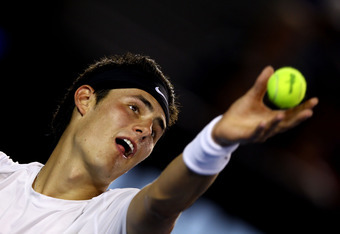 Clive Brunskill/Getty Images
Tomic figures to take his fair share of lumps against his idol but don't expect the kid to simply concede defeat to his elder. He'll challenge Federer, for a while, at least.
That is, until Federer puts Tomic in his proper place—in line to wait for his shot at glory, behind Federer, Rafael Nadal, Novak Djokovic and the rest of the long-time pros who've earned their stay atop the sport.