NFL: 3 Reasons Why Quarterback Donovan McNabb Can't Yet Retire
December 5, 2011
Jamie Squire/Getty Images
Donovan McNabb might appear to have every reason to retire. The 12-year veteran is a shell of his former self. Number 5 is not Tom Brady or Aaron Rodgers or Drew Brees. He never was. In fact, he's not even Christian Ponder.
McNabb's been to Pro Bowls, postseasons and even a Super Bowl. If it were any other quarterback in his position, the decision to retire would be a no-brainer. And yet, for McNabb, there are three burning reasons why he can't yet retire from the NFL.
Reason 3: There is a team that needs McNabb
After his release this past Thursday from the Minnesota Vikings (his third team in as many seasons), every team in the league had an opportunity to claim McNabb. And every team declined. But after Week 13 in the NFL, the case has to be made for one franchise in desperate need of Donovan McNabb: the Chicago Bears.
The Bears will miss the playoffs if they don't make a change at the quarterback position. While it's never fair to put any one win or loss squarely on the shoulders of a single individual, Caleb Hanie is almost solely responsible for Bears last two losses.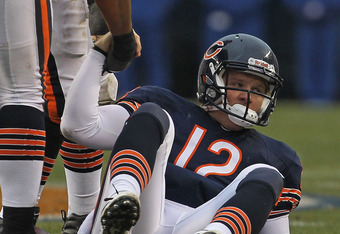 Jonathan Daniel/Getty Images
Hanie is not just bad—he's terrible.
Against the Chiefs on Sunday, Hanie completed less than half of his 24 throws, and three of them were intercepted. He did not find the end zone once for the Bears (whose defense held the Chiefs to just 10 points) and Hanie was sacked four times. In his debut last week against the Raiders, Hanie failed to spike the ball correctly, helping cost his team the game. Hanie can't even throw incomplete passes the right. The Bears still have a real chance at the postseason, but they need a quarterback to save them.
Enter Donovan McNabb.
Chicago is nothing like McNabb's two most recent pit stops. The Monsters of the Midway have a loaded defense with playmakers like Brian Urlacher and Julius Peppers, as well as a special teams unit lead by the always-dangerous Devin Hester. All they need is a veteran quarterback to manage the game and gain them field position. McNabb can still do that. At least better than Hanie can.
McNabb would step into an offense much like he had in Philadelphia, based around getting the ball to playmaking running backs with short throws out of the backfield. Even now, McNabb does a solid job protecting the ball and would be able to hold ship for the Bears until (or if) Jay Cutler returns.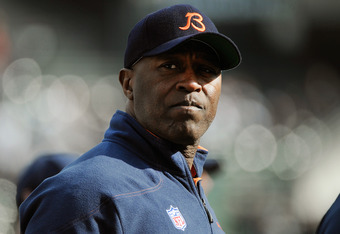 Thearon W. Henderson/Getty Images
Furthermore, Bears coach Lovie Smith and his defense have carried a Rex Grossman-led offense all the way to a Super Bowl. Smith even got Cutler to an NFC Championship game. The Bears wouldn't be asking McNabb to play like a Pro Bowler—just to the standard of Grossman and Cutler. That he can do.
Reason 2: Retiring now will ruin his legacy
If McNabb retires like this, the general public will never forget his shameful departure from the game, nor will they remember his outstanding career.
McNabb rescued a floundering franchise in Philadelphia. The year before his arrival in the City of Brotherly Love, the Eagles were a dismal 3-13. Just three years later, behind the play of McNabb, they were playing in their conference title game. In fact, during the first decade of the modern century, no quarterback played in more conference title games than McNabb (5); not Brees (2), not Manning (3), not Vick (1). Only Tom Brady equals McNabb in that category.
Also, McNabb's played in 16 career playoff games, and staying true to form, he's won most of them. Peyton Manning can't say that.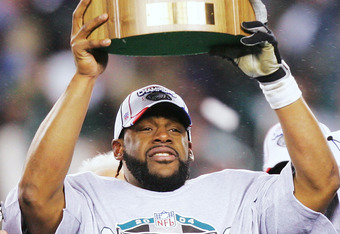 Ezra Shaw/Getty Images
Over the course of his 12*year career, McNabb has thrown for over 37,000 yards and 234 touchdowns; ran for an additional 29 touchdowns; and has been selected to six Pro Bowls. Since becoming a full-time starter in 2000, only three times in his decorated career has McNabb posted a losing record. Most impressive, McNabb has accomplished this all while spending most of his career throwing to targets like Todd Pinkston, James Thrash, L.J. Smith and Freddie Mitchell.
However, if McNabb retires now—like this—all of the success in his illustrious career will be overshadowed by the fashion in which he left the game.
Which brings us to No. 1.
Reason 1: It would be the most embarrassing retirement in sports
If McNabb retires now, it is hard to think of any professional athlete that left their sport in a more embarrassing way.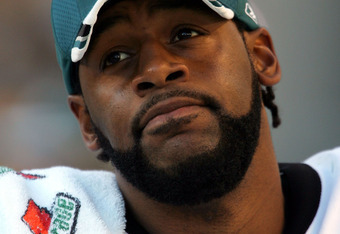 Harry How/Getty Images
Consider:
Yes, if McNabb retires now he will inevitably join the likes of Dan Marino, Dan Fouts and Jim Kelly as "best quarterbacks to not win a Super Bowl," a club that no passer wishes to be a part of. But worse, unlike these quarterbacks, McNabb won't have retired with the team that drafted him. Marino was never traded, nor was Fouts or Kelly. Those quarterbacks retired with the support and undying adoration of their respective fan bases.
Not the case with McNabb.
The Eagle franchise was so hungry to trade him before the 2010 season that they willingly dealt him in the division knowing that they would get to play him twice each season. And in his final contest against the Eagles, McNabb and the Redskins were embarrassed in defeat, losing 55-28 on Monday Night Football. Adding insult to injury, McNabb's replacement in Philadelphia, Michael Vick, performed remarkably on the national stage, throwing for four touchdowns and rushing for another two.
And here is more salt to the wounds.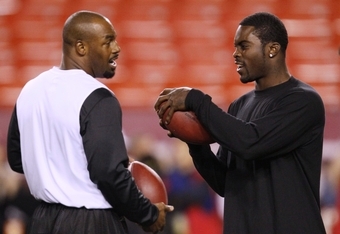 Win McNamee/Getty Images
It was McNabb who urged the Philadelphia franchise to sign Vick! During a time when Vick was public enemy No. 1 in the NFL, there were few (if any) franchises willing to sign the polarizing quarterback who served 19 months in prison on dog fighting charges. But McNabb rallied for his friend. He went as far as meeting with coach Andy Reid and insisted that the Eagles take a chance on Vick. Just a year later, it was Vick leading the Eagles to a division title, while McNabb and the Redskins finished at 6-10 and last in the NFC East.
The embarrassing moments continued to mount for the now 34-year-old quarterback. In a late October loss to the Detroit Lions during the 2010 campaign, Coach Mike Shanahan benched McNabb for the final two-minute drive, citing McNabb's lack of "proper cardiovascular conditioning" to complete the game. Instead, Shanahan showed more trust in the woeful Rex Grossman over the six-time Pro Bowler.
After just a season in Washington, McNabb found himself in Minnesota playing for the Vikings to start the 2011 season. In his debut in purple and gold, McNabb completed just 11 passes and threw for a pitiful 39 yards against the Chargers. After a 1-5 start, McNabb was benched again, this time in favor of rookie quarterback Christian Ponder.
Last week, McNabb asked out of Minnesota, hoping that he would be claimed by some team…any team. As of Sunday evening, there were still no takers.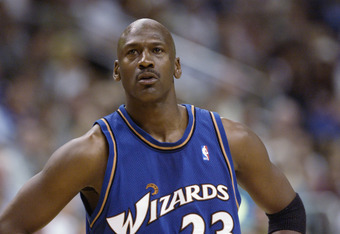 Ezra Shaw/Getty Images
Sure, there were plenty of uncomfortable departures from sports before McNabb: Johnny Unitas playing in those ugly powder blues, Joe Namath with the Rams, Michael Jordan as a Washington Wizard and Willie Mays as a New York Metropolitan. But all of those players retired with their laurels and credentials attached to their legacy forever. Each of those guys left their respective sport accomplishing everything possible, arguably the best to play the game.
That can't be said for Donovan McNabb.
So for the sake of the Chicago Bears—his legacy, or just his pride—let's hope McNabb doesn't retire.
Not yet at least.