WWE News: WWE Signs Former Lingerie Football League Star Danielle Moinet
November 24, 2011
It seems the one thing people don't know about WWE is that while they have a spring cleaning, they have a fall pickup.
People know about WWE usually releasing talents from the months of May to July, but the thing they do not know is that WWE signs quite a number of people who appear in developmental around the fall time. So, why is this unique?
Well it seems the world is abuzz over the newest signing to the WWE, being that of one Danielle Moinet.
For those who are unaware of the blond beauty you see above, she was one of the faces in the Lingerie Football League for a number of years. The league started after a few years of having a game in skimpy lingerie during the Super Bowl each year. It went from that to a league that has been growing each year.
Moinet happened to play for the Chicago Bliss, former LFL champions—of which she was the captain.
She was known for her physicality in the league and some have said that if the same things she did in the LFL were done by a man in the NFL, the man would have been suspended due to rough play.
She was known for clotheslining and body-slamming girls on the field. She was known as one of the more physical girls in the league and yet with such a pretty face, you wouldn't know it. She is also one heck of a smart girl, as she has a degree in business marketing from ECU. She has also done a lot of modeling as well as PR for not only the LFL but NASCAR. She has the ability to speak well on a mic, which is essential to any talent in WWE nowadays.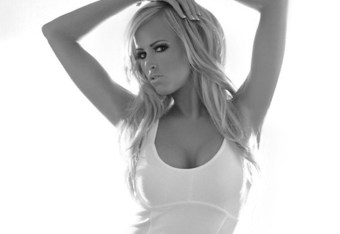 According to Diva-Dirt.com, Moinet was signed to a WWE developmental deal. It's uncertain how long ago she signed or how long the contract length is, but she appeared at the FCW show this past week as a valet for Abraham Washington. Word going around FCW is that she is well-liked by the girls and trainers.
Dusty Rhodes must have liked her a lot, as he paired her with Washington, who all the FCW trainers feel will be going to the main roster soon. This could mean that Moinet will manage him and be on your TV by early to mid-2012.
Washington has been back in FCW for about a year now, ever since ECW folded. He has a new gimmick of a power-hungry rich man, and Moinet is his princess. She is basically dressing like Maryse did when paired with Ted DiBiase a while back.
Some people may be skeptical of the move, as this will be seen as yet another model being signed to WWE. However, this is not your standard model with no abilities other than a pretty face.
She is going to be one of the taller divas in the WWE, as she is around 5'10" and will most likely use her athletic ability to use every inch of herself well in the ring. Word is that she is picking up well in FCW so far, which could be why they paired her with Washington so quickly.
If you break down everything associated with Moinet, you see a girl who has the ability to be great in WWE. Due to her football time, she is obviously good at remembering a lot of information about what to do out on a field. So, she could easily take that into the WWE with her.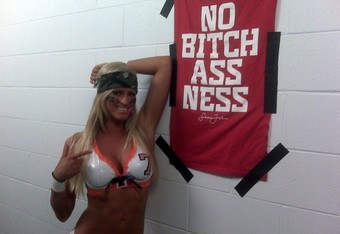 Add in athletic ability, and balance she had from modeling. And of course, due to her business marketing degree, she obviously knows how to make herself look good and come off well to the WWE fans—meaning, people will have to like her.
She is also a major WWE fan. B/R writer Joe Burgett interviewed the newest diva to WWE in June of this past year, and she had this to say about being a WWE diva one day:
"I'm a huge WWE fan, Monday Night RAW especially. I watched pro-wrestling growing up, but I went to my first taping two years ago, and I was hooked! I sat ringside, got to go backstage and met some of the wrestlers. Everyone was so nice, and it really seemed like one big traveling family. The Divas are not only gorgeous but extremely athletic. Why wouldn't I wanna be a part of that!"
You can read the full interview here.
Unlike most girls who come into the WWE nowadays, she is a fan of the business and is not here just because it's a job that will push her to something else eventually. This is really what she would love doing, and she wants to be great at it.
But it seems people still cannot get past the idea of a model being in WWE. I say give this girl some time, as she could be great. Keep in mind, models have done well in WWE before. Ever heard of Trish Stratus?
A former fitness model, Trish came in and slowly learned how to wrestle. She quickly went to TV to manage Test and Albert and was quickly loved by the crowd. As time went on, she was seen as one of the hottest divas in the WWE, but not as good as Ivory, Jazz, Lita, Molly Holly and the countless other divas. She finally won her first Women's Title and then from that point on, she started to get respect and is now seen as the best WWE diva to ever live.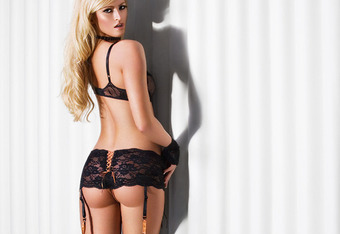 Proof enough that if you work hard you can be successful, no matter what you did before you entered into that.
Moinet has all the tools to be one heck of a talent in WWE, so before people think signing a girl with no prior experience was a bad thing, try and think a bit about this one.
Also, the fact that she was put with Washington so quick usually means that trainers are wowed by you. The only people who move into something so quickly are those with a lot of prior experience. She had none, which means the trainers probably feel they have something special here.
When is the last time a model coming in also had a major degree, an major athletic background, proven PR and mic skills, and an overall love of the company?
That's what I thought.
To me, the No. 1 girl to keep an eye on in FCW is Danielle Moinet.