Ohio State Football: Does Interim Coach Luke Fickell Deserve the Full-Time Gig?
October 26, 2011
Kirk Irwin/Getty Images
On paper, it seemed like the perfect fit.
You had a highly-accomplished Big Ten football player, a man formed on the rough football fields in America's heartland.  A sturdy Midwesterner used to the down-and-dirty world of the lineman, where hand-to-hand combat prepares one for life after college football, for a job at the very top of the food chain.
He was a fighter who had experienced the rigors of the annual Ohio State vs. Michigan war—that crucible that turns young, overgrown boys into honest-to-goodness men.
In the end, however, Gerald Ford proved unequal to the task and is relegated to history as one of the lesser U.S. presidents.
By all accounts, Luke Fickell is an extremely hard worker and wonderful guy.  A fine football player at Ohio State, he can lay claim to as deep a Buckeye football pedigree as anyone who has ever played in Columbus.
After the Tressel H-Bomb landed in Columbus, athletic director Gene Smith looked around and saw him standing there.  He called on him to staunch the bleeding.
Everyone knew that Fickell was a band-aid.  The Buckeyes were (and still are) in need of open-heart surgery.
Ohio State's record is 4-3, including two awful losses at Miami and Nebraska.  Given the fact that they still have Wisconsin and away games at Penn State and Michigan, they stand an excellent chance of finishing the season with a record of 6-6, and that's assuming they win their games against Purdue and Indiana.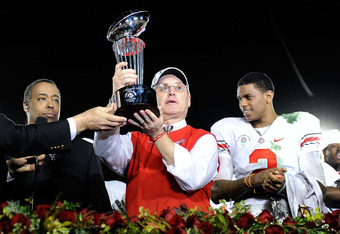 Kevork Djansezian/Getty Images
It's true they have been without a handful of their best players thanks to the "tattoo" sanctions, nor is it a good thing that Terrelle Pryor is holding a clipboard for the two-headed quarterback supernova of Kyle Boller and Carson Palmer in Oakland.  These factors placed the Buckeyes in a hole so deep that any hopes of a Big Ten Championship were nothing but sycophantic pipe dreams.
Ohio State is one of college football's crown jewels, and what it needs is a bona-fide coaching star.
The job requires a man with a long and distinguished record of coaching excellence, especially following Tressel's ignominious departure.  Yes, sanctions are coming.  But don't tell me that a penalized Ohio State football program still is not one of the five best college football programs in the country, because it is.
Many pine for Urban Meyer, but recent rumors of him going to State College to follow Joe Paterno have begun to rear their ugly head.
Jon Gruden could be another candidate, and while I am not sure he is the best man for the job, I am sure that I would applaud any job that takes him out of the Monday Night Football booth (because, truth be told, I cannot stand another season of Jon Gruden telling me how every player, coach, GM, owner and ball boy is "excellent" and does an "excellent job" and is "outstandingly excellent in being excellent").  
There are others who would bring credibility and innovation to Columbus.  There are coaches who, like Jim Tressel, Urban Meyer, Les Miles and Nick Saban, spent years coaching at other programs before hitting their stride.  They honed their craft until that one, great job opened up (maybe two or three in Saban's case).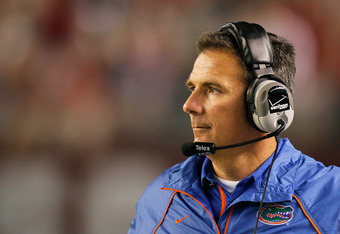 Kevin C. Cox/Getty Images
Don't forget, these are still unsettled times in Columbus.  It is absolutely plausible, if not an outright certainty, that Gene Smith will be gone following the 2011 season.  If so, that would mean a new AD, and almost assuredly a new head football coach.
If Luke Fickell survives that transition, I'll eat my hat.
Still, Luke Fickell should keep coaching his heart out this year.  He should look at this as an audition.   There are plenty of schools that would love to hire a man of his character.  His best bet would be to take a gig at such a place, burnish his resume, learn the art of coaching and build a legacy.
Then he may find that one great job.  He may even come back to Columbus and lead the Buckeyes to a national championship.
But that day is far in the future.  Right now, Ohio State needs a proven hand—a glorified football savior to come rolling into town to change the torrential tears of sadness into cascading waterfalls of touchdown gold.
For the time being, that savior is not coaching the Buckeyes.
That's not Luke Fickell's fault.  He will, however, have to take the fall.