Hungarian Grand Prix 1997: Damon Hill's Finest Hour (Almost)
December 7, 2008
I can remember being 17 years old, sitting in the infield Grandstand between Becketts and Chapel, or turns five and six, at Silverstone. It was July 13, 1997, the morning of the British Grand Prix.
It had been wet during the warm-up, and my family and I had been greeted on our arrival at the circuit with the incredible news that Hill had been fastest.
Damon Hill. The reigning Formula One World Champion. Formerly of Williams-Renault. Now, in 1997, team leader for Arrows.
For Damon he had quite literally gone from the sublime to the ridiculous. 1996 had brought eight Grand Prix victories and, at long last, a first title in the awesome FW18.
Then onto his title defence and the quite awful Arrows-Yamaha A18, which prior to Silverstone had brought the Champion a grand total of zero championship points.
With Hill starting from 12th on the grid that day at Silverstone, I have to admit I didn't expect him to break his 1997 duck. Yet incredibly, some dodgy Ferrari wheel bearings and an explosive Mercedes V10 helped the No. 1 Arrows to sixth by the closing laps.
"Come on, Damon!" I yelled as the A18 blazed past on lap 59, to the general amusement of the damp crowd who were in earshot.
Three miles later, Hill had done it. Against all the odds, the Champion had kick-started his title defence with an awesome...one point.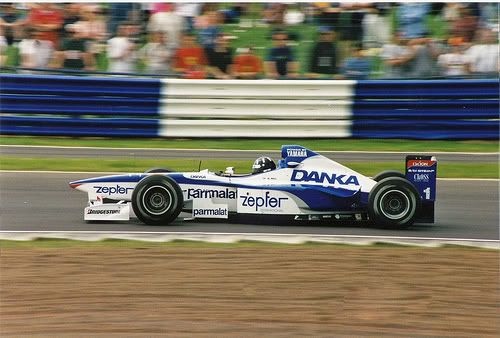 Despite the excitement of bearing witness to this event, I was still pretty depressed that the year was going so badly for Damon. Little was I to know that Hill was about to spring a major surprise on the entire Formula One community. A surprise that, in spite of its being rather bittersweet, has endured as perhaps the Englishman's finest racing hour.
Fast forward four weeks.
The F1 circus arrives in Budapest for the Hungarian Grand Prix. In the month since Silverstone, Gerhard Berger has scored an emotional victory for Benetton in Germany. Damon had finished a respectable eighth. But in 1997, that meant zero points to add to the one from Silverstone.
My family and I were on holiday in France over the weekend of the next round: the Hungarian Grand Prix. As a result of splashing around on a beach somewhere, I missed qualifying.
In this age before mobile phones and instant web access, this meant I had no idea how the grid would form up. I knew Damon was good around the Hungaroring so I estimated that he might have made the Top 10.
Aug. 10 1997. My brother and I made our way through a dusty village in Southern France in the hope that the local landlord would put the Hungarian Grand Prix on the small TV in the corner of his sleepy pub.
At this point it's fair to point out that neither I nor my brother speak French. So when the Landlord (who fortunately spoke English) put the race coverage on, we had to scan the pictures to try and work out the grid.
"There's Schumacher on pole. No surprise there," began my brother. "And Villeneuve right next to him," I continued. "And Damon in third with Hakkinen next to him. And Irvine in fifth, Frentzen looking like a mug in sixth; I wonder where Damon is."
"Hang on!"
Incredibly, Hill had stuck his Arrows-Yahama on the second row. Third! We could scarcely believe it. How had he done it?
Later, Damon was to say that it had really been down to the tyres. Bridgestone had brought a compound that were in Hill's words, "like chewing gum." The Arrows had stuck to the track and Damon's skill did the rest. It's telling that Hill started third that day and his teammate Pedro Diniz could only manage 19th.
Suddenly, my brother and I weren't interrupting our holiday to watch our hero trail round in the lower mid-field. Today, there was a race on.
We were bristling with excitement as the red lights came on.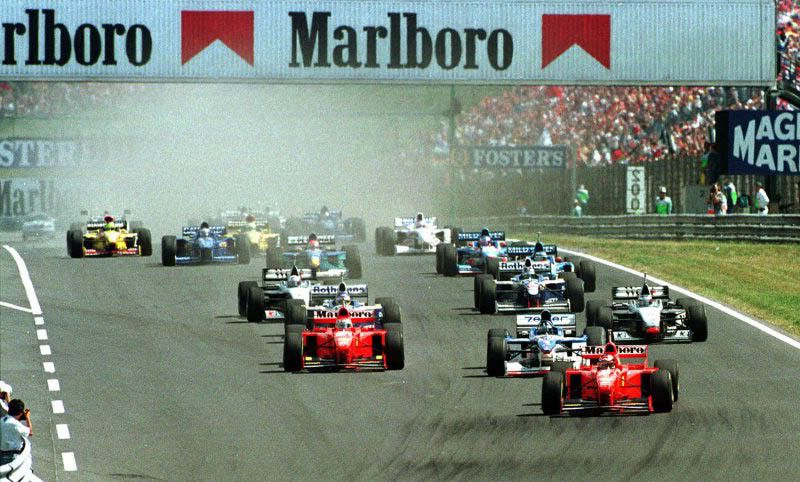 We weren't disappointed.
Less than 10 laps into the Hungarian Grand Prix of 1997, Damon Hill had not only consolidated his third place. He had in fact taken the lead of the race by out-dragging first Villeneuve's soon-to-be title winning Williams-Renault and then beautifully outbraking Schumacher's Ferrari into turn one.
(As an aside, we were later to discover that the ITV audience back home in the UK had missed Hill passing Schumacher due to a mis-timed ITV commercial break. I'd never been so glad to be watching F1 in the 1990's without Murray Walker!)
Although we couldn't understand the commentary, it wasn't hard to figure out that the French commentators were as surprised and excited by this extraordinary drive as we were.
And the amazing thing is, Hill kept leading. This wasn't a flash in the pan or a light fuel load. Damon and his Arrows genuinely had the legs of everyone else that day.
We sat in awed silence, unable to believe that this nightmare season might yet bring Damon Hill, the Reigning Champion, a famous victory in practically the most unfancied car on the grid.
The pit-stops came and went and still the Arrows was leading.
And then...
It was almost imperceptible at first, but going into the last five laps, Damon seemed to be somehow struggling. "Perhaps the tyres are finally going away," my brother said. The following lap, Hill was noticeably a lot slower through turn four. And it clearly wasn't the tyres. The A18 wasn't sliding or twitching, it was just...slow.
We couldn't believe it. I tried to tell myself that perhaps Damon was slowing down so as to take no chances.
But then Villeneuve, in second place, took 10 seconds out of Hill's lead in one lap and the groaning of the French commentators told us that they knew things that weren't immediately apparent on the screen.
Two laps to go and Villeneuve, who had clearly been told to push like mad, had gone from being half a lap behind to being within sight of the Arrows.
We desperately wanted Damon to make it, but it just wasn't on. Villeneuve squeezed through in rather inelegant fashion halfway round the final lap and for a time it looked as though even a place on the rostrum was slipping from the Champion's grasp.
In the end, Damon managed to finish a still magnificent Second. But he had been so close.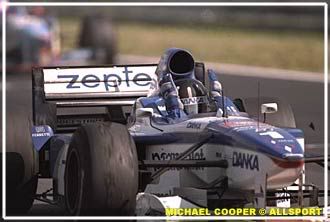 On the slowing down lap, Hill beat his fists in frustration as Villeneuve cheekily waved to the crowd. But by the time that famous dark blue helmet came off, Damon had composed himself enough to take the agonizing defeat with all the dignity of a true sportsman.
My brother was inconsolable. I felt utterly shattered. As our holiday went on, we discovered that the Arrows had had a throttle linkage failure. All the more frustrating was when that failure was traced to a washer that cost just 50 pence.
Until Damon Hill scored his final victory for Jordan in Spa the following year, the gut- wrenching frustration of how close he came on Aug. 10, 1997. to the biggest upset F1 had seen in a generation hung over me every time I watched him drive. That season in the A-18 brought no further points, just a qualifying lap in Jerez that but for Ukyo Katayama would have seen Hill on Pole Position.
However, as the years have gone by, I have come see that incredible race as one of the defining moments in the career of a truly dignified Champion. There simply aren't any performances since that have come close to the giant killing that was Hill's drive in Hungary in '97.
Even Vettel's win in Monza this year or Alonso's in Singapore were achieved in cars that were within a second of the ultimate pace. When Damon qualified 12th for the British Grand Prix of 1997, he was 1.6 seconds off the pole.
The Arrows had never been within a second of the ultimate pace anywhere before Budapest. It is all too easy to forget just what a performance jump Hill found for that brief shining moment.
Martin Brundle had said in his commentary for ITV that Damon Hill's performances in 1997 were, "The drives of a Champion." Nowhere was that more resonant than on a sunny afternoon in Hungary on Aug. 10, 1997.
(Many thanks to Rafa Llandres and Anthony Fosh for their wonderful pictures)