Colorado Avalanche Squeak out Their First Win over the Boston Bruins, 1-0
October 11, 2011
Elsa/Getty Images
The Colorado Avalanche visited the Boston Bruins for their second game of the season and the Bruins were on their third for a Columbus Day matinee.
The Avalanche lost their season opening game to the Detroit Red Wings while the Bruins were just off a win against the Tampa Bay Lightning.
The highlights will be short and the break down will be simple.
There was no scoring in the first two periods thanks to both the Bruins' Tuukka Rask and the Avs' Semyon Varlamov as both played very well and made some great saves and both posted 30 or better saves.  Both had some puck-luck as well with a couple of posters that rang out in the Garden that day.
The lone goal that won it was from Avs Milan Hejduk who skated on the mid-right point and shot it around David Krejci's left side.  The puck had eyes as it got past Rask on the low left side and it was the difference-maker.  Jan Hejda and Matt Duchene are credited with the helpers
The Bruins' efforts were not that bad but it did pick up much better in the final frame with some quality chances but if the puck wasn't bouncing, then Varlamov was at the gates and not letting anything in.
The Good
Varamov.  Plain and Simple.
The Bad
For the Bruins, the goal that sealed the game for the Avs.
The Ugly
Yeah...that goal...
My Take
I gave full credit to the Avs.  Most of it goes to Varlamov, but the Avs did step up and block 18 shots on the day.
In the end, Varlamov was the difference-maker as this game could have easily went on favor of the Bruins given the difference in quality chances.
The shot total of 36-30 for the Avs may seem that the Avs got more chances, but it was the Bruins that had most of the close up and personal dealings with the opposing net.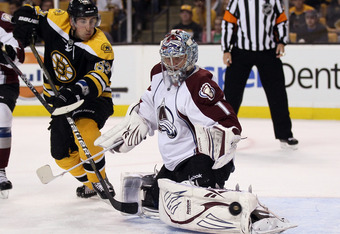 Elsa/Getty Images
All-in-all it was a good game.  Bruins are now 1-2-0 for the season but the season is yet young.
Rask played a heck of a game, but couldn't get any help from his teammates offensively.
Next game will be at Raleigh, N.C. to visit the Hurricanes at the RBC Center (I still find it funny that the Royal Bank of Canada owns an American major sports venue...).
It was February 1 when these two last met at the RBC Center and it was the Bruins who came out on top with a 3-0 win.  This will also be the first game that former short-term Bruin Tomas Kaberle will be facing his team since they hoisted the Cup together in June.
Seventy-nine games to go.
This is Cory Ducey saying, "Hit Hard, But Keep It Clean."