James Harrison Injury: Check Out How Steelers Enforcer Looks After Surgery
October 5, 2011
Jared Wickerham/Getty Images
No, the below image isn't Pittsburgh Steelers linebacker James Harrison trying out for the next Pirates of the Caribbean movie or a remake of the music video for Dr. Dre and 2Pac's "California Love"; it's a picture that James Harrison tweeted out from his @jharrison9292 account after his surgery this morning. 
The surgery was to fix a broken orbital bone in Harrison's face that he suffered during the loss to the Houston Texans last week. It was an injury that Harrison played with during the game.
He suffered the broken orbital bone sometime during the game. Said Harrison: "my forehead pad in my helmet came down and hit me in the eye when I made contact with the tackle."
Because of the injury the former Pro Bowler, Super Bowl champion, and Defensive Most Valuable Player both on his team and in the NFL will be on the sideline for an unknown number of weeks. It is an injury to a player that is as important to the Steelers as an injury to quarterback Ben Roethlisberger. 
Harrison is very upbeat about this injury, taking to his Twitter page to say, "I told y'all it's wasn't a concussion!! Lol I'll be ok in time." 
With Harrison out this week against the Tennessee Titans, it forces the Steelers to shift linebacker Lawrence Timmons over to Harrison's spot as veteran Larry Foote takes over for Timmons' middle linebacker position. 
Timmons isn't the player that Harrison is, well then again there aren't a lot of players like Harrison, but Timmons is just as fast and can cover as well as James. The Steelers will find a way to fit Lawrence into the outside linebacker role while designing the right blitz schemes to make Timmons very successful.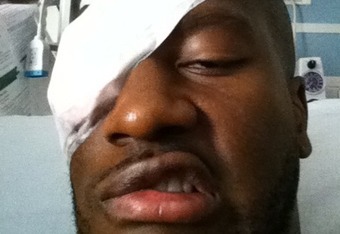 The injury will not be as detrimental to the Steelers defense like the injuries to free safety Troy Polamalu. When Polamalu is injured the secondary loses their ability to hide defensive schemes.
With Harrison out the defense loses a mean streak that intimidates opposing offenses. With Harrison out it will make the offensive line coach of other teams not have to design special protection packages because Harrison is on the field. 
Will the injury lead to the Steelers losing their next four or five games? 
No, as the injury isn't like the one to Roethlisberger, where the offense lives and dies by his ability to be creative. 
The Steelers will be able to survive this while being able to keep pace with the first place Baltimore Ravens. 
Source: @jharrison9292
Twitter: @tjmcaloon