Alabama Entering Midseason Danger Zone; Nick Saban Needs Players to Focus
October 5, 2011
Butch Dill/Getty Images
Alabama is 5-0 and have thoroughly crushed Penn State, Arkansas and Florida in the swamp.  Things are looking up for the Crimson Tide, but Alabama has been here many times before only to watch the season unravel down the stretch.
As recently as last season, Alabama was ranked No. 1 in the country after having humiliated the Florida Gators. We all know how that turned out.
Alabama is what we all expected: smothering physical defense, inexperienced but talented quarterback and a powerful running game. 
Alabama is also relatively healthy. Linebacker CJ Mosley has missed one game so far, but thanks to Alabama's deep linebacking corps, the loss hasn't been costly.
The difference between where Alabama is now and where they need to be to survive the late season road to the championship all depends on how much they improve in the coming weeks.
First up in Vanderbilt. 
Rookie head coach James Franklin raised some eyebrows in recruiting this past February when his Vandy staff landed a few bigger fish than normal. 
His upstart team is 3-1 and are most likely looking to make a statement against the Crimson Tide coming off their big win in the Swamp.
Though Franklin has had a good start, it's unlikely he will have enough athletes at this point to compete for four quarters with the Crimson Tide.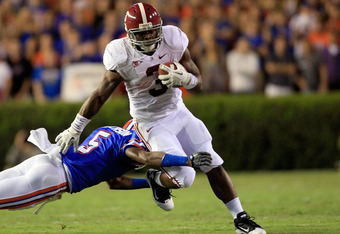 Sam Greenwood/Getty Images
After that, the Tide travels to Oxford, Miss. to take on the Ole Miss Bears or Rebels or whatever they are calling themselves these days.
To put it lightly, they are terrible.
Ole Miss coach Houston Nutt had some success in Arkansas, but mostly with a few lucky stabs in recruiting and a down and out Alabama program under Mike Shula to save his job every year. 
Nutt, like several other coaches, saw his career fizzle when Alabama got off the mat. Why Ole Miss chose to hire him after turning Arkansas into a disaster is a mystery to me.
End result? A 2-3 record that includes an utter beat down by the afore mentioned Vandy Commodores.
Barring a let down of colossal proportions, Alabama will wipe the floor with the Rebels.
Alabama will get motivated approaching Tennessee because they are Tennessee. Yes, their program is still in rebuilding mode, but they will play their hearts out every down; you can bet on that. Alabama's players know what's coming in that game.
So between now and Tennessee, Alabama has two weeks of practice and two games to get better. And they do need to get better.
Kevin C. Cox/Getty Images
It's been fun to watch Trent Richardson freight train through SEC defenses. It was especially cool to watch the offensive line destroy Florida. Alabama, however, is more unbalanced offensively than they need to be.
No matter how good Alabama's running game is, some defensive coordinator is going to devise some way to stop it or slow it down. 
Auburn shut down Mark Ingram almost entirely in the 2009 Iron Bowl. Up till then, nobody thought it was possible. Alabama quarterback Greg McElroy had to take the game on his shoulders and win it. His fourth quarter drive is now part of Iron Bowl history.
If that game had been played midseason, the outcome could have been different. Greg McElroy was slumping badly by this time in 2009.
Current starter AJ McCarron isn't really slumping. He's been making good decisions and getting rid of the ball well all season. He has struggled to connect on deep balls.
In the last two weeks, Alabama produced an intensity on the field that two good SEC teams failed to match.
If Alabama loses that intensity in the next two weeks, they may find it difficult if not impossible to get back. They could easily find themselves flat footed against elite teams later in the season.
No doubt Nick Saban's mood will get nastier in the next few weeks. Any loss of concentration or intensity in practice will no doubt send him into a rage.
Alabama is a great team, but they need to continue to improve if they want to be playing under the big lights toward the end.