Nebraska vs Ohio State: Loser's Big Ten Title Hopes Will Be Dashed
October 5, 2011
John Gress/Getty Images
It's hard to believe that after Nebraska and Ohio State have only played one conference game apiece their Big Ten title hopes will be over with another loss, but after witnessing each team's struggles last week, that appears to be the case.
For either team to get their season back on track, their clash this Saturday in Lincoln has become a must-win game.
It's an amazing prospect for two teams that were thought of as early favorites for their respective divisions. Even with all the uncertainty and turmoil surrounding the Ohio State program, many national pundits still believed that they had enough talent in place to contend for the Big Ten Leaders division.
However, after Michigan State held Ohio State scoreless at "The Horseshoe" until the last 10 seconds of the game, that prediction has been impaled on a Spartan's spear.
On the other side of the equation, we have the Huskers, who were thoroughly demolished in their inaugural Big Ten conference game.
So a game that, at the beginning of the season seemed like the most intriguing matchup in the Big Ten, has become an elimination game of sorts; the team that loses this game loses any shot at a conference title.
At first glance, it seems that Ohio State will be the team to reach two conference losses first, though both teams have their own issues.
One shared issue is quarterback play.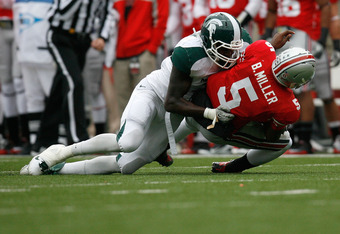 Kirk Irwin/Getty Images
Nebraska's Taylor Martinez looked good for a little more than a quarter in Madison, then threw two interceptions, the second of which ended a run of five consecutive passing plays by the Huskers. As if that wasn't enough, Martinez threw another pick on his first play from scrimmage in the second half.  
Suddenly, instead of setting up the passing game with the ground attack, Nebraska reversed their philosophy. Husker Nation was incredulous when the Nebraska offense began the second half with another passing play. 
All three interceptions led to Wisconsin touchdowns. Fans all across Husker Nation are questioning Bo Pelini and offensive coordinator Tim Beck. 
Against Michigan State, the Buckeyes used two quarterbacks, Braxton Miller and Joe Bauserman, with little success. Miller completed half of his 10 passes for 56 yards with one interception, while Bauserman finished 7-for-14 and accounted for the Buckeyes' lone touchdown, a 34-yarder to WR Evan Spencer.
What was even more disturbing was Michigan State's ability to hold OSU to 35 rushing yards and less than one yard per attempt. The Spartans also came within 10 seconds of shutting out the Buckeyes at home for the first time since 1982.
Currently, Ohio State's offense ranks last in Big Ten and 108th nationally.
First-year coach Luke Fickell is still unsure of how he will handle the QB situation—stay with Miller, or open the spot up to competition again among the four quarterbacking contenders on the squad?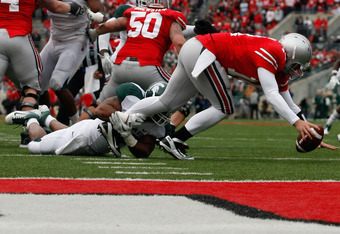 Kirk Irwin/Getty Images
Defensively, the Buckeyes look much better, ranking 13th in total defense and 11th and scoring defense, allowing only 14.6 points per game. 
Nebraska's much-hyped defense has yet to show anything special, despite fielding three of the top defenders going into 2011 (DT Jared Crick, LB Lavonte David and CB Alfonzo Dennard). The Huskers' D is 64th in total defense and 73rd in scoring defense, very unlike the Nebraska defense of the past two seasons. 
Two things that Nebraska might have going for them is the fact that this game will be Nebraska's homecoming, though some fans might wonder why the school didn't choose Northwestern instead. 
The second factor working in the Huskers' favor is the fact that Daniel Herron, Ohio State's leading rusher in 2010; DeVier Posey, the Buckeyes' top returning receiver; and OL Marcus Hall have had their suspensions extended by one game and will not be available to play. Tackle Mike Adams will return to the Buckeyes' roster. 
So, even as we enter the sixth week of college football, we still might not know much about either team at game's end, even though the Huskers are prohibitive favorites. 
For those who wear scarlet-tinted glasses, there is an off chance that Nebraska could run the table and earn a rematch with the Badgers, even though they still face a brutal schedule, capable of producing another loss or two.
However, it's more likely that a two-loss team (and we're guaranteed to have one after this game) will not represent their division in Indianapolis for the Big Ten championship—especially the Buckeyes, who share their division with Wisconsin. 
Ouch.