Arkansas Football: Previewing the Auburn Game
October 5, 2011
Ronald Martinez/Getty Images
"Wow!" Those were Bobby Petrino's words following his team's improbable comeback win against Texas A&M, and those words not only sum up last weekend's game but the entire season for the Razorbacks up to this point. 
Arkansas entered the preseason with an unprecedented amount of hype and some in the media even felt they were ready to contend for a BCS National Championship. Then the season began, and what has ensued has been nothing short of nightmarish if you are an Arkansas fan. 
Knile Davis is lost for the season, injuries to half of the defensive starters, a lapse in focus against Troy and a beatdown at the hands of Alabama. Yet, after overcoming a 35-17 half-time deficit against Texas A&M, the Hogs find themselves with a 4-1 record and ranked 10th in the nation. 
With a win over Auburn this weekend, Arkansas will be off to their best start under Petrino and tied for the best start by an Arkansas team since 1998. Here are some key issues if the Hogs hope to take care of business against the No. 15 Tigers this weekend.
Seal the Edge and Tackle
Auburn offensive coordinator Gus Malzahn must be licking his chops when he watches the film of the Arkansas defense against Texas A&M. Arkansas defensive ends Trey Flowers and Chris Smith continuously got sucked inside, allowing the the Aggie rushers to run untouched around the corner on their way to 381 yards.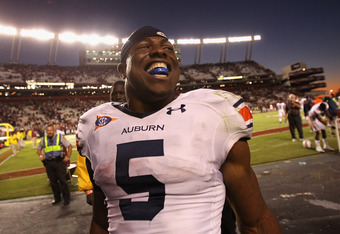 Streeter Lecka/Getty Images
When they weren't running wide, they were gashing the Hogs straight up the middle, breaking numerous tackles and averaging 7.1 yards per carry. This week the Hogs face an Auburn offense that is averaging 186 yards on the ground per game and are coming off a  246-yard effort in a 16-13 road win over South Carolina. 
Look for Gus Malzahn to test the Arkansas defense early and often with zone traps and read options to see if the Razorbacks have found any answers to last week's problems. If not, Michael Dyer and Onterio McCalebb should have big nights.
Is That a Pulse I Feel?
When Davis went down in preseason, all conversations in the natural state revolved around who would fill his shoes. It was widely agreed upon that the job wouldn't fall to any one person but rather a committee consisting of Ronnie Wingo Jr., Dennis Johnson and De'Anthony Curtis. 
Well, an injury to Johnson and the ineffectiveness of Curtis put most of the job on the shoulders of Wingo, and the results have been mixed at best. The Hogs rank 92nd in the nation running the ball and managed only 18 yards on the ground against Alabama
But in the second half of the A&M game, the running game seemed to come to life behind the physical running of Dennis Johnson and the unexpected return of Broderick Green. When you take away the loss of yardage from sacks, Arkansas running backs rushed for 103 yards on 23 carries for an average of 4.4 yards per carry.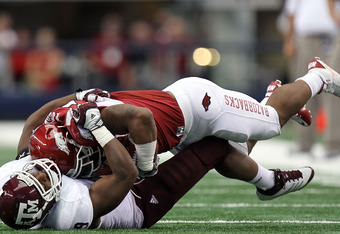 Ronald Martinez/Getty Images
This is not an earth-shattering number, but most of that yardage was accounted for in the second half, and Johnson also had 69 yards receiving to give him over 100 total yards for the game. By the end of Saturday's game, it seemed that the Hogs had made some progress in the running game. 
The Auburn game will be the test to see if any of that can carry over. 
Protecting Tyler Wilson!
Tyler Wilson has shown that when he has the time, he can dismantle a defense. Wilson is coming off a record-setting performance, but has taken a beating the last two weekends and has shown a complete inability to complete a pass when lying straight on his back side. 
The Hogs are averaging 39 points per game, and the Auburn defense is giving up an average of 27 points per game. Wilson came off the bench last year at Auburn to throw for 332 yards, and he should have a good opportunity to surpass that total in this year's showdown. 
Tyler Wilson has spent much of the season running for his life, but the offensive line seemed get some rhythm in the second half last weekend, and the Hogs kept the Aggie blitz at bay with a quick passing game. If Auburn is unable to pressure Wilson, look for him to put up huge numbers against the suspect Auburn pass defense.
Getting Healthy
Injuries are always a part of football, but in all of my years of following Arkansas football, I have never seen anything like the string of injuries that have plagued the Hogs this season. The Hogs have managed to get to 4-1, but as they enter deeper into the SEC portion of their schedule they have got to get some players back on the field if they are going to compete. 
If the Razorbacks find a way to overcome Auburn, they will get a week off to heal. As of Monday night, there was no news on injuries, but there seems to be some optimism in Fayetteville that defensive end Jake Bequette can return after missing the last three-and-a-half games. That would help to shore up some of the defensive issues on the edge. 
Just Win, Baby!
If there is one thing that the Auburn Tigers know how to do, it's win. Arkansas seems to have gotten to a point in their program as well where they believe they will come out on top. If nothing else, the Texas A&M game was proof that these Hogs always believe they can win. 
If this game is close, it will come down to which team keeps its poise and finds a way to make a big play. With Auburn's tendency for pulling out close games, Arkansas would be wise to keep some distance between themselves and the Tigers.