Manchester United Transfers: Was Letting Owen Hargreaves Go a Mistake?
September 23, 2011
Michael Regan/Getty Images
Owen Hargreaves returned to competitive action on a football pitch for pretty much for the first time in three years the other night, following a torrid time with chronic knee problems that many thought would end his career.
Hargreaves thought otherwise though and his never-say-die attitude finally paid off as he took to the field for his new club Manchester City in a Carling Cup tie with holders Birmingham City.
He promptly scored, just 17 minutes into his debut, before being taken off so as not to tempt fate and ruin what had been a dream comeback for the Canada-born England international.
Those at the Etihad Stadium on Wednesday night were delighted to see a player of his calibre appear in a City shirt, while the events cannot have gone unnoticed across town at Old Trafford where Manchester United staff must have been asking themselves: did we make a huge mistake in letting Hargreaves go?
Four years ago Hargreaves was one of the best players in England. He won the Premier League and the Champions League in his first season with United and was a mainstay in the national side. He had proved himself to be a gem, worthy of the effort United expended into luring him from Bayern Munich.
But his extensive injury problems changed everything and, having played just six first-team minutes in over a three-year period, United felt they could do no more for him and had no choice but to release him.
It must have been a difficult decision to say goodbye to Hargreaves, not only because of his talent when fit, but also because of the £17 million that was outlaid on him. That's not even to mention the time, effort and money spent on his continued treatment—all wasted once he filed through the exit door.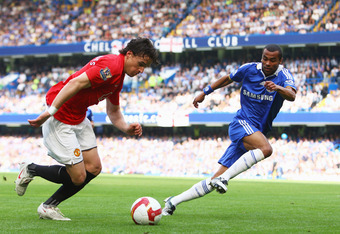 Mike Hewitt/Getty Images
For those reasons, United will have done everything possible to nurse him back to fitness and the final decision on him would not have been taken lightly.
All of which makes his "miraculous" comeback—for United's cross-town rivals, no less - a rather bitter pill to swallow for United.
Hargreaves has claimed that, while there is no suggestion of malpractice on United's behalf, the treatment he received at Old Trafford may have made his condition worse. He said, according to ESPN: "Probably the injections I had, I should probably not have had."
Now at City, Hargreaves is clearly getting the right treatment and he has been given a new lease of life. At least for the time being.
If Hargreaves succeeds in getting his career back on track, serious questions will have to be asked at Old Trafford as to why they did not get the formula right themselves.
While United managed to get over Hargreaves' absence pretty quickly on the pitch, with Darren Fletcher in particular coming to the fore, there may be some unease as to what he will now go on and do elsewhere.
If Hargreaves had moved abroad to resurrect his career, or dropped down a division, United would have no reason to be concerned. But, largely thanks to the player's determination and self-belief, the fact that he is taking his first steps towards a full recovery in a City shirt must surely rankle at Old Trafford. Credit to City for taking a punt on him.
The Blues will push United for honours, if not this season, then certainly next. If Hargreaves plays a part in that, allowing him to leave United as he did could prove to be a monumental mistake.
Of course, given his history, he could break down at any time, at which point United and their medical staff will be vindicated. A 58-minute goalscoring cameo, after all, does not a full recovery make and judgement can only really be made after a period of time.
But if he can continue to make progress at City, United will soon have to face up to the fact that they may well have shot themselves in the foot over Owen Hargreaves.