QPR's Joey Barton Not Fit to Be Captain
September 18, 2011
Matthew Lewis/Getty Images
Joey Barton is not the right sort of person to captain a team. His disciplinary record on and off the field at various stages of his career is little short of disgusting.
QPR boss Neil Warnock hoped that the armband would bring the best out of his new signing. Warnock described him as effervescent, "If Joey hadn't got the things about him he'd probably be at one of the top four clubs," said Warnock.
But two of his actions in the game against Wolves prove that Barton is not learning any lessons about behaviour.
First, the bottle throwing incident. Barton lobbed a plastic water bottle at team mate Shaun Derry while the latter was doing a television interview. The sort of high jinx expected of the club joker, not of the club captain.
Harmless, but stupid. The Twittering Barton could not bear to see someone else getting the limelight.
But far worse was his behaviour in front of the Wolves fans in the South Bank.
Barton had been fouled near the corner flag. He expected a free kick, but didn't get it. As he lay on the floor, the Wolves fans jeered him.
Barton could not resist. He repeatedly held up three fingers to them, and cupped his thumb and index finger to a zero to remind them of the score.  He was just yards away from them.
The Wolves fans reacted with fury.
Harmless? Not at all.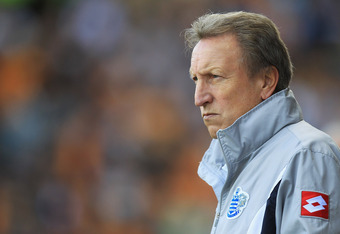 Matthew Lewis/Getty Images
Players should know better than to provoke fans. The police would have been furious with him.
But Barton continued the gesture, got to his feet, and responded to the fans' cat calls by repeating the gesture once more as he swaggered back to the half way line. It was not an impetuous knee-jerk response of a player who let his emotions get the better of him.
It was the cynical, arrogant, irresponsible and calculated action of a man who cannot avoid trouble, and who often actively looks for it.
Barton may well be saying that he is looking forward to the challenge of the captaincy with all the responsibilities it brings, but he hasn't got the strength of character to respond sensibly under pressure.
Put simply, he's just not a very nice man.