Auburn vs. Clemson Football: Auburn's Defeat Could Be a Good Thing for the Team
September 17, 2011
Streeter Lecka/Getty Images
The Clemson Tigers came into this game Saturday to beat big brother Auburn. The defense for Auburn was the primary reason that AU couldn't muster anything to answer the points that Clemson put on the board.
Auburn got by with two wins at the beginning of the season, even though the defense allowed serious yardage against their opponents, Utah State (448 yards) and Mississippi State (531 yards).
The defense was a serious reason that Auburn couldn't get the offense back on the field. Clemson racked up 624 total yards, surpassing both previous defensive games for Auburn.
On numerous occasions, missed tackles in the backfield kept Clemson's offense moving and motivated.
If those tackles had been made, this might have been a different story.
This ends the longest winning streak for the Auburn Tigers and college football at 17, but more than that, this could be a serious wake up call for AU. It's time to move forward
They will need the coming week and a home game next Saturday against Florida Atlantic to regroup and get some positive bearing before heading into the October from Hell.
Against Clemson, Auburn took off to a good start in the first quarter as the defense seemed to be much improved over the previous two weeks, and Auburn's offense got off to a 14-0 start.
However, Clemson somehow got their number and came back into it, basically the remainder of the game to dominate.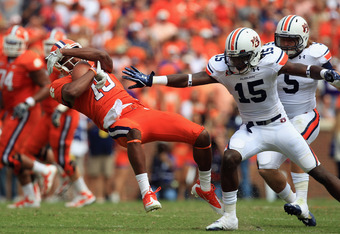 Streeter Lecka/Getty Images
The momentum for Auburn waned from the second quarter on, to the point that the offense could barely mount a comeback once Clemson had taken the lead.
The defeat to Clemson could be a good thing for the Auburn Tigers, in that this team has not suffered a loss in 17 games.  
The actual sting of defeat has not come to bear on the team, especially for some of the younger players; those that were freshmen for the undefeated 2010 season and the BCS Championship, and the freshmen this year.  They really didn't know what it felt like to lose, until now.
Those players would be the ones to gain some humility, and realize they don't want to have that feeling again.
The future of Auburn for this season will rest on how the Coaching staff, primarily head coach Gene Chizik, handles this loss, a delicate balance of logistical changes, yes, but mostly in the mental game.
From what I've heard come from Coach Chizik, he'll set exactly the right tone for a major comeback. After all, he was able to mount a successful run for the BCS National Championship, against all odds, in just his second season at Auburn.