Auburn vs. Clemson: Eagles' Struggles Continue in Post-Cam Newton Era
September 17, 2011
Streeter Lecka/Getty Images
Replacing a Heisman Trophy winner will always have its ups-and-downs throughout the course of a season. So far for the Auburn Tigers, it has been just that.
What's Gone Wrong?
Clemson has gained 465 yards of total offense against Auburn in a high-scoring 28-24 affair. Auburn has struggled to get off the field on third down. Clemson is 11-14 on third-down opportunities.
The defense as a whole has given up 72 points through two games. If we thought the pressure was at an all-time high for new quarterback Barrett Trotter to begin with, it is even higher now that he has to put up 35-40 points per game.
Trotter is struggling at the helm going 11-21 for 157 yards and one touchdown.
What's At Stake?
Clemson could use this victory for confidence going into the rest of their schedule. They would instantly throw their hat into the ring one of the best teams in the ACC.
The SEC Championship is given to the best team in the conference. The team that wins the conference is usually the best team in the country, given how great the SEC is.
If Auburn loses to Clemson, they just may see themselves on a downward spiral. In October, Auburn travels to South Carolina, LSU and Arkansas. They play Florida and Ole Miss at home.
That is a dynamite schedule. Losing may become a more consistent theme in 2011.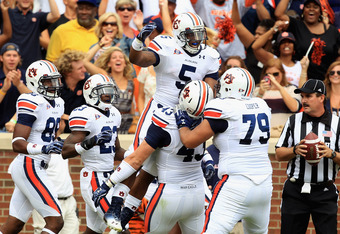 Streeter Lecka/Getty Images
Upset Potential
Auburn is currently down 35-24 at 2:53 p.m. EST. If they lose the game on the road, I would consider it a mild upset. If we are rating the scale as 1-10, it would be a five.
This is the first road test for the Tigers this season. Clemson is 2-0 entering the weekend, therefore it would be a mild upset.
How Will Voters React?
Clemson didn't get any votes for the AP Top 25. However, if they win this game they would sneak into the rankings.
Voters will look at this game closely. Now that Mississippi State lost at home to LSU, their loss to Auburn may be looked at as just another home victory.
Auburn is ranked No. 21 in the AP Top 25. If they lose this week, expect the Tigers to fall out of the Top-25 rankings.
How Can Auburn Come Back?
Auburn has played two close games in 2011. They know and understand the pressure of playing tight games. However, this is their first road test so it should be interesting to see how Trotter handles the pressure.
They must be able to get pressure on Clemson quarterback Tajh Boyd. He has had too much time to throw the football. Boyd has thrown for three touchdowns thus far.
If they can slow him down and force some turnovers, the Tigers can push themselves back into the game.
Who Benefits From Auburn Collapse?
Every other SEC team will benefit if the score stays put. To be the champs, you must be able to beat the champs. The loss will show that the champions are more vulnerable than people thought.
Teams that are right behind Auburn will also be benefited by moving up in the standings.