Texas A&M and SEC Expansion Could End Tide vs. Vols Tradition
September 7, 2011
Andy Lyons/Getty Images
Wednesday morning brought the news that the SEC has voted to bring Texas A&M into the conference.
The advantages are numerous and on both sides.
Texas A&M would finally have a place to exist out from under the massive Texas Longhorn shadow. 
The Aggies can offer something to recruits that Texas cannot, SEC competition and exposure.
The advantages to the SEC are expanding its influence westward.  This means bigger TV contracts in the future with the massive Texas population now part of the equation.
Most SEC coaches will enjoy more exposure in the Texas market which makes it easier to recruit the fertile recruiting haven.
Expansion does however come at a cost.
With the SEC's East vs. West format each division must determine a champion via round robin play.  Alabama will have to schedule Texas A&M every year.  This leaves Alabama with the choice of dropping one of the four independent games, or accepting SEC East Tennessee on a rotational basis only.
The third Saturday in October could become just another weekend of college football.  The mid-season gut check would be no more.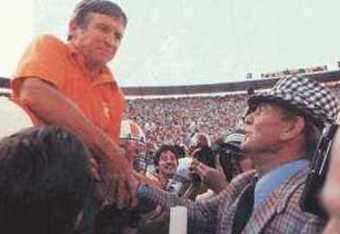 Alabama could drop one of the four independent games to preserve the Tennessee game but that too can be problematic.
Alabama already plays one of the toughest schedules in the country year in and year out just by default.
The independent games usually offer a smaller opponent that the Tide can use to experiment with and get younger players playing time (assuming a comfortable lead).
Other independents like Penn State, Virginia Tech and Clemson offer exciting out-of-region matches that draw big TV audiences, exposure, and help Alabama expand their recruiting base and climb in the polls.
Any way you draw it up adding Texas A&M to the SEC West causes problems and could be the catalyst to ending decades old traditions in Southern football.
It only stands to reason that if the SEC voted to bring in Texas A&M they have in mind to add another team to the Eastern division to keep everything even.  Thus adding to the turmoil. 
Only time will tell how all this shakes out but one thing is for sure.  Long standing traditions may be the victim of progress.