Tennessee Volunteers Football: Winners and Losers in Season Opener
September 4, 2011
Blame it on the rain (rain)
Blame it on the stars (stars)
Whatever you do don't put the blame on you
Blame it on the rain, yeah, yeah
You can blame it on the rain.
                                    -Milli Vanilli
The Tennessee fans were vigilant enough to brave torrential thunderstorms to witness the season opener against the Montana Grizzlies. After an hour-and-a-half delay, they witnessed some good, old-fashioned winning and losing in a short amount of time; the bad part was that some of that losing came from the guys dressed in orange, too.
Winners: Montana Grizzlies. They played a good clean game and didn't know they were supposed to be a whipping post.
Losers: RBs T. Poole and M. Lane. With very little surprise, the Vols scored 42 points on the proud Grizzlies. What was unexpected was the running game, or the lack thereof. Averaging just 4.1 yards per carry T. Poole seemed a little sluggish, but still found time to pick up 98 yards. True freshman M. Lane was expected to be slightly better, but was just the opposite, averaging 3.5 yards on just 10 carries, but he did find the end zone.
Winner: QB Tyler Bray. The sophomore performed admirably, going 17-of-24 for 293 yards and three TDs and nearly every attempt found its mark (despite being thrown a couple of times into some very tight Grizzly coverage). Despite being a little over confident, he was laser accurate and patient and found six different receivers.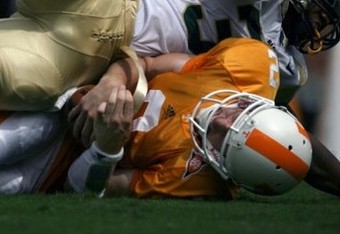 Losers: Offensive line. What hurt T. Bray the most, or rather his backside, was the fact that he was sacked three times. It gives rise to a similar beginning last season that put the Vols in 117th for sacks allowed at a 3.8 average. While nobody expects the Vol line to be perfect, they are also not expected to allow three sacks in an opener against Montana—Division I powerhouse or not.
Winner: OL coach Harry Hiestand. Maybe we expected too much too soon, but the offensive line was still improved from last year. They didn't open the holes wide enough for the runner to walk through, but they were keyed in on other blocking assignments. At times they seemed individually beaten, but as a team they pushed through to keep T. Bray from being massacred.
However, one note of caution: Had those same sacks came from an SEC team, we might have seen Matt Simms on the field way earlier than the fourth quarter.
Losers: SSs Prentiss Waggner and Brent Brewer. On a good note, Brewer did pop Montana RB P. Nguyen hard enough for him to ponder his role as a Grizzly runner. B.Brewer did, as I predicted, he got caught up head-hunting and allowed too many easy completions when it was on his watch; the same can be said for Waggner.
While Austin Rogers controls the defensive tempo for the LBs, Waggner should have been doing the same thing for the secondary. Granted, freshman Justin Coleman was the one that WR J. Sambrano beat for an 81-yard TD, but Waggner should have dropped back to cover that cutback route. Instead, he got sold on a fake handoff.
Winners: LB corp. The short-pass coverage was dismal, but what was really encouraging was the leadership that Austin Johnson exhibited on the opponent's running game. A. Johnson was often times spread across the side gaps and still communicated what was needed for the freshmen LBs, K. Maggitt and A.J. Johnson, to be successful. To be fair, they were on their game as well, but still have room for improvement before the MLB can kick them out of the nest.
Maggitt finished with three solo tackles and A.J. Johnson netted three assists, but both panicked when Grizzly QB G. Kemp started his meager, rushing adventure. For the most part, the LBs were at least capable.
Loser: LB coach Peter Sirmon. The freshmen LBs were still unprepared for a no-huddle offense, as were the veterans. The shortened pro sets that Montana used could have been easily practiced, but the WRs found a lot of empty zones much too easily. Sirmon should have screened the LBs with South Carolina film. Spurrier used that stuff all last season.
Winner: Defensive line. The defensive line finally knows what pass rushing is. When they learn to keep key zones occupied, they will really do some damage. Until they do that, QBs will dump short, easy completions on them all day.
Loser: P Matt Darr. For someone that's supposed to be the very best punter in the nation, 68 yards on two punts is not the very best.
Winner: K/P Michael Palardy. I think most Vol fans were scared that Palardy's leg injury would hamper his ability to hit the uprights, but six-straight PATs helped calm some of those fears last night. Along with improved kickoffs and 81 yards on two punts, he validated his reason for being there. If he can continue this type of success with a few long FGs, he will validate his reason for belonging there.
Loser: DC Justin Wilcox. Even though the Vols defense held Montana to just 16 points, the outcome would have been much, much worse had the same performance been matched against an SEC team. Now, before we get off on that tangent about playing to the level of your opponent, other teams like Bama and LSU play each game like it's for the BCS Championship.
Standards have to be higher. The only points that WIlcox shouldn't be held accountable for are the two points that freshman TB M. Lane crumbled on the safety. Really? Yes, really.
Winners: WRs Justin Hunter and DaRick Rogers. The overall winners for the day were the receivers—period. But Rogers and Hunter stood out among their peers. If their performance against Montana is any indication of what's to come, their future is indeed bright enough for shades.
Not since 2007 have two Vol players had 100 yards receiving in a single game. To say they were fast and agile would be redundant, but nevertheless they did a good job of coming down with the ball from a rocket arm. With 247 yards and two TDs, I think they get should share the game ball, don't you?
At the end of the season a win is a win is a win, but right now the Vols lost. There were too many mistakes on both sides of the Vol-ball, and they did not capitalize nearly enough on their opponents. I think head coach Derek Dooley realizes this too, or he would not have been so worried about "...just winning the game."
The score reflects a win, pure and simple. The same performance against SEC opponents won't be wins—pure and simple.