Arkansas Football: Tyler Wilson and Co. Still Have Work To Do After Opener
September 4, 2011
Joe Robbins/Getty Images
The outcome of Arkansas' home opener against Missouri State Saturday night was never in doubt.  The Hogs badly outmatched their opponent in the 51-7 win, but at this point in the season for Arkansas it's not about winning and losing, it's about getting ready for Alabama. A few weeks ago I wrote a piece on what Arkansas needed to do in its first three games in order to be ready for Tide on September 24. After one game, it is time to revisit those five keys.

Run Defense

The Razorbacks should have been able to dominate Missouri State on the defensive line and they did. They held the Bears to 84 yards rushing and 163 yards total. Missouri State scored a touchdown in the fourth quarter to ruin the shutout, but Robert Thomas, Byran Jones, Jake Bequette and company controlled the game form the point of attack for most of the evening.

Rushing Offense

The Razorbacks' rushing offense appears to still need some work. Missouri State was selling out against the run, opening up the passing game, but it doesn't change the fact that against an inferior opponent Arkansas only accounted for 102 yards on 33 carries, an average of less than four yards per carry. 

Deanthony Curtis was the most impressive back for the Hogs with an average of 7.4 yards per carry on five attempts. It also appears Kody Walker may be a viable short yardage option, as he scored the first two touchdowns of his collegiate career Saturday night.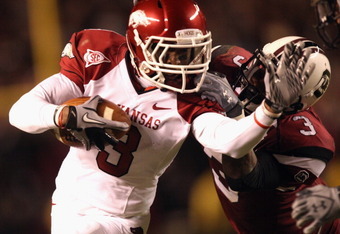 Streeter Lecka/Getty Images
Offensive Line Continuity 

Arkansas is replacing three starters on the offensive line from last season's Sugar Bowl team.  It showed on Saturday night. Tyler Wilson took more hits than he should have considering the level of competition and had to flee the pocket on several occasions. 

As mentioned above, the run game wasn't nearly as efficient as it needs to be, much of which falls on the shoulders of this unit. It's a young line, and most Arkansas fans expected it would be a work in progress. Saturday night did nothing to change anyone's opinion.

Tyler Wilson's Efficiency

Tyler Wilson got off to the kind of start he needs to if the Hogs are going to have a special season. He completed 18-of-24 passes for 260 yards and two touchdowns. Perhaps even more important is the fact that Wilson had no interceptions. Almost equally impressive was the performance of second-string quarterback Brandon Mitchell, who completed 10-of-11 passes for 104 yards and one touchdown.

Injuries

At this time it seems that the Hogs avoided any significant injuries in the season opener.
Overall the Hogs looked good in the 2011 opener, but work remains to be done if they are going to have a special season which starts by being ready for the Tide on September 24. Stay tuned.