NHL Player Deaths: What Fans Can Learn from Boogaard, Rypien and Belak Tragedies
September 3, 2011
Christian Petersen/Getty Images
Let's make two things clear: I am not here to discuss in depth the problems these three NHL players had leading to their deaths. I am also not here to talk about what the league can do to prevent more problems in the future. Those topics have already been extensively talked about, and you can read about them elsewhere.
Rather, I decided to write about what we as hockey fans can take out of this tragic offseason.
Before Derek Boogaard, Rick Rypien and Wade Belak succumbed to their off-ice problems, I used to believe hockey players had everything. As a normal working person (and diehard hockey fan) who may not make in my lifetime what NHL players make in a year, I had a vision of what a hockey player's life was like off the ice. I often shared this vision with my friends in conversations.
I expressed that NHL players, and even American Hockey League players, had the glamorous life. Many have wives or girlfriends, with some also being fathers to young children. So they definitely had a loving family, and it's likely they had a lot of friends. To add to that, I figured they loved the attention they got from their dedicated fans.
Oh, and the money. I figured a hockey player's life was filled with luxury items. They had nice cars, spacious houses or apartments and the latest electronic gadgets. While some minor league players are only paid five figures or low six figures, NHL players, as we know, make so much more. Still, regardless of pay, I imagined that these players had a comfortable life. They had a guaranteed paycheck regardless of performance and job security. What could be better?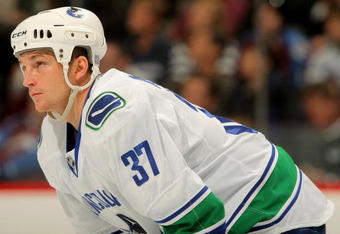 Doug Pensinger/Getty Images
Then, Boogaard was found dead after accidentally overdosing on oxycodone and alcohol. Rypien took his own life after battling depression. The exact cause of Belak's death was speculated on, but it was recently confirmed that like Rypien, he committed suicide.
And just like that, my entire view on the life of a professional hockey player changed, as did the way I treated them as people. 
I'm not trying to suggest that all hockey players are unhappy in their lives and struggle with mental health problems or drug addictions. I'm sure there are many that are content at where they are, and I am glad they are happy.
But I learned a cliché yet harsh lesson: The face someone puts on is not always what we think it is. We have no idea what goes on behind closed doors. All we know is what our favorite players do on the ice, and occasionally, we learn more about them through a video or a feature story.
If someone looked up a picture of Rypien, he or she might see his roster shot. He is wearing a Canucks jersey and has a goofy smile on his face that makes him squint. I would not blame anyone who wouldn't think that the same smiling 20-something was dealing with demons he could not overcome.
If someone read about Boogaard, he or she would learn he was described as a "teddy bear" and was extremely loyal to his family and friends. He or she would read stories about the lives of military families he touched through his work with Defending the Blue Line, a charity that allows children in military families to play hockey.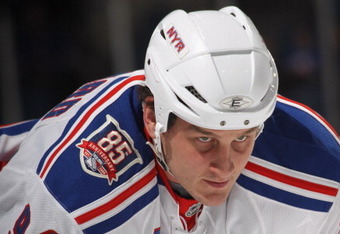 Bruce Bennett/Getty Images
If someone had heard about Belak while reading a Canadian newspaper, he or she would learn about a guy who had a lot going for him in his post-hockey life. He was going to be a broadcaster for the Nashville Predators and compete on the Canadian reality show, Battle of the Blades.
People are not always what they say they are, or in this case, what the media says they are.
The other valuable thing I learned is not to harshly judge my favorite players when I meet them at public appearances. Many a time, I have attended team functions with friends, and we always love to dish about the players we meet when we get home.
While most of our conversations are about how down to earth and friendly our team was, one of these tidbits will occasionally slip into our conversations:
"He didn't really have much of a conversation. All he gave were one-word responses."
"I thought he was pretty rude."
"It seemed like he didn't even want to be there tonight. He should learn this is a part of his job and he'll just have to deal with it."
I will admit that I am guilty of judging the players I pay hundreds of dollars to watch. But I think it is time I change that attitude.
I feel that some of us expect too much out of our favorite players. We want them all to be overly-friendly and accommodating, as eager to talk to us as we are to get an autograph and a picture.
In thinking about ourselves and what we want from our favorite players, we forget that they are human. They have bad days. They could have personal problems that extend beyond the rink. They may be tired or not feeling good. Or maybe they really are just shy or apathetic about team functions.
What I've taken away from these tragedies is that we need to be a little more understanding of our hockey heroes. We should give them privacy and not demand autographs when they are clearly trying to have private time with their families. They are under constant scrutiny, and while that is part of their job, they deserve a break from the spotlight once in a while.
If you see a player out in public, it's OK to congratulate them on a good performance or wish them good luck in a big game. But remember that have feelings and boundaries, and respect those. They will be thankful for it, even if they don't tell you as much.
It's OK to form a first impression of a player, but those can be wrong. I have began to like players who didn't blow me away the first time I saw them play. I've learned that just because a player is quiet doesn't mean that he is rude to fans. Plenty of non-famous people are introverts; if a hockey player is one, that is fine!
We don't know what really goes on in their lives, and it's not our right to know. Think of how you would feel if you were the one struggling with a problem and people unfairly labeled you as something you aren't.
Even in death, this is something Boogaard, Rypien and Belak are subjected to. Everyone who has a keyboard has something to say about their deaths, and unfortunately, some continue to rip these guys apart and judge them for their actions. Don't you think that is unfair to their legacies and the family and friends who are grieving and missing a loved one?
If the tragic deaths of these young men taught us anything, it should come from a popular NHL commercial series a few years ago. Although the commercials were humorous, they made an excellent point: 
"NHL players are just like me and you."