Arsenal Transfer News: Can Malouda and Dempsey Provide the Answer?
August 31, 2011
Laurence Griffiths/Getty Images
There is less than 24 hours left in the European summer, thus meaning there is less than 24 hours in the World Football transfer window. Inevitably it will become a hectic few hours as managers worldwide attempt to secure last-minute transfers that will provide their team with the edge they hope to acquire in 2011-12.
Arsenal manager Arsene Wenger will command all the attention as the Frenchman tries desperately to secure the high-calibre signings he has desired since the summer commenced in July. The Gunners' tactician has had the pressure intensify in North London after Arsenal endured a torrid start to their 2011-12 campaign.
The North London giants are winless in their opening three Premier League encounters, which included an 8-2 humiliation against reigning Premier League champions Manchester United. Arsenal have had former captain Cesc Fabregas complete his inevitable £35-million move to Barcelona, whilst key playmaker Samir Nasri departed in a £25-million move to Manchester City.
However, Wenger is yet to secure sufficient replacements to mitigate the huge losses and now faces a race against the clock to regain support and reputation amongst critics and the Arsenal fans.
The Frenchman has managed to renew some positivity after the recent turmoil with key defensive signings in Werder Bremen centre-half Per Mertesacker for £10 million, which is an emphatic signing, and Brazilian left-back Santos from Fenerbache for £6.2 million.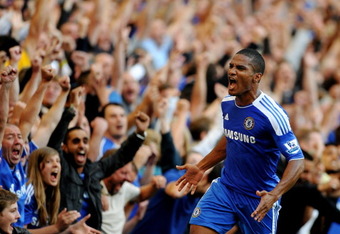 Laurence Griffiths/Getty Images
The Frenchman now turns his intentions to key attackers after also signing South Korean captain Park Chu-Young from AS Monaco for £10 million. Rumours have emerged that Wenger is close to signing Chelsea midfielder Florent Malouda and Fulham star Clint Dempsey.
Wenger lodged an £8-million bid for Malouda after the Frechman's future at Stamford Bridge became uncertain under new manager Andres Villas-Boas. Chelsea are also attempting to secure Alvaro Pereira, which has fueled speculation that the 31-year-old may be allowed to depart.
The former Lyon ace would be a sterling signing for the Gunners and an acquisition that would renew their ability to challenge for silverware and maintain their place in the top four. Since joining Chelsea in 2007 for £13 million, the French international has thrived and become one of the strongest attackers in the Premier League.
Malouda has amassed over 180 appearances for Chelsea and is considered a natural leader. In the last two seasons, which include Chelsea Premier League and FA Cup double in 2009-10, the midfielder has managed 50 appearances and 29 goals.
Efficient and strong, Malouda can play all across the midfield and in the forward line. Blessed with speed and power, the Frenchman would be an emphatic signing for the Gunners; one that can reinvest the lost creativity and flair in the Arsenal attack.
Clint Dempsey, on the other hand, has emerged as a smart signing for Wenger. The American is a tough, renowned and respected Premier League presence, whose work rate and intelligence is second to none.
Fulham manager Martin Jol desires £10 million for the American, who can provide the seriously lacking power and physical presence in the Arsenal forward line. Furthermore, the 28-year-old is a natural leader who can cause an impact in the midfield or on the wings.
Last season the USA international managed 40 appearances and 13 goals in a stellar campaign. It it by no means a big name or emphatic signing for Arsene Wenger, but one who can give Arsenal a lacking edge.