College Football 2011: Who's Going to Win the Big XII?
August 29, 2011
Ronald Martinez/Getty Images
So here are a few points:
1) Oklahoma is the favorite
 
The No. 1 Sooners are the favorites to run the table, win the Big XII South, win the Big XII and go to the National Championship Game.
They've got a great quarterback in Landry Jones and a great wide receiver in Ryan Broyles, but there are some questions about the defense—especially who will replace defensive captain Travis Lewis, who broke a foot in practice.
I'm not as convinced as everyone is about the Sooners winning it all, but the Florida State game in Week 2 will show us how good this team really is—and if it can deal with FSU's speed.
But you know what? There's another Oklahoma team to think about: Oklahoma State. Justin Blackmon's going to cause hell and high water for Oklahoma's secondary—"Shark Week" be damned. But still, Oklahoma's good enough to run the table this year.
2) Texas A&M situation
As you may have heard, the Big XII's in a bit of a flux at the moment. Texas A&M is actively trying to leave the conference, according to reports, so it can head to the SEC and be a laughingstock of a division that'll no doubt include LSU, Alabama, Auburn, Mississippi State and Ole Miss in 2012.
So anyway, at the moment (a few days before the season), there's nothing to talk about. Texas A&M's going to try and win its division, pushing past Oklahoma, Texas and Oklahoma State to win and get to the Big XII Championship Game.
We don't think they will, but we think that the Aggies are still going to be a pretty good side, bringing back 18 starters, including quarterback Ryan Tannehill and running back Cyrus Gray, as well as one of the best receivers in the division in Jeff Fuller. 
3) As for Texas... 
Texas was in an uproar when coach-in-waiting Will Muschamp left to take Urban Meyer's job as the head coach at Florida, and things aren't going to be easy this year.
Well, at least the offensive coordinator space should be happier; the Longhorns have got Boise State's O.C., Bryan Harsin, which at least should provide a little fun out there. And Manny Diaz has come in from Mississippi State, where he helped with the revival under Dan Mullen as defensive coordinator.
We're still not in love with Garrett Gilbert at quarterback, and coach Mack Brown hasn't got us particularly excited about the rest of the team. For the good of all those in burnt orange, we hope this will be a better season than the 5-7 debacle. 
4) Is there anything in the north now that Nebraska's gone?  
There aren't a lot of schools we care about in the Big XII North this year, especially since we've said goodbye to Nebraska and the Big Red Machine. We ignored Missouri, and people on Bleacher Report have begged us to look at their defense, so we're doing so.
And you know what? It's quite good. The pass rush is going to be really, really good, and we'll see how good it really is when the Tigers play Arizona State on the road and Oklahoma in Norman in the first four weeks of the season. Gulp. 
We're picking Missouri to win the North at a canter.
 


5) What about Baylor?
The Baylor Bears have been appearing on college football highlight reels in positive commentary, mainly because behind the huddle in Waco is one of the best athletic quarterbacks in college football, Robert Griffin. He's going to be really fun to watch this year.
For sides facing Baylor, it's going to be difficult to stop Griffin, as well as his receiving corps of Kendall Wright and Josh Gordon.
This could be a Michigan 2010-style team—tons of fun to watch, but defensively awful. We'll see how good they are against TCU at home in the opening game of the season. But regardless of what happens, this guy Robert Griffin's going to be GOOD.
Players to watch


Landry Jones (OK), Justin Blackmon (Oklahoma State), Robert Griffin (Baylor), Cyrus Gray (Texas A&M), Ryan Broyles (Oklahoma), Travis Lewis (Oklahoma), Garrett Gilbert (Texas)
Top 10 Games to watch
1) Oklahoma at FSU: One of the biggest non-conference games of the year.
2) Oklahoma at Oklahoma State: Lots of fun in Stillwater.
3) Missouri at Arizona State: What are the two pretenders to the college football gods like this year?
4) Arkansas vs Texas A&M (Cowboys Stadium): Will Texas A&M learn what SEC football is REALLY about?
5) Arizona at Oklahoma State: Another test for Pac-12 football (also going on: Texas' visit to UCLA, which can't possibly go as badly for the Longhorns as UCLA's trip to Austin). Justin Blackmon provides the fireworks for the Cowboys.
6) Texas at BYU: Should be interesting to see if this team has improved under the new coaching staff, or if Mack Brown should really be fired.
7) Texas vs Oklahoma: Anything can happen in a rivalry game—and anything normally does!
8) Texas A&M at Texas: With all the SEC stuff going on, this game suddenly takes on new significance—especially with the rumours that Texas is quite happy to say "sayonara" to the Aggies in favor of a Thanksgiving get-together with Notre Dame.
9) Oklahoma vs Texas A&M: Whoever wins this win wins the Big XII South. Simple, really.
10) Missouri at Oklahoma: Mizzou is meant to have a good defense. OU will want revenge after last year's upset loss in Columbia. We watch with bated breath.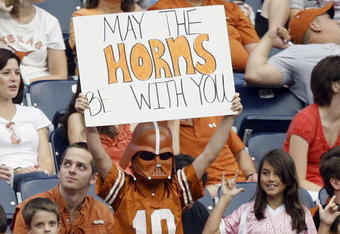 Bob Levey/Getty Images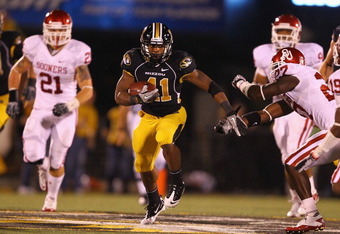 Dilip Vishwanat/Getty Images