Alabama Releases Depth Chart for Kent State
August 29, 2011
I wanted to title this article "News and Notes from Camp," but there hasn't been any news or notes from camp. 
This Alabama fall camp has been like a black hole of information, unless that information is that transfer Duron Carter has not been at practice.
Duron Carter may in fact finally be cleared today for football (just take a look at his recent tweet), but more importantly, the first solid information about the 2011 Crimson Tide has been released in the form of the Kent State depth chart.
Of course, if you've been around Alabama football under Nick Saban, you already know it's called an organizational chart and it includes a lot of the word "or" for where the staff notes they could use either player.
I have my own version of an organizational chart and there were a few surprises with the one released this morning. But before I get to that, I'll review some confirmations that we expected.
As expected, Alabama does not as of yet have an entrenched quarterback. A.J. McCarron and Phillip Sims are co-starters until one of them pulls ahead or gets hurt. 
There are no surprises with the running backs or with the wide receivers. The chart does confirm that red-shirt freshman DeAndrew White is now a starter. That, however, has been a well-published fact.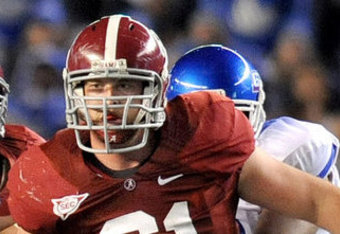 Alabama will begin the season with Barrett Jones at left tackle, which means guard Anthony Steen will be making his first non "because-of-injury" start. Cyrus Kouandjio is listed as second string and may threaten to upset the apple cart as the season progresses.
Now for some of the surprises.
Walk-on Will Lowery stubbornly refuses to go away. Even with future NFL safeties o'plenty in Alabama's secondary, the 5'9" Hoover kid refuses to be pushed off the field. He will have to share much more time this year with Nick Perry and Hasean Clinton-Dix, but he's not going away.  
Lowery has become a valuable weapon on kick coverage as well. Never forget how critical that can be.
True freshman Vinnie Sunseri is listed as third-string strong safety. It's an amazing accomplishment for a high school linebacker that many considered a "gift" scholarship to his father (who is on the Alabama staff). 
Any thoughts of Sunsuri not being deserving of the scholarship should be gone at this point. So should any doubts about Nick Saban's ability to spot talent better than recruiting services.
DeQuan Menzie appears to have won the hard-fought battle with DeMarcus Milliner, John Fulton and Phelon Jones for the starting corner opposite Dre Kirkpatrick. This isn't so much a surprise as it is just a testament to how good Alabama's secondary could be. Like the quarterback battle, this may continue into the season.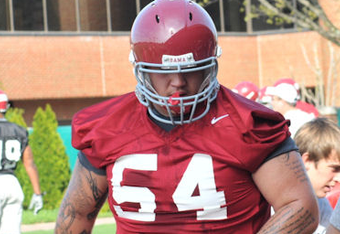 We have heard very little about the Australian import Jesse Williams, but he has popped up as the starting defensive end. Fellow transfer Quinton Dial is listed just behind him and will likely share snaps. The starter during the spring, Ed Stinson, is now listed behind Damion Square.
Alabama will likely rotate defensive ends more this year than they have in the past. Look for Williams, Dial, Square and Stinson to be seen regularly.
This spring I predicted Williams would take the nose job from Josh Chapman, but Chapman stonewalled all comers and made me look stupid. I guess he can slap me when he sees me, but I hope he doesn't because I've already been to the hospital once this month.
Prattville's Nick Gentry, though small, has nailed down the second-string nose job and will start in passing situations. Gentry has beaten very long odds to play football at Alabama.
There are no surprises in the linebacker corps. Jarrell Harris will once again start the season as the starting Sam linebacker; last year it only lasted a week or two. I believe this year he will stick. He has improved drastically since then. 
I've heard multiple reports of young defensive linemen/jacks playing well, but apparently Xzavier Dickson has been better than average. He surprised me by being listed as the third-string jack ahead of older, more experienced players. I don't know if Dickson will play or not, but it's telling that he is listed.
We will see how all this shakes down on Saturday, when we put down the predictions and speculations and watch the game how God intended—on grass.