Italian Serie A: Roma's Europa Embarrassment, Italy's Pain
August 28, 2011
In crashing out of the Europa League to relative unknown Slovan Bratislava on a 1-2 aggregate, once-proud Serie A titan AS Roma suffered yet another severe dent to their reputation.
Once a lock to reach the Champions League knockout stages, the Giallorossi have found the going considerably more difficult in recent seasons.
It is no secret that Serie A has been the subject of a continuing free-fall in the UEFA coefficient rankings since losing the top spot to La Liga in 2000.
That ended a nearly-uninterrupted 13-year reign a No. 1, with the German Bundesliga the only league to get a taste of top honors during that time. Interestingly enough, it was the Bundesliga that unseated the Italian Serie A for the third spot in the UEFA rankings just this past year.
The weakening state of Serie A has not gone unnoticed among the Italy's top brass.
Even Adriano Galliani, CEO of defending Serie A champions and world football superpower AC Milan, has voiced his concerns over the matter, as he did in this interview with La Gazzetta dello Sport:
"Italian football has gone from being an exclusive restaurant to being a pizzeria and Ligue 1 has taken our position. However, I will continue to fight for Italian football, although we almost seem to be defeated. Are they [foreign teams] snatching our players? They are paying for them and a lot at that. Just have a look at the transfers of [Alexis] Sanchez and [Javier] Pastore. One of the reasons for the problems of Italian football is the way they share income from TV rights abroad. Whereas AC Milan earned €73 million in 2010-11, clubs like Barcelona and Real Madrid made over €140m. That's quite a big difference."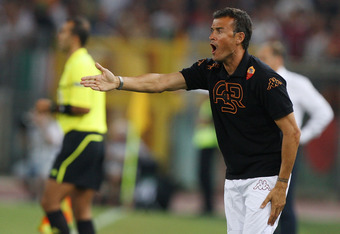 Over the last 10 years, Serie A has collected three Champions League trophies (AC Milan in 2003 and 2007, Inter Milan in 2010), a total topped only by La Liga, which has enjoyed four during that span.
Yet those accomplishments have become surpassed by the continuing descent of the league.
The solution to the Italian dilemma is not a simple one, as issues regarding the building of new stadiums, TV rights, and ridiculous taxes to player wages will persist as they simply cannot be solved in one simple swoop or waiving of the hand.
But progress can still be earned through victory in the interim.
The Italian agenda must change. Year after year, Serie A clubs have viewed the Europa League as little more than an annoyance—placing reserve sides on the pitch against their international opponent's best XI.
In the past, the belief had been to neglect the lower international tournament in effort to save players for domestic league contention in hopes of sealing a Champions League birth the following year, but with the loss of yet another slot at the more prestigious international stage, reform is needed.
As of yet, new Roma headman Luis Enrique has done little to endear himself to the fans, or his players for that matter, but the Spaniard seems to have adopted the very mindset that has plagued Serie A over the past decade.
His removal of Francesco Totti no more than 25 minutes into the second half of the second leg clash with Slovan Bratislava despite the captain's assist putting the Italians ahead was decidedly criminal and did little to help the Romans' chances, forced to cope without their talismanic—and seemingly ageless—captain.
A good coach is able to implement a proven tactical system with relative success. A great coach is able to supply a winning mentality and reform his own tactical know-how in order to make the most with the talent he is given.
Considering that Enrique inherited la Masia-bred youngsters in his former post as skipper of the Barcelona B squad, he had little need to force a tactical perspective upon inexperienced players. Barcelona play a certain way from the youth level to the senior first team.
However, if he continues to shove square pegs into round holes for much longer success will continue to evade him, it will take an ingenious tactical to turn things around in the Eternal City.
We are waiting Enrique...