Teofilo Stevenson: The Greatest Boxer You Have Never Heard of
August 27, 2011
Ok, if you are over 35, you have probably heard of Teofilo Stevenson. I consider myself a boxing junkie, and at 23 years old had never heard of Stevenson until I read an article, "Muhammad Ali vs. Teofilo Stevenson and the Fight that Never Was," by Brin-Jonathan Butler. For the rest of us, the outlets of sports media have failed us. 
After reading Butler's article, I called one of my best friends, the only person I know who can go toe-to-toe with me in boxing history, and asked him if the name Teofilo Stevenson meant anything to him. He had no idea who I was talking about. 
Quite simply, Stevenson looks like someone took the DNA of Muhammad Ali and George Foreman into a lab and came out with Muhammad Foreman. Except that at a shade under 6'4," he was taller than both of those legendary fighters. His skills as a boxer? Yeah, those could be described as a hybrid between Foreman and Ali as well: Quicker and more fluid than Foreman with more power than Ali.
Stevenson won over 300 amateur fights, three World Championships and three Olympic gold medals. He likely would have added a record-setting fourth gold, had Cuba not boycotted the 1984 Olympics. He dominated his opponents with an authority that can only be compared to Mike Tyson's knockout streak. 
At this point, you are probably asking yourself: "If he is so great, then why haven't I heard of him?" Well, (and Butler's article goes into much further detail of this aspect) Stevenson was Cuban, and it would have taken deserting his home land to become a professional boxer.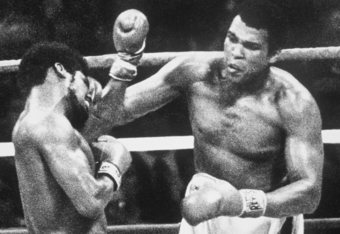 In fact, Stevenson was once offered $5 million to fight Muhammad Ali. His response, "but what's a million dollars compared to the love of eight million Cubans" is perspective on a country where athletes' talents are government property. In order to cash in on his skills, Stevenson would have had to abandon his country and his people and he was simply too much of a nationalist to do so.
Could Stevenson have been The Greatest?
By 1977, when Stevenson was offered the fight with Ali, it is unlikely the great Ali could have beaten Stevenson. He was 35 years old with his skills in serious decline, as it was just months before his loss to the pedestrian Leon Spinks. In fact, with Stevenson's power and Ali's pride, it may have been dangerous.  
How would Stevenson fare against a prime Ali and the rest of greats from the famed 1970s era (Ali, Foreman, Joe Frazier, Ken Norton) of heavyweight boxing? Simply from looking at skills and physicality alone, Stevenson would have been as difficult a match-up for Ali as any boxer who ever lived. He had the Foreman-like power that would knock opponents silly with punches he did not even step into. 
However, these knockouts were against amateurs. The fight we can best judge Stevenson, in regards to how his skills would have transferred to the professional level, was that against Tyrell Biggs, best known as the fighter who talked trash to Mike Tyson (a terrible life decision) only to be beaten mercilessly for seven rounds.
In spite of this professional embarrassment, it is worth noting that Biggs was an exceptionally talented, 6'5" physical specimen. It is difficult to tell when his drug problems started to affect his skills, as he was in rehab as early as 1985.     
Biggs defeated Lennox Lewis as an amateur and is said to have taken it to Tyson in a sparring match as youths and won the 1984 Olympic gold. In the '84 Biggs vs. Stevenson match-up, we get a good look at what the Cuban sensation would have looked like as a pro.
Defensively, he was vulnerable against a fighter with exceptional reach and a great jab, as Biggs was able to land against the Cuban sensation. He even seemed to buckle Stevenson's knees in the first round with two overhand rights.
Offensively, Stevenson could land whenever he wanted. He crushed Biggs with a short right hook (and yes, it was the hook, not a low blow, as Biggs claimed—watch the video repeatedly if you like) in the second round.
It is impossible to compare a legendary amateur, no matter the skill set, to the consensus greatest heavyweight of all time that is Muhammad Ali. But it is fun to think about isn't it?
Ali too was susceptible to the jab, as he held his hands low, so the fighters would likely tear each other apart with their jabs and straights. The determining factor: We know Ali can go 15 rounds with the best. Stevenson's Olympic track record only shows his skills over four two-minute rounds.
That being said, if Stevenson is going to win, it has to be by knockout. If the likes of Foreman and Frazier could not keep Ali on the canvas (only Frazier got him there, once), it would do the two of them an injustice to hand a theoretical KO to Stevenson.
I have Ali in an epic, hard-fought split decision. 
Thanks for reading. Feel free to leave comments thanking me for my work or calling me an idiot for my thoughts. You can follow Alexander on twitter @thesportsdude7 or become a fan on his Bleacher Report profile.