Boston Bruins: My Brief Experience with the Stanley Cup
August 28, 2011
As the morning doles on, my daughter Jaiden was as excited as I am, and she is a 5 year old who is just understanding the significance of this day.
To me, it was a long time coming.
I get dressed, have a few companions pop over to the house for a cup of coffee and some breakfast.  9 A.M. hits and we are out the door.
Destination:  St. Stephen, New Brunswick. 
A small, picturesque border town that neighbours with the American town of Calais, Maine.
St. Stephen is the home of Ganong Chocolate and The Boston Bruins' Assistant General Manager and former 15 year player, Don Sweeney.
This was a day I was waiting for a long time.  To see the Cup.
Sure, I could have seen the Cup on numerous occasions when it was paraded by other players of Atlantic Canada, but I wanted no part of it.
The only time I wanted to see the 35-pound prize is by a Bruin.
Being 40, I remember the days of Sweeney playing with Bruins greats such as Raymond Bourque, Cam Neely, Adam Oates, Andy Moog and they, themselves nearly got the cup...twice.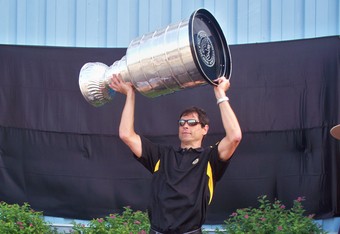 This time Neely and Sweeney had another crack at it.  This time, from the front office.
Cam Neely said it best when he was talking to Sweeney who was a team mate in Beantown.  "When you play the sport, you hope to get in the NHL and once you get there you want to win the Cup as a player", Neely said.
"I never had that opportunity, but like (Bruins' Assistant General Manager) Don Sweeney and I have said to each other, 'If you can't win it in a uniform, it's nice to win it in a suit."
Don Sweeney grew up in St. Stephen and he wanted to bring the Cup home for his home town to share in the success he and his organization had.
Arrived at St. Steven on a Saturday morning and the town is abuzz with excitement as one of their own is bringing home the Holy Grail of Hockey.
11 A.M.
Sweeney and the Cup started a rolling parade at the bridge that connects Canada to the US and he rolled on to the Arena.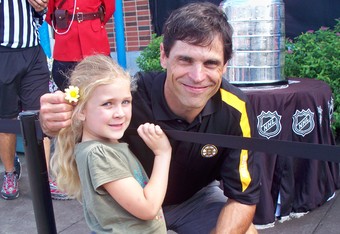 Reports that along the parade route, they stopped to have a 94-year-old lady get a picture with the cup and later on a young man in a wheelchair.  Seeing those were the reasons for the hold up, we didn't mind at all for the extra wait.
12 Noon
The Cup arrived at the Border Arena, and Sweeney was greeted with cheers and applause as he walked the parking lot with the coveted Cup.
As he laid the Cup on the table, my daughter wanted to give him a flower.  He graciously obliged and I got a picture of my daughter with Sweeney.
Sweeney greeted the crowd with a thank you.  Clearly, he did not forget where he came from.
"I've been all over New England, but St. Stephen, New Brunswick will always be my home."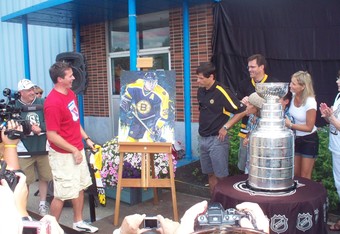 He reflected on his 21-year journey to earn his name on the Cup and wanted everyone to enjoy it and get some pictures with it.
The opening event was held at the Border Arena because this is the place that started Don's journey to the NHL which led to a long career.  Another reminder that he didn't forget where he came from.
The kids and members of the Local Minor Hockey League had first dibs at getting their picture with the Cup.
The trophy case in the arena sported one of his game-worn jerseys.
He was presented with a painting of himself.  His wife, Christine Hough, was presented with flowers, and his sons, Jarrod and Tyler were presented with T-shirts that had a screen print of the very painting that his father had just received.
2 P.M.
Sweeney signed both my daughter's and my jersey.  I shook his hand and thanked him for a job well done and to bring this for all of us to see and experience.  In my excitement I said "You have no idea."  But then took it back.  As a fan, he may not have an "idea."  But as a player, he most certainly had the idea.  More than I ever will.
After what seemed like a lifetime of waiting, I got to see and touch that cup from a member of my favorite team.  I vowed not to touch that cup until the Bruins won it, and that day finally arrived.
My wife, Stacey, my daughter Jaiden and I posed with the Cup.  Jaiden hugged that thing and she looked as happy as I was.
I want to thank Don Sweeney for bringing such an experience to, not only to me, but to the Bruins and other hockey fans to St. Stephen.  He touched a lot of hearts and brought happiness to a lot of people.
I wanted to say that I wish my brother, Lonny Ducey was here to see this with me.  Unfortunately, he passed away from a traffic accident in August, 2010 and we followed the Bruins growing up.  I know he is looking down at me either happy to see the Cup in Bruins' hands or jealous that I got to see it first.  Maybe both.  I wore his necklace and one of my thoughts was of him as I laid my hand on Lord Stanley's Mug.
I walked away from that event with a feeling that I truly cannot describe.  Disbelief, Amazed, At Peace...I don't know.  What I do know it was a good feeling and it is something that I will cherish for the rest of my life. 
This is Cory Ducey saying "Hit Hard, But Keep It Clean"