Tottenham vs. Manchester United: Match Preview and Predictions
August 22, 2011
One of the most highly anticipated matches of the early EPL season is becoming increasingly surrounded by controversy and compelling story lines.
Tottenham Hotspur have not won at Manchester United since December 1989, when Gary Lineker netted the winner. In recent seasons, Spurs sides have gone into their matches with United full of confidence, believing each time to be their chance to claim victory.
Unfortunately for Spurs fans, the team has not lived up to recent potential at United, most famously collapsing in the second half of their 2009 match, losing 5-2 after being up 2-0 at the half.
This year, confidence for Tottenham is as high as ever. They go into their opening EPL match on the back of a resounding 5-0 win against Hearts, where no player put a foot wrong and a striker even bagged a goal. Stars Gareth Bale and Rafael Van der Vaart believe the squad can finally end their Old Trafford duck on Monday.
Of course, Spurs will have to cope with a physio room full of first-team players and a certain player not in the right mindset to play.
The ongoing saga regarding Luka Modric has been so stop-start for Spurs fans that they may believe the club would be better off selling the Croatian rather than keeping the unnerved star. Others hope chairman Daniel Levy forces Modric to honor his contract at Tottenham, at least until January.
No matter what, Spurs will likely draft the recently impressive, and very much loyal, Niko Kranjcar into his more familiar CM role in the starting XI tonight.
For Manchester United, the match means a chance for them to make it a full six-from-six in their two opening matches. This would put them level on points with their City rivals, as well as two points ahead of challengers Chelsea and Liverpool, with Arsenal a crucial five points off.
All of United's summer signings will be on display, as an injury crisis has hit their defensive line. Both Rio Ferdinand and Nemanja Vidic will be out for some time due to hamstring and calf injuries, respectively.
This means young Phil Jones will be called upon and most likely partner up with Jonny Evans in centre defense, with Smalling and Evra on the side in front of other newcomer David De Gea.
The Spanish goalkeeper's opening jitters were well documented recently, though it is hard to believe a player of such quality won't steady the ship very quickly. Either way, many Spurs players have voiced their strategy to target De Gea and test the entire back line.
Going forward though, Manchester United supporters should be full of confidence after Ashley Young and Wayne Rooney both proved a handful for the West Brom defense last week.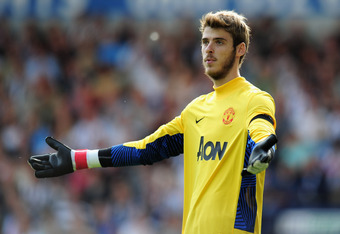 Nani will also hope to continue his recent run of success against the North London side. His controversial goal in this fixture last season was certainly a talking point, as he finished a ball rolled out from an uncertain Heurelho Gomes, who believed a foul had been given on the Portuguese winger for handling the ball.
The midfielder has recently gone on to taunt the Spurs goalkeeper and squad about his "clever" goal, hoping to repeat his stellar performance.
With these story lines, both clubs will be looking to make their stamp on the game quickly and quash whatever pressure rests on their shoulders.
The match is sure to be an attacking affair, with Tottenham going full-throttle at the Spanish keeper, while United will look to assert their dominance through the likes of Rooney and Young.
At the end of the night, I cannot see there being less than four goals in the match. It is just a matter of how they are spread amongst the sides.
Probable Starting XI
Manchester United: De Gea, Smalling, Jones, Evans, Evra, Nani, Carrick, Anderson, Young, Rooney, Berbatov.
Tottenham Hotspur: Gomes, Walker, Dawson, Kaboul, Assou-Ekotto, Lennon, Huddlestone, Kranjcar, Bale, Van der Vaart, Defoe.