Where Are They Now? Alabama Crimson Tide Legend Tyrone Prothro
August 15, 2011
In part two of my Tyrone Prothro interview, I find out what he's up to today and about his playing days.
What are you up to now?
"I'm currently working at Regions Bank right here on campus. I'm a bank teller and that's my job right now. I still have dreams to coach, but I'll be doing this until I get that coaching opportunity."
Have you been approached about any coaching jobs?
"I haven't, I really haven't put myself out there because I was looking for other things to start a career with and banking was what I came up with. In the end, I think coaching is something I want to do at some point."
In your playing days you were known as a smaller guy who would make the really hard catch and you were also known for some tenacious downfield blocking.  What is it that drove you as a smaller player in the SEC?
"Just growing up I was the smaller guy and a lot of people doubted me because of my size.
"Even when I got to Alabama, I had a chip on my shoulder because a lot of people didn't think I could make it playing college ball.
"I've always been a stronger guy, I was a running back in high school. I never had a problem with laying a lick on somebody every now and then, so I took that mentality and put it into my offensive game. It just kind of worked out for me."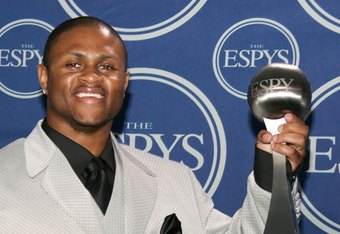 Frazer Harrison/Getty Images
Of course everyone knows you for that one catch against Southern Miss that was immortalized in a Daniel Moore print. You were initially ruled in for a touchdown and it was overturned. Did you think you were in?
"When it happened they called it a touchdown. That was the first year that we were able to use instant replay or go look at the challenges.
"Had they not had it [replay] that year, it would have stood as a touchdown.
"Even though it was ruled down at the 1[-yard line] we were about to score. I was on the sideline and I was kind of upset because I wanted the touchdown. Nevertheless, it sparked us to come back and win the game." 
Everyone wants to know, as the subject of a print, do you get a free one?
"I have my free one. Danny Moore gave me one after I graduated."
I think every kid when he comes to Alabama wants to be part of one of those moments that is immortalized in a print. How does it feel to be part of that?
"It just feels good to be part of something of that magnitude and to be part of history, really.
"When it's all said and done, this play will still be one of the top plays for years to come. People still remember it like it was yesterday. It makes you feel good to know that I will always be part of history."
What are some of your best memories of being an Alabama football player?
"I think running out of the tunnel and feeling the excitement of running out in front of what was 92,000—and it's a little more now with the expansion. But just running out in front of the fans and having everybody cheer for you.
"It excites you and it motivates you when you come out of that tunnel."
As a former player, what is it like coming back for games?
"Well there's still the love and the support of the fans. Alabama fans are probably the best fans you could ever have.
"When you leave and come back for the games, people still remember you and call you by name and remember what you did and they appreciate that.
"Just to come back and have that love and support, I feel honored and I appreciate the love and support that I get whenever I come back and go to a football game."
Have you had any access to the 2011 version of the Crimson Tide? What do you expect from this team?
"I've been over there from time to time and I definitely feel like we have a great team.
"We have an opportunity where if we come out and take care of business week in and week out, I definitely think we have an opportunity to make this a great season."
Everyone of course knows how your career ended with a leg injury—how is that leg today?
"I actually had surgery five weeks ago just to correct some things before I got too much older. It's doing well. I can go out and be active on it and run.
"It's not 100 percent, but I can go out and do what I want to. It still aches from time to time. You have that arthritis deal where if it gets cold or raining it will ache. But other than that I'm doing fine."
In your final attempt to come back under Nick Saban it generated a lot of fan buzz prior to the season, but ultimately you did not make it fully back. How close were you to making it back on to the field?
"I think it was a couple of things here and a couple of things there that could have been done differently to help me get back out there.
"Whether it was one of the surgeries that I just had, could I have had it back in 2008? But I had already been through eight surgeries then and I just kind of wanted to graduate and move on with my life and do other things.
"I feel like I was pretty close, I may have needed the surgery that I had recently. If I had, maybe I would have given myself a better opportunity, but I was at the point that I didn't want to have any more surgeries." 
I noticed a story the other day about your old coach, Mike Shula, who is now the quarterback coach for the Carolina Panthers and coaching up Cam Newton. Do you still have any contact with Coach Shula?
"I keep in touch with him from time to time. He will text me or call me every now and then and check up on me.
"He always tells me about the girls and his wife. Everything is good. We still have a good relationship.
"A lot of people ask me if I hold a grudge against him. My answer is no, I've never held a grudge against him and I don't think it was his fault for what happened to me, it's just one of those things that happen and you really can't do anything about."
That was my final question, as time had run out.
It didn't occur to me to even question if he at all blamed Mike Shula for him being in the Florida game late in a blowout when he was injured. He, nonetheless, defended Mike Shula.  
I know everyone has their opinion, but in the game of life bad things happen. If Mike Shula could have run out on that field and broken his own ankle with a hammer in place of Tyrone Prothro, I would bet my house he would have done so without hesitation.  
Coach Shula may have had failings as a head coach, but as a man who tried his best in difficult times, he loved his guys and loved Alabama and he still deserves respect.