Jockocracy: Hockey's Broadcasting Epidemic
August 6, 2011
At the end of his legendary tenure as the mouthpiece for ABC's Monday Night Football, Howard Cosell identified a pestilent trend in the world of sports broadcasting.
Cosell's complaint, documented in his 1985 book I Never Played The Game, was that too many athletes were being handed unearned announcing jobs on a silver platter.
To describe a sports broadcasting world ruled increasingly by jocks, Cosell labelled this trend "jockocracy."
"Tell It Like It Is"
Throughout the 60s, 70s and into the 80s, Cosell's charisma won love and hate across America for his self-proclaimed ability to "tell it like it is." As entertainer, provocateur and social critic, Cosell was the voice behind Muhammad Ali's rise to superstardom.
But Cosell's voice stretched beyond the often insular world of sports.
In 1966, when Ali cited his constitutional right to refuse the military draft as a conscientious objector, Cosell, himself a World War II veteran, publicly defended Ali's decision to avoid Vietnam.
In short, Howard Cosell brought a global perspective to the broadcast booth that shocked many viewers.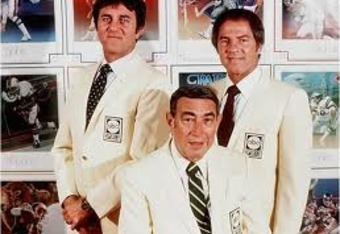 In 1980, during a Monday Night Football game between Miami and New England, Cosell stunned his audience by interrupting the broadcast and announcing John Lennon's murder. Here is how he put it:
"This—we have to say it—remember this is just a football game, no matter who wins or loses. An unspeakable tragedy, confirmed to us by ABC News in New York City: John Lennon, outside of his apartment building on the West Side of New York City, the most famous, perhaps, of all The Beatles, shot twice in the back, rushed to the Roosevelt Hospital, dead on arrival."
Indeed, it is a rare ability for a sportscaster to overshadow the game itself. By all accounts, however, Cosell had this singular ability.
And who cares if he wasn't a boxing or football expert? In the world of baseball, people loved the Cubs because of Harry Caray, not because his beloved Cubbies were any good, or because Harry had a particularly astute baseball mind.
Harry's mind, come to think of it, hung out on the moon, and yet he ruled Wrigley and impacted the Windy City for nearly 20 years because of his irrepressible character.
Basketball, for its part, has had Marv Albert since the 60s. In some ways, Marv Albert and Howard Cosell are cut from the same cloth.
As Brooklyn Jews with crooked toupées, both men have an endearing nasal quality to their intellectual broadcast styles.
And like Cosell, Marv Albert has left his bizarre imprint on the game by tending towards sarcasm, relying as he does on an off-beat sense of humour, an inventive vocabulary and peculiar intonation.
His long-time broadcast partner, Mike Fratello, was affectionately and somewhat ironically dubbed "The Czar"—as in "The Czar of the Telestrator." But Marv was always the catalyst for their curious banter, controlling the microphone, like Cosell, with his caustic wit.
"Bigger Than The Game"
But how was this "jockocracy" neologism born? For the answer, let's get back to Howard's Monday Night Football sidekicks.
Cosell's book I Never Played The Game was largely inspired by two marketable ex-NFLers who shared the broadcast booth with Cosell.
Together, the football studs had the effect of sandwiching Cosell's charisma between two crusts of stale bread.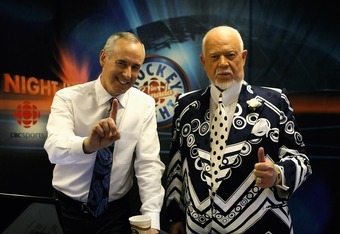 Dave Sandford/Getty Images
On one side of the booth, ex-Dallas Cowboy "Dandy" Don Meredith mumbled inanities that were calculated to charm southern audiences. "Dandy Don" had been an All-American in college and then a successful quarterback for America's Team.
On the other side of Cosell sat ex-New York Giant Frank Gifford, whose sex appeal allowed his bland commentary to endure—all the while being overshadowed by Cosellian tangents.
Despite carrying Monday Night Football and making it the most successful show in prime-time history, Cosell was criticized as often as he was lionized.
But in response to criticism, Cosell usually bit back. "There's one thing about this business," he once said. "There is no place in it for talent. That's why I don't belong. I lack sufficient mediocrity."
While it has been over 20 years since Cosell made the broadcast "bigger than the game," it strikes me that jocks still carry too much weight in the broadcast booth.
And nowhere is this more apparent than CBC's blessed Hockey Night in Canada.
The Cult of Saturdays    
Saturday nights in Canada are like Monday nights in the States. The mainstream cultishness of hockey in Canada and football in the States has survived decades of cultural change and economic shifts.
Monday Night Football and Hockey Night in Canada are patriotic institutions that are commodified in more or less the same way: beer, pizza, a massive TV, high fives and non-stop sports banter.
But like football fans, hockey fans are savvy: They know the game, its stakes, its strategies and its business. And ever since Hockey Night in Canada expanded its program to include a late, Western bill, jockocracy has infiltrated too many Canadian living rooms.
Bobbing for Cole
Prior to Harry Neale's unceremonious dismissal as HNIC's primary colour man, Bob Cole and Harry Neale had a certain on-air chemistry which CBC has failed to replace in the last few years, and much of the trouble stems from the slew of ex-NHLers currently being handed broadcasting posts.
Harry Neale's wit may have been a little too purple and a little too prosaic at times, but he was usually on point with his analysis. More importantly, his abstractions were colourful and his musings were insightful.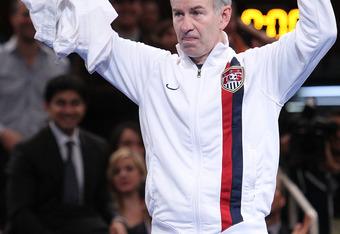 Nick Laham/Getty Images
And what is to be said about dear old Bob Cole? A little senile? Very likely. Manufactured enthusiasm? At times. There is, however, no denying the fluidity in his droning voice. It drags on and on and suits its world the way a booming foghorn suits the open ocean.
The Next Storyteller
Why were these septuagenarians still the cream of the crop until just a few years ago? And why, for that matter, is Don Cherry still a Canadian icon despite his antiquated understanding of the game?
For the answer, look no further than Greg Millen, Kelly Hrudey, Glenn Healy, Mike Milbury, Garry Galley, Kevin Weekes and Craig Simpson.
Hrudey is one of the best looking charmers in sports today. My mother loves Kelly. They see eye-to-eye because neither of them ever wants to see a blowout. A lop-sided affair, you see, makes them feel bad for the slaughtered team.
If my mom and Kelly had their druthers, both teams would just get along. There would be no donnybrooks or goal-mouth shenanigans, and tie games would still be part of hockey.
Listening to Greg Millen's expertise, on the other hand, is like getting a haircut from a bald barber. There is often purpose in his voice, but sometimes I wonder if we're watching the same game.
To be fair, his colour commentary is sometimes relevant, especially if he has a TV timeout to prepare.
On the other side of the break, his words become well-organized and are often rooted in his valuable experience as a journeyman goaltender who excelled in platoon situations.
And then there's Healy, Milbury, Galley, Weekes and Simpson. Milbury and Healy have loud opinions, to be sure, and Weekes tries to convey his excitement, but at the end of the day, their analysis and opinions get pretty repetitive.
This is not to say jocks should never be broadcasters. Historically, there have been many examples of jocks turning into legendary announcers. John McEnroe is the best tennis broadcaster I've ever heard; the recently-retired John Madden was a first-rate NFL player, coach, and broadcaster; and in the hockey ranks, Howie Meeker, John Davidson and of course Don Cherry were all former players who made significant imprints on the game as broadcasters.
Still, there are too many examples throughout the sports broadcasting industry of jocks who are duds with a microphone. It's gotten to the point—especially with Hockey Night in Canada—that hiring jocks seems like the lazy way of filling broadcasting positions, and sometimes I wonder whether they have any kind of screening process for the guys they hire.
As fans, we know hockey players do their performing on the ice and so forgive their cliché-ridden interviews.
Why, then, do we keep hiring jocks to enlighten our hockey-savvy minds?
And where, for that matter, is the next Howard Cosell? The next Harry Caray? The next Marv Albert?
Short of insulting Bob Cole, Ron MacLean, Chris Cuthbert and some of the other terrific voices animating the hockey world, still I wonder, who's running this jockocracy?