New Orleans Saints: Gregg Williams Says Patrick Robinson May Take Porter's Job
August 4, 2011
Grant Halverson/Getty Images
Tracy Porter must be feeling like Aretha Franklin after hearing the comments of New Orleans Saints defensive coordinator Gregg Williams following practice Wednesday.
All the Super Bowl hero wants is a little R-E-S-P-E-C-T.
But you see, Williams has always preached from the gospel of "What have you done for me lately?"
When Porter pick-sixed Peyton Manning's pass late in the Super Bowl, he etched himself indelibly into the NFL history books.
But Williams has never been much of a history buff anyway. He lives life fully in the present moment with little regard for yesterdays and tomorrows.
Williams fired a warning shot across the proverbial bow right smack in the direction of his injured starting cornerback Wednesday: Get on the field soon or possibly lose your starting job to last year's whipping boy, Patrick Robinson.
"Night and day transition," Williams said of Robinson's improvement from year one to year two. "We've gone through now, what, five practices? And you [the media] haven't heard me jump his ass...Patrick [Robinson] has had a phenomenal camp.
"You know what? Patrick is speeding up Tracy Porter's recovery process. Tracy Porter wants to get back out there in a hurry because he sees how good Patrick's doing. And I mean that sincerely."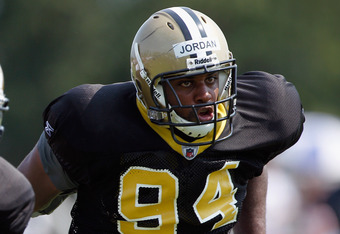 Chris Graythen/Getty Images
Williams stressed the word "sincerely."
He made similar remarks this weekend regarding LB Jonathan Casillas, who won the battle for the departed Scott Fujita's linebacker spot only to miss the entire season after an injury in training camp.
While Porter is a proven commodity, Williams has little patience with players who aren't on the field.
It's that old "you can't make the club in the tub" mentality.
Williams has the gonads of one of those New Orleans cat burglars. It may behoove Porter to take a trip over to the edge of the French Quarter and start praying to that statue of St. Jude, the patron saint of hopeless cases, for a speedy recovery, ya know?
Here are some other Gregg Williams quotables from Wednesday:
On Saints third-round pick Johnny Patrick: "Right now Johnny Patrick is this year's Patrick Robinson. He's my whipping boy right now. He's got to understand in a hurry, come on in a hurry. We've got a lot of good cornerbacks here that have played in this league. If he's going to make this team he has to jump in the boat in a hurry...in a hurry."
On Saints first-round pick, defensive end Cameron Jordan: "He'll fit in with the team in many different ways. He's not going to be a stereotypical defensive end. You guys will see him play end on both sides. You'll see him play tackle on both sides. You'll see him stand up a little bit. He's smart enough to do a lot of things. He just has to get over the information overload in a real quick time and we'll find out how good of an education he got at Cal." (Williams is well-acquainted with Jordan. He used to coach with Jordan's college defensive coordinator Clancy Pendergast.)
On those who say Jordan can't play both in the 4-3 and 3-4: "Well, I would say this, 'Who are these people and I don't care what they say.'"
On the signing of San Francisco 49ers DT Aubrayo Franklin:"You'll see the people around him put up stats. Why do you think Patrick Willis is crying in his milk? Patrick Willis was the first one hammering us with 'I can't believe you got him!'"
On Saints defensive end Junior Galette: "I haven't gotten on him once. Have I? I'm looking for ways to get on him. He's had a really good camp. I'm anxious to see him transition it to preseason games where nobody is in his helmet (telling him what to do.) He's earned a right for us to give him a shot."
On the Saints' enormous physical size this year: "I'm a better coach when they're big, fast and tough, but I've made a career developing guys who are two inches too short, 10 pounds too light and a tenth of a second too slow...just because we've gotten bigger physically doesn't answer many questions...these new, bigger players are going to play our way, buy into what we're doing and I have no qualms that they will."
They will buy into Gregg Williams' way, or they will be gone because, remember, Gregg Williams doesn't care about yesterdays and tomorrows—only todays.